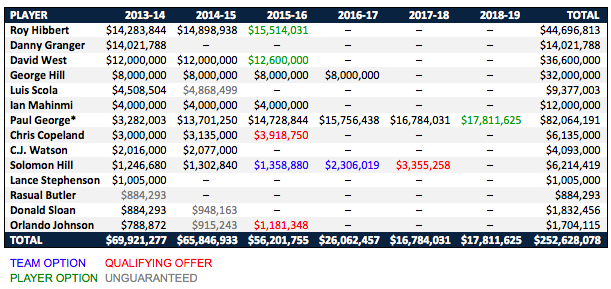 * Paul George's salary in future years is not yet set in stone. He may make more or less depending upon whether or not he makes an All-NBA team at the end of 2013-14. The unknown negotiations of his contract extension may also factor in. For more details see this post.
-
Salary details are rarely, if ever, "officially" published, but there are several sites that aggregate very reliable information from disparate reports and insider information. Shamsports.com is the most reliable, but Hoopshype, DraftExpress, and the ESPN Trade Machine also provide reasonable information. The above is a summary of the Pacers' payroll over the next few years.
And for historical perspective, here is how much the Pacers have spent in payroll over the past few two decades. Patricia's Various Basketball Stuff has been an essential resource in compiling older salary information.
While Indiana is indeed a small-market team that was, as reported, among those that were pushing for something closer resembling a hard cap in the most recent collective bargaining agreement, the owner has also generally shown a willingness to spend above the cap and, at times, well above the luxury tax. And before the tax existed, the Pacers often had one of the larger payrolls in the NBA during the late 1990s as the team was chasing a championship. CBA Basics
To really understand how pro basketball franchises operate, it is important to have at least a basic understanding of the NBA's salary cap and luxury tax system, which are both defined by the collective bargaining agreement (CBA) between the league's teams and players. (Disputes about the terms of the CBA are what led to the last two lockouts in 1999 and 2011.) The NBA operates under a "soft" salary cap system. This puts a nominal limit on how much money teams can spend for their players, but provides for "exceptions" that allow teams to exceed the salary cap. The 2005 Collective Bargaining Agreement (CBA) added a second threshold, called the "Luxury Tax Threshold."
The 2011 CBA kept both of these, but adjusted their levels. The salary cap will be established each year at 44.74% of projected Basketball Related Income (BRI), less projected benefits, divided by 30. However, the salary cap for 2011-12 and 2012-13 are guaranteed to not go below $58.044 million. In the Pacer summary above, I have projected future caps based on the 2012-13 season being 4.5% above the 2010-11 actual (of $3.817 Billion), then growing at 4.5% after that.
The Tax level will be established each year at 53.51% of BRI, less projected benefits, divided by 30. Like the salary cap, it is guaranteed not to drop below the 2010-11 Tax Threshold of $70.307 million in the years 2011-12 and 2012-13.
The new CBA also changed the tax structure to an escalating scale as follows:
First $5 million – $1.50 for $1
$5 million to $10 million – $1.75 for $1
$10 million to $15 million – $2.50 for $1
$15 million to $20 million – $3.25 for $1
Rates continue to increase above that at $0.50 for every incremental $5 million.
Additionally, there is a "repeater" tax structure. Tax rates for teams that are taxpayers in at least four out of any five years (starting in 2011-12) increase by $1.00 at each increment (for example, a repeater team salary $5M-$10M above the Tax level would pay $2.75 for $1 instead of $1.75 for $1).
In the 2005 CBA, teams under the tax would receive 1/3oth of the taxes collected. However, the new CBA only allows up to 50% of the tax payments to be distributed exclusively to non-taxpayers. This season, 100% of tax payments will be used as a funding source for the league's new revenue sharing plan – of which I have no details. Starting in 2012-13, 50% of the tax payments will be used to fund the new revenue sharing plan, and the remaining 50% will be distributed in equal shares to non-taxpayers.
Most teams operate above the salary cap, and many operated above the luxury tax. The Pacers, for all intents and purposes, will treat the luxury tax threshold as a "hard" cap, meaning they will do virtually everything in their power to avoid going over it.
Detailed CBA Questions
We will do our best to outline and explain specific issues as they arise, and we will gladly field any questions you have to the best of our ability. Send emails to [email protected] In the meantime, Larry Coon's CBA FAQ is the best, most exhaustive resource out there.