The Pacers: Now featuring more than 8 rotation players!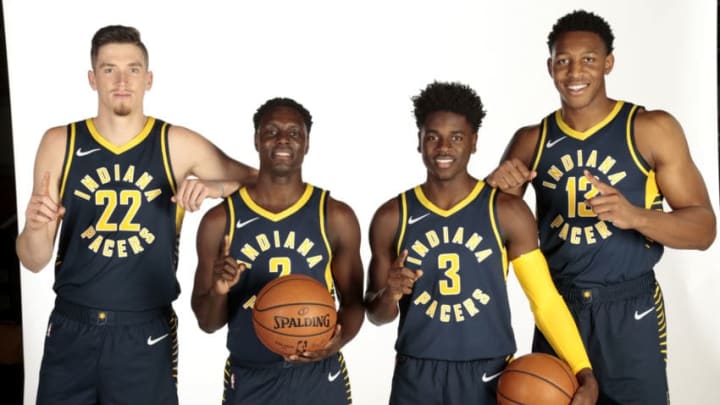 INDIANAPOLIS - SEPTEMBER 24: T.J. Leaf #22, Darren Collison #2, Aaron Holiday #3, and Ike Anigbogu #13 of the Indiana Pacers pose for a head shot during the Pacers Media Day on September 24, 2018 in Indianapolis, Indiana. NOTE TO USER: User expressly acknowledges and agrees that, by downloading and or using this Photograph, user is consenting to the terms and condition of the Getty Images License Agreement. Mandatory Copyright Notice: 2018 NBAE (Photo by Ron Hoskins/NBAE via Getty Images) /
The Indiana Pacers added a ton of depth this summer, which means they can use a variety of fun lineups this season.
The Indiana Pacers kept most of their regular core from last season. Their whole starting lineup (Darren Collison, Victor Oladipo, Bojan Bogdanovic, Thaddeus Young, and Myles Turner) returns intact, as well as top reserves Domas Sabonis and Cory Joseph.
Beyond that, the Pacers added several guys who may play into their rotation: Kyle O'Quinn will either be the 4th or 5th big man. Doug McDermott was signed to an eye-opening 3 year/22 million dollar deal to play backup minutes as a gunner on the wing. Aaron Holiday and Alize Johnson were added via the draft; it's unwise to count on rookies to be helpful, but both had flashes in Summer League.
The crown jewel, though, is 6th man extraordinaire Tyreke Evans. Evans can potentially play 1 through 3 and put up nearly 20 ppg in the role for an (admittedly broken) Memphis team last year. This year's Pacers team will have a ton more options than last year's squad, which was down to an 8 man rotation by the end of the season. We here at 8 Points, 9 Seconds put our heads together and came up with some lineups we most look forward to.
Ethan Krieger: (S)pace and space
More from 8 Points, 9 Seconds
The lineup: Victor Oladipo, Tyreke Evans, Bojan Bogdanovic, Doug McDermott, and Myles Turner.
"Spacing, spacing, spacing. The possibility of seeing this lineup excites me because it would allow the Pacers' two most dynamic guards to have a clear path to the basket at all times. Any of these five guys can hit from three (last season, McDermott shot 43%, Bogdanovic 40%, Evans 40%, Oladipo 37%, Turner 36%), so the four without the ball could hangout on the perimeter and allow either guard to have their way with the unlucky defender that is left on an island with them. Oladipo is slotted as the point guard here since he's the more proficient of the guards at slashing to the hoop and drawing fouls, but Evans could see great success in this lineup as well.
Darren Collison could be at home in this lineup too (he led the league last season shooting nearly 47% from deep), but I like the combination of using Oladipo and Evans here for their ability to isolate, their impressive playmaking, and their athleticism. The threat of these two being able to drive to the basket and kick a pass out to anyone on the perimeter would force the defense to be honest and respect the shooting ability of every Pacer on the court.
At the same time, this lineup would admittedly have some concerning issues on defense and on the glass. Oladipo, Evans, and Turner wouldn't always be able to make up for the typically lacking defense of Bogdanovic and McDermott. Those three would also need to make up the difference in rebounding, since playing McDermott at power forward is a weakness in that area as well. Still, in spurts, this lineup could be incredibly exciting on the offensive end and bury opponents quickly if the matchup is in the Pacers' favor."
Jesse Smith: Size matters
The lineup: Tyreke Evans, Victor Oladipo, Bojan Bogdanovic, Thad Young, Myles Turner
"In my opinion, this should be the closing lineup.  Evans and Oladipo not only provide adequate passing and distribution but the valuable ability to drive on their own.  The backcourt in this lineup is quick, athletic, and aggressive.  If the game is on the line, there is not a bad choice between the two.  Evans' ability as a shot creator works either off the ball or as primary handler. Defensively, Oladipo is one of the best in the game at cutting off passes and creating a fast break on the other end.
In the frontcourt, the typical starting lineup provides plenty of floor spacing and offensive punch.  Each of these bigs provides a unique skill, whether Bogdanovic's three-point shooting, Young's post game, or Turner's mid-range.  Defensively, Young muscles his way into battles and uses his quick hands to strip the ball.  Turner is an elite shot blocker and provides more than enough rim protection.  This lineup is high-flying, high-energy, high-octane, and must-see basketball."
Ben Gibson: (S)pace and space, seconded
The lineup: Victor Oladipo, Tyreke Evans, Bojan Bogdanovic, Doug McDermott, Myles Turner
"I want to see what happens when the Pacers put two ball handlers on the floor with a pair of shooters, as well as Myles Turner. Can they still run an effective pick and roll to mix things up? If they can, there's going to be multiple Pacers open along the perimeter for kick outs.
Oladipo and Evans are excellent at creating their own opportunities while Bojan and McDermott can spread the floor. On top of that, McDermott looked great cutting to the basket last year, creating another way Indiana could find points.
The defense could be a bit messy, but it's an experiment I'd want to see against lineups that would struggle to protect the paint as well as the perimeter.
This hinges on Turner being a better rebounder because if they don't hit their shots, there isn't a lot of rebounding on the floor. If Myles has improved in that department, I want to see what happens when the Pacers elect to make it rain."
Tony East: Ball movement is fun
The lineup: Darren Collison, Victor Oladipo, Tyreke Evans, Domas Sabonis, Kyle O'Quinn
"There is a chance this group literally never players together. I would guess that their ceiling is about 150 minutes played.
But that passing would be awesome. Five plus passers who can create shots for other guys just by delivering the ball on time and in position would be fun to watch, and this group is exactly that. You could create your plays through any one of the five guys, and that would be both captivating for fans and hard to defend for opponents. I hope we get to see it. "
HOUSTON, TX – OCTOBER 4: Darren Collison #2 of the Indiana Pacers handles the ball against the Houston Rockets during a pre-season game on October 4, 2018, at Toyota Center, in Houston, Texas. (Photo by Bill Baptist/NBAE via Getty Images) /
Ben Pfeifer: (S)pace and space, the return of the DC
The lineup: Darren Collison, Victor Oladipo, Tyreke Evans, Bojan Bogdanovic, Myles Turner
"The lineup that I'm most excited to see is a fairly unorthodox one that probably will not see too much time on the floor, but should be a pretty solid unit.
This lineup's success will predicate on the spacing it provides to Indiana's offense. The unit consists of five guys who can all hit the three at an above league average rate. Collison, Bogdanovic, and Evans all shot 40% or above, in fact. Last season, the Pacers ranked 26th in three-point attempts per game (24.5) but shot 36.9%, good for ninth in the NBA. In order to take the next step, the Indiana Pacers need to curb the long two-point shots and start hucking more threes. Putting more shooters on the floor is the best way to increase this mark.
This lineup shouldn't be too bad defensively either, as Collison, Oladipo, Turner, and Evans are all serviceable to great defenders. Even Bogdanovic flashed some defensive ability last season in spurts. This lineup could struggle with big teams but it's shooting and scoring ability could see it running teams out of the gym this season."
Will Furr: Bludgeoning never goes out of style
The lineup: Victor Oladipo, Tyreke Evans, Bojan Bogdanovic, Domas Sabonis, Myles Turner
"I think this is the highest ceiling lineup the Indiana Pacers have. With 4 shooters and a ball moving/offensive rebounding maven in Domas Sabonis, the offense should certainly hum. The Pacers need to find out if Domas and Myles can play together in the long run, and having plus spacing with 2 creators is the way to do it.
This group might struggle on defense against elite wings and quicker tweener forwards, but the Pacers need to know if Turner and Sabonis can punish other teams for playing small against them. If they can (at least consistently enough for opposing squads to worry), this lineup could be very nasty and even more entertaining. If Sabonis continues to develop, this should be the closing lineup against bigger squads. Furthermore, I think starting this group could be the best option by the end of the year."
The Verdict:
Indiana Pacers basketball is back. There are a lot of fun combinations we might see, but in the end, it's just exciting to see any lineup back out there for the blue and gold.