Indiana Pacers: Is Buddy Hield the most underrated shooter in NBA history?
When we're talking about the best shooters in NBA history, undisputable No. 1 Stephen Curry leads the discussion. Behind him are Ray Allen, Indiana Pacers legend Reggie Miller, and Klay Thompson, who have all etched their names in the record books.
Today, Golden State's Splash Brothers are widely considered to be the best in the business of the three-point shooting revolution. The Pacers have a resident sharpshooter of their own in Buddy Hield, but his name has come up only seldom in basketball discourses about the best shooters in the association.
That being said, is Hield the most underrated shooter in NBA history?
Indiana Pacers guard Buddy Hield could be the most underrated shooter ever
Here's a stat: Buddy Hield has drained the second-most three-pointers in the league since his rookie season in 2016-17, just behind Curry and ahead of the likes of James Harden, Damian Lillard, Paul George, and Thompson (who missed two full seasons, to his defense).
Not too convinced with the volume? Well, Hield also ranks second in three-point efficiency among the top 15 players in three-pointers made during that span, again just behind Curry.
This season, Hield reigns atop the league in three-point conversions with 191 to the tune of 3.8 made triples per outing on a very efficient 42.4 percent clip from downtown. He has been among the biggest reasons for Indiana staying in the playoff race despite injuries and a young roster for the most part.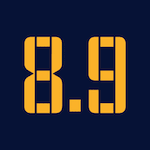 Want your voice heard? Join the 8 Points, 9 Seconds team!
Write for us!
Harp your "overblown stats" arguments, but since getting drafted, Hield has done nothing but consistently rank above most NBA players in proficiency from rainbow country. In today's NBA, where three-pointers are king, Hield has been an empire, with nearly every game plan zeroing in on his name to some degree on a nightly basis due to his prowess shooting the three-ball.
Of course, numbers will always be dampened without much winning accolades to go along with them, but purely speaking about the three-pointer, Hield's stature in that department in the history books should be recognized at the least.
The term "underrated" has been kind of overrated due to its very frequent usage in sports discourse, but going by its sheer definition, Buddy Hield has definitely been one of, if not the most underrated shooter in the league today, and perhaps ever given his lack of recognition right now despite lording above everyone but one player in the art of shooting the ball since entering the league.
Hopefully, the Indiana Pacers can continue being Hield's primary beneficiaries of his three-point bombs for the near future, especially with the league's three-point revolution still traversing on a rampant velocity.