Pacers' Tyrese Haliburton could set an NBA record never seen before
The Indiana Pacers hardly make the headlines save for some repetitive trade rumors involving, well, big markets. Still, the sensational start to the season by Tyrese Haliburton has been slowly but surely making sure that the team gets its own share of the spotlight too.
Like Bennedict Mathurin, who is on pace to set an unparalleled NBA record for the highest points per game average by a rookie off the bench, Haliburton is also on his way to potentially carving his place in the history books, which is well-fitting for his stature as the clear pilot of the Pacers franchise in the present.
Indiana Pacers point guard Tyrese Haliburton could set an NBA record never seen before
Currently averaging 20.5 points and 10.3 assists on 48.3/42.9/85.7 shooting splits, Tyrese Haliburton could be the first player EVER to finish a season with at least 20 points and 10 assists per game while shooting at least 40 percent from the three-point line.
Even Steph Curry and Steve Nash, multiple Most Valuable Player awardees and members of the elusive 50-40-90 club, and Chris Paul, a perennial 20-10 guy have never done what Haliburton could potentially reach by the season's end.
Sustaining those numbers with more than 60 games left on the season is not a guarantee even for Haliburton, but considering his skill and prominent role as the Pacers' primary option, he should be able to at least hover near those thresholds. In fact, he's already leading the league in total dimes per outing.
Perhaps the tallest task is keeping his three-point shooting percentage the way it is. He's been electric to start the season from rainbow country despite attempting seven triples per contest. However, going by his career numbers where he has never shot below 40 percent from downtown in a full season (41.4 percent for his career), the chances are good that he keeps that level of efficiency as a shooter.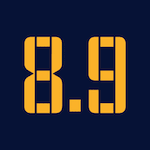 Want your voice heard? Join the 8 Points, 9 Seconds team!
Write for us!
It's doubtful that Haliburton himself obsesses over these numbers, but with the way he's playing as the leader of the youth-laden Pacers, it's definitely no surprise that he has been turning in historic numbers to begin the season, especially with the team shocking some people with how competitive they have been in most games.
This is just the start, though. And with Tyrese Haliburton already looking like a lock for the All-Star game as a nightly 20/10 cog, the Indiana Pacers should be able to catch the attention of even casual fans, as that's exactly what setting records does.