What could the Indiana Pacers' starting five look like next season?
The Indiana Pacers will have some changes to their roster from this season to next. Players may get traded and others may sign somewhere else. With a healthy roster, this is what that could look like.
With a busy offseason in mind, will this starting five look familiar heading into next season for the Indiana Pacers?
With numerous trade rumors circulating about members of last year's roster already forming at the start of the offseason, the Pacers have options they've rarely had.
You can see why teams would reach out to Indiana after last season's trade deadline, Indiana is not afraid to make a move.
There is now a jam at the point guard position and the guard position overall in Indiana. The Pacers have two starting-level point guards, both under contract for multiple seasons.
I think the Pacers could make a trade for Buddy Hield to a team of need potentially even to move up in this year's draft since the Cleveland Cavaliers' pick won't convey to Indiana this season. Hield's value increased this season after showing what he can do in a bigger role and more freedom with Indiana.
Hield averaged 18.2 PPG and 4.8 APG with the Pacers.
They have Chris Duarte who is able to start and showed he is a scorer before the lingering toe injury dampened his game in the back half of his rookie season. Duarte was getting Rookie of the Year honors to start the year.
Next, I think Myles Turner is set to return to Indiana as the starting center with one year left on his deal. He gets his chance to play the true five in his city with an expanded role. That's all he wanted and there are even rumors that the front office wants him here long-term.
Pacers' potential starting five for 2022-23:
PG – Tyrese Haliburton
SG – Chris Duarte
SF – Oshae Brissett / FA (T.J. Warren?)
PF – Draft pick
C – Myles Turner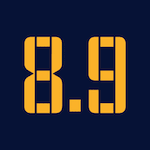 Want your voice heard? Join the 8 Points, 9 Seconds team!
Write for us!
If the Indiana Pacers have luck on their side for this draft lottery, I think they could add a starting Caliber power forward that could drastically improve the team on both sides of the ball.
With Oshae Brissett off the bench alongside Isaiah Jackson and company, I like the depth Indiana would have in the second unit. That isn't including any free agents the team could add if they so choose.
The guard room is deep in Indiana. With McConnell, Haliburton, Brogdon, Washington jr, and Lance Stephenson if they decide to bring him back to the team. I don't think the team can bring all of these players back if they want to be aggressive on draft night or in free agency.
My prediction is the Pacers will lose Jalen Smith, trade Hield and Goga Bitadze, and maybe even trade Brogdon. They have ways to be aggressive in the draft and those trades could be how they get an additional pick and open up next year's starting five to fit better with Haliburton and Duarte.
Trading Brogdon would allow an expanded role and the ability to be a facilitator without having to get the ball to someone else before he can do what he does best.
Brogdon could net similar value to what Caris LeVert brought in the trade to Cleveland, a first-round pick. He has a solid and tradeable contract that could put him on any team for multiple years at around $22M a year.
His contract extension is valid through the 2024-25 season. The injury concerns are there for Malcolm, but when he is on the floor he has been great in Indiana. Last season in 56 games, he averaged 21 points a game and shot just under 40% from deep. This year, he only played in 36 games still posting 19 points a game.
Brogdon should certainly be a starter, the question is will it be with the Pacers and I am not certain that will be the case. If Sabonis is tradable, anyone is tradeable.
It will be even more interesting to see what Indiana does with the T.J. Warren situation this offseason. Hopefully, he can return on a team-friendly deal and prove himself to be the same player as he was in the NBA bubble.