Indiana Pacers: T.J. Warren has revamped his shot profile and offensive game
T.J. Warren was acquired in a phenomenal trade for the Indiana Pacers and has refined his offensive game this season.
The Indiana Pacers acquired T.J. Warren in a trade during the NBA Draft that will go down as one of the most lopsided in history, in favor of the Pacers.
They sent cash out and received a draft pick and Warren. Kevin Pritchard and the Pacers immediately flipped that draft pick from the Suns and turned it into two draft picks in a concurrent trade with the Miami Heat.
All things considered, the Pacers got Warren for essentially nothing, but he's become a key part of the team's offense this season. After exploding onto the scene as a shooter last season in Phoenix, he's pulled the reins back a bit beyond the arc and deployed a more measured, surgical shot profile that allows him to slice and dice defenses in a way that matches his offensive desires while maximizing efficiency.
Warren's career-long evolution as a shooter is really remarkable. His ascension to become a multi-level scorer should be the picture of why teams should not give up on players who struggle right out of the gate to adapt to an analytics-heavy league.
Analytics should be based on players, not the other way around. For some athletes, asking them to immediately shift their offensive game in a way that requires more shots from beyond the arc isn't necessarily the best way to find success, even if the calculator says so.
For Warren, he came into the league and shot 9.8 percent of his shots beyond the arc in his rookie season and 8.9 percent of his shots in the (now often dreaded) mid-range of 16 feet and beyond in the 2-point zone.
Over the next few years, his shot profile would wane in and out a bit, but he was mid-range heavy, shooting between 16 and 17 percent of his shots in the mid-range in each of those seasons.
In 2018-19, he finally stepped out beyond the 3-point line more than he ever had, upping his 3-point attempts to make those account for 29.5 percent of his shot profile, lowering the mid-range to be just 5.7 percent.
It would also be Warren's best year in terms of accuracy from behind the arc, sinking 42.8 percent of his 3-point attempts.
Coming into Indiana, things would, of course, be different in a new system. The Pacers don't take a heavy amount of 3-pointers compared to league standards, and Warren's role as a 3-point shooter wouldn't necessarily be his primary offering on the offensive end.
This year, though, he's been able to combine the mid-range game he worked on for the first few years of his career with the newly refined 3-point game to make for an all-around shot chart that speaks volumes about his lethality on the offensive end of the floor and gives the Pacers an extra multi-level scorer to defer to.
Part of being a good shooter from all areas of the floor is being able to create your own shot off the dribble. Warren growing into his 3-point shot in 2019 has really allowed him to lock that midrange game in as a more effective part of his game.
With him now posing as a legitimate threat from beyond the arc, defenders need to pick him up at the 3-point line, allowing him to break them down off the dribble and drive in for long pull-up jumpers with space to sink them.
This makes for more open shots for Warren and theoretically more makes within that 16+ feet mid-range.
That theory has held up so far this season, with him sinking 44.4 percent of his shots from the midrange, his best efficiency from that range since 2016 when he hit 39.4 percent of his midrange attempts.
All of this has allowed Warren to be a better pull-up shooter. He's taking 4.9 pull-up shots per game and converting them 46.0 percent of the time. In 2017-18, the season before his 3-point explosion, Warren took 3.8 pull-ups per game and hit them 36.5 percent of the time.
It all adds up to a more acceptable and impactful midrange game. Warren this season has taken 11.4 percent of his shots from the midrange, sinking them at a point per attempt rate of 0.888 (his previous season-high being 0.791). For reference, a Victor Oladipo 3-pointer brought in 1.02 points per attempt last season.
So, while it's not the most valuable shot in the game, it still helps to get the job done. With defenses prioritizing guarding the rim and the 3-point shot, being able to operate proficiently in the seams of the defense can gain points that otherwise may have been unavailable.
And it's not as if Warren is ignoring the ever-important restricted area shots and 3-pointers. In addition to his shots from deep, he takes 27.4 percent of his shots within 3 feet of the rim, sinking them 76.9 percent of the time (career high).
Warren ranks in the 88th percentile in terms of volume, 91st percentile in terms of shot skill, and 75th percentile in terms of efficiency according to the NBA Shot Chart Bot.
Is T.J. Warren having a good season offensively for the Indiana Pacers?
T.J. Warren's true shooting percentage, PER, and win shares per 48 minutes have never been higher. He's developed over the course of his career, adding elements to his offensive repertoire as he's gone along, and it's culminated this year to give his best season yet.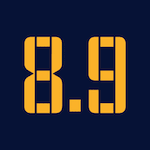 Want your voice heard? Join the 8 Points, 9 Seconds team!
Write for us!