It has gone largely unnoticed given the team's struggles of late, but Ian Mahinmi has been giving the Pacers very strong minutes off the bench. Since the All-Star break, Luis Scola and David West are the only two rotation players who have rebounded better, and his 11.1% offensive rebounding rate leads all rotation guys. This is a jump from just 9.2% before the break.
He has also been adding some unexpected offensive pop. In six games during April, he was especially good, putting up 6.7 points per game on a crazy 87.5% shooting clip. He topped off the month (and the regular) with his best scoring game of the year against the Thunder, finishing with 11 points, 5 rebounds and 1 block, while hitting 4-of-4 from the field.
Overall, Mahinmi has scored 10 or more points this season six times, with three of those outing coming in April (against the Pistons, Hawks, and Thunder). And better than any individual numbers is the fact that the Pacers also have only lost one game out of the 16 games that Ian has scored 6 or more points.
It seems that when Ian is able to contribute, the team is doing something right.
And that's not even what he's paid for.
Defense is his calling card for this team, and his ongoing improvement in protecting the rim is something that has cannot go overlooked.
Frank Vogel always says that Roy Hibbert is the best rim protector in the league. But from a numbers standpoint since the break, he hasn't even been the best on his own team due to the stellar play of Ian Mahinmi.
Last season when Roy Hibbert was in the game, Pacers' opponents shot only 51.5% in the restricted area. Ian's role was to emulate that to the best of his ability with the bench unit. He did a solid job — better than most backup centers in the league would have — allowing opponent to shoot only 58.0% in the restricted area while he was on the court.
Not bad.
This season however, he's improved drastically — and has actually been better (statistically) than Hibbert since the All-Star break. Since then, Hibbert has allowed Pacers' opponents to shoot 51.0% from the restricted area while Ian has only allowed them to shoot 50.2% when he's on the court.
Frank Vogel always says that Roy Hibbert is the best rim protector in the league. But from a numbers standpoint since the break, he hasn't even been the best on his own team due to the stellar play of Ian Mahinmi.
Opponent FG% in Restricted Area with Roy/Ian on the Court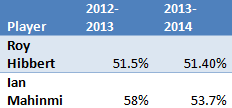 If the Pacers get bumped out of the playoffs and Roy Hibbert is one of the main reasons for them failing, which at this point seems very possible, the Pacers would really need to start asking themselves if his ability to perform is worth his hefty price tag.
We've been waiting a while now for Roy to show us what he's capable of offensively, and this season he has he failed to emulate his playoff scoring rampages from last year in the regular season. His rebounding, too, has fallen off, with his defensive rebounding rate falling from 17.4% last year to 15.0% this year — and a measly 11.9% since the All-Star break.
To put that final number in perspective, realize that the only Pacers with a lower defensive rebound rate than Hibber since the All-Star Game are Rasual Butler (10.5%), George Hill (9.1%), Donald Sloan (8.0%), and C.J. Watson (6.0%). To put it another way, the only teammates who Indiana's 7'2″, $14 million center has been able to out-rebound on the defensive end over the past 30 games have been three guys under 6'4″ and a 34-year-old shooter for hire.
Somehow, his offensive rebounding has been even worse, plummeting from 14.8% last year (and 15.9% in the 2013 playoffs) to just 9.9% this season (and a lowly 6.8% since the All-Star break).
On the other hand, we have Mahinmi, who has been increasingly active and doing things like this:
It isn't just an statistical oddity. The fact is that the team wins more when Hibbert rebounds, going 17-2 on the year in the 19 games that Roy had 10 or more rebounds. They were 39-24 in the games he did not.
While rebounding is far from Indiana's largest problem, at 7″2, finishing with fewer than 8 rebounds per game is largely unacceptable. "He's our All-Star center," said Vogel about Hibbert after Indiana's win over Orlando, according to Candace Buckner of the Indy Star. "His number-one responsibility on our team is to protect the rim and rebound, and when we get production from him on the offensive end, that's a bonus."
Lately, Hibbert has been neglecting the second half of that responsibility.
Everyone knows it is time for Roy to step up and start proving what he's worth out there. Fortunately for the Pacers, however, they at least have a backup behind him who has spent the past few month showing that he can do most of what Hibbert does — and lately, even more.
Tags: Ian Mahinmi Indiana Pacers