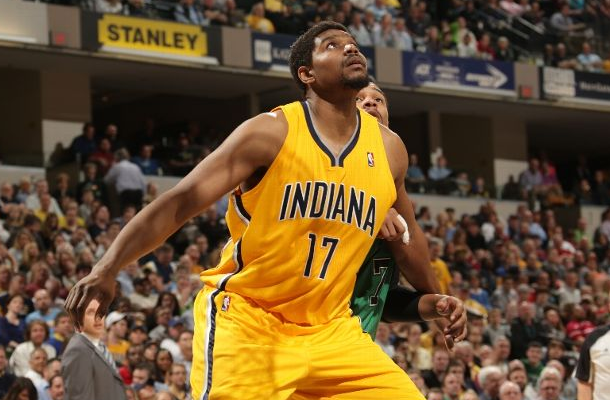 The Indiana Pacers received much more than just an overdue win on Tuesday. They were able to integrate a blessing that's been sitting on the bench since February 7.
Andrew Bynum, who chose to join the franchise headed by Larry Bird once he hit the free-agent market following a bad breakup with the Cleveland Cavaliers, enjoyed his first 16 minutes on the hardwood. Coincidentally, the storyline had to come against a team and player he ousted in the 2010 NBA Finals: Rajon Rondo and the Boston Celtics.
When backup center Ian Mahinmi was ruled out with a bruised left hip, coach Frank Vogel was presented with the perfect opportunity for the home fans to see their new front-court mammoth.
Returning home after the brutal three-game road stretch (all losses) that resulted in an average losing margin of 19.7 points, the nationwide criticism of the Pacers was about to rise a few notches if they didn't take care of business against the lowly Celtics. Snapping out of the four-game losing streak was obviously the central goal, but you're silly to think that Miami's recent victory over Washington wasn't in the back of their minds. Entering Tuesday night, the two Eastern Conference aces remained tied in the loss column, with the Heat behind by just 1 game in the standings. A loss would've been borderline devastating for Indiana, as the team would be just days away from losing the conference lead for the first time this entire season.
Bynum's performance didn't speak loudly enough to launch the Pacers over the top, but he surely made his impact. Above that, he set a new standard for how this bench should execute during the final 18 games of the season.
At the 4:22 mark in the first quarter, Vogel pulled Roy Hibbert for rest as No. 17 anxiously moved to the scorer's table and eventually hustled right into the action. Bynum garnered a huge standing ovation from the fans that once used to boo in his direction and shout remarks concerning his controversial past. Now, he's just added to the list of hopefuls trying to help them make their first NBA Finals trip since the 1999-2000 season. When those stakes are on the line and he's a part of the roster, it doesn't matter what character one has — as long as he produces and isn't detrimental to the team.
Less than a minute into his debut, Bynum opened his time at Bankers Life Fieldhouse with a bang. Receiving an entry pass from a teammate he was supposed to play with in Philadelphia, Evan Turner, Bynum collected the high catch, issued a quick pivot, and was all alone for a thunderous two-handed slam.
First things first, Jared Sullinger can't handle the 7'0″, 285 pound force. Fronting him was the only hope for Boston during Bynum's minutes on the floor, and Turner's high lob was executed about as perfectly as that play was going to allow. Forcing the big guy to extend to pull it down and keeping it out of Kris Humphries' range was picture perfect, and Turner deserves the credit on that possession. The prior trip up the floor, Indiana had it in their sights to feed Bynum, but no Pacer found the courage to force the ball into traffic. Bynum knew exactly what to do after he realized Humphries gambled on the play. Humphries would have made Bynum's first points much more difficult if he wasn't attempting to poke the ball out of the passing lane before it hit Bynum's hands.
Dunking wasn't all the two-time champion was set to do against a defense that ranks 10th in points allowed (yes, that shocks people about Boston).
Just moments after blowing up social media with the jam, Bynum received another lobbed entry pass from Turner (perhaps it's the start of a trend?). This time, Humphries, who isn't defending close to anyone at the moment, quickly switches over to institute a double team after Bynum smells blood with Sullinger in his way.
What happened next was truly the highlight of the night for proponents of unselfishness and frontcourt vision.
Taking three dribbles forward and widening the gap in the paint, Bynum drew Humphries and Sullinger away from the rim perfectly, which cleared the way for David West.
Humphries not only appeared to be the worst victim of the bait, but he completely forgets about his defensive assignment (West) lurking near the paint. Once West makes that cut, a score is already penciled in.
Two things about the play, which you can see up close in the video below, shouted an automatic score or a trip to the charity stripe.
The heads up basketball decision to make the right team play stood out above all else, which can be very difficult to have in a debut game. Typically, all eyes are on you and what numbers you can put up in your first game with a ball club. Not for Bynum. Instead, he made a quick impression to Larry Bird that their January dinner conversation was fully understood. The other glaring part of the pass turned out to be the fact that West slipped directly through the hole of the Celtics' defense for an easy layup. Rajon Rondo was the only Celtic in sight who had any chance at contesting the attempt, and even he couldn't swipe the ball away from West, who was among the many Pacers angry at officials on Tuesday.
Bynum's basketball IQ is nothing to sneeze at. In fact, I'm coming around to the conclusion that some NBA fans suffer from a type of memory loss these days. Bynum was a center piece in the most disciplined offensive system in basketball — the triangle offense — during his tenure with the Los Angeles Lakers. Take a trip down memory lane and recall who was the parent figure (on the sidelines) for Bynum throughout his early career, as he possessed nothing but raw talent out of St. Joseph High School. The Zen Master — Phil Jackson — may be preparing to pull out his hair in the Big Apple, but he'll always be credited for helping Bynum mature as a player. The maturation of his off-the-court character didn't seem to reach it's full extent in Los Angeles, but the seven season under the realm of Jackson and Kobe Bryant formed him into the an experienced, hulking front-court talent who teams still want to snatch off the market.
There was still more effort and talent to get excited over.
In the final minute of the first quarter, during which the Pacers outscored Boston 24-20, George Hill had the opportunity to nail a wide-open 3-pointer from the right wing. As the ball clanged off the rim and took a high bounce, three Celtics closed in near the cup and left Bynum in a one-on-three disadvantage to come up with the rebound.
He illustrated to his doubters that hard work is indeed mixed into his basketball make-up.
Once again tormenting Sullinger, Bynum used a gentle tap of the ball to eventually secure the board and guide it into the hoop for two more points. And if you ever want to talk about never giving up on a play, Bynum was the only Pacer in the paint, with three already near mid-court ready for defense and Stephenson sticking near the free-throw line. Bynum's teammates — notably Paul George — applauded his effort and success on the play, and fans can't begin to imagine how that felt for the guy who's had two incredibly rough seasons, due to physical impediments and attitude issues.
Bynum wasn't fooling around when he told the media, and Pacers' management that he's ready to be with a championship contender. While he wasn't the largest reason why Indiana was able to pull off the 94-83 victory (which featured 24 points from West), Bynum provided the greatest sense of moral victory, and gave the league a 16-minute preview of what this team could possibly be made of when April and May roll around.
After the first half concluded, Bynum met with Brooke Olzendam for a brief reaction to his first minutes with this shade of gold. "It feels good, I feel good out there," Bynum told Fox Sports Indiana. "Adrenaline is pumping, it's easy right now.
Bynum finished the night with 8 points and 10 rebounds, connecting on 3-of-4 field goals and knocking down 2-of-3 free throws. A brutal welcome back to Philadelphia, the city he seemed to cheat out of one year due to sustained knee injuries, will be Bynum's next shot at proving his worth on Friday.
Coach Vogel, who will gather eyeballs to see how he uses his new weapon at center, had nothing but praise about Bynum during his post-game press conference. "I thought he looked great," said Vogel. "He changes the game. He's a presence out there on both ends. He's got the size at the rim for rebounding and obviously [we have] the ability to run the offense through him on the offensive end, go to him in the post. And you got to account for him on the glass. I thought he played really well."
Whenever there's a positive outcome for a team, small problems tend to be overlooked for the time being. The Pacers' next issue to attend to will be the minute proportions awarded to Bynum and Ian Mahinmi, when the Indiana's incumbent backup center returns from his bruised rib injury.
The amusing (and tough) aspect of the backup situation in the front court is that both options claim all they want is what's best for the team's chances at reaching the promised land.
Following last week's home win over Utah, the game which he fell awkwardly, Mahinmi issued some heartwarming statements concerning his role when Bynum arrives. "My main focus every day is how can I get this team better," Mahinmi told reporters. "I really don't know [the minute situation with Bynum added], but so far that's not really my focus."
If there's one facet of the game that is going to keep Mahinmi on the floor for some precious minutes down the stretch of this season, it's his defensive mindset and adherence to Vogel's defensive systems.
"Defense comes first to me," Mahinmi said last week. "I watch a lot of tape, I study the guys I play every night, and I establish myself every night. I want to play good defense, help my teammates, and do all those little things that don't show up in the stat sheets to help my team."
Bynum did flip the switch defensively during his last season with the Lakers, recording huge performances including a triple double — points, rebounds, blocks — in a 2012 playoff appearance. However, he's not nearly in as good of shape as he was then, and that's noticeable just by looking at the big man. He's not as mobile or athletic as he used to be, and his speed to rotate on defense has been hurt because of it. Last night, we saw that there is much to be desired on the defensive end when it is Bynum trying to protect the rim. While he's not atrocious on the defensive end (in my eyes), he is not the presence that Mahinmi provides Vogel with each and every matchup.
Indiana now has two backup centers that deserve time on the floor, and we're about to see just who Vogel trusts to perform on both ends. With these two guys, it's one side of the basketball or the other — you can't have both.
The ironic part of it all?
They're the only two on the roster with championship bling. In that way alone, Bynum and Mahinmi own winning experience on a team that's still searching for a collective path to the gold.
Shane Young is an NBA credentialed writer for ESPN TrueHoop Network's 8 Points, 9 Seconds and Fansided's Hoops Habit. For all Indiana Pacers, Los Angeles Lakers, or general NBA coverage, follow @YoungNBA and @HoopsHabit on Twitter.
Tags: Andrew Bynum Indiana Pacers