Things weren't looking good for the Pacers in the third quarter. Though Indiana had fought back to tie the game at 48 nine minutes earlier, Dallas had used some offensive firepower to re-build its lead back to 11.
Fortunately for the Pacers, George Hill was there.
Though neither came via great offense, he buried two big 3-pointers on back-to-back possessions to bring his team back within 5. This, combined with a big driving bucket seconds earlier, gave Hill 11 points in the third quarter — and the Pacers new life.
George Hill Hits Two 3-Pointers
Unfortunately, however, it was two defensive lapses by Hill that led to Indiana falling so far behind in the first place. Candace Buckner of the Indianapolis Star noted that the point guard was slow to challenge the two Devin Harris 3-pointers that proceeded Hill's triples.
George Hill late on the close twice on Devin Harris 3-point attempts.

— Candace Buckner (@CandaceDBuckner) March 10, 2014
Reviewing the tape below, it is clear that Hill is not solely to blame for the possessions in question. There were multiple defensive breakdowns on each possession.
Devin Harris Hits Two 3-Pointers
More important than trying to assign blame is the fact that plays like this just look so unfamiliar compared to what we saw earlier in the year. It's just strange to see Pacer players look lost and definitely odd to see shooters only facing a token contest.
Worse still, this wasn't just a problem against Dallas. Throughout Indiana's recent slide, teams have been unusually successful shooting from behind the arc. During the current four-game losing streak, opponents have connected on 46.5% of 3-point attempts while averaging 10.0 made triples. That's 30 points per game allowed on just 3s. The Bobcats and Warriors were especially accurate, drilling 50.0% of their attempts, while the Rockets watched 13 three-pointers go through — up from the 9.2 makes from long range they average on the year.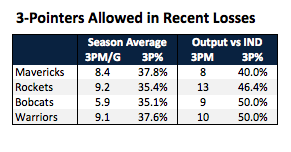 Which is weird because, normally, preventing opponents from feasting on 3s is a staple of the best-in-class Frank Vogel defense. They did an excellent job in this regard against the trey-happy Knicks in last year's playoffs, for example.
Now, they are not. It is night and day when you compare how Indiana's players stayed home on 3-point shooters in the playoffs last year to the defensive discipline seen of late.
This isn't the only factor causing Indiana's once-vaunted defense to fall apart in recent games, but it sure isn't helping hold down the points per 100 possession numbers, and it has the added detriment of letting the opposition get the psychological boost that often comes when players watch their long-distance shots tickle twine at an above-normal rate. You can say a three is just worth three points, but often it feels bigger to both teams. I mean, there is a reason there are "3-Goggles" but no "Mid-Range Jumper Spectacles" or "Curl Cut Floater Shades."
But enough with the words and numbers.
Let's actually take a look at how this is happening.
Leaving Corner Shooters Open
The biggest sin Indiana has been committing is allowing too many corner 3-pointers. Most people will tell you that, after layups and free throws, this is the best area of the court to shoot from. It's a shorter shot than 3s from the top of the key yet still worth, ya know, 3 points.
The video above shows the worst instances of the Pacers giving up easy corner 3s. Let's break down the first two shown in the video, which represent the two most egregious defensive lapses.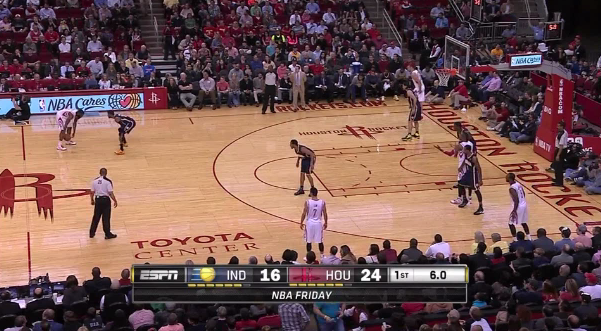 This defensive possession against the Rockets is so bad because it comes at the end of the quarter against a set defense. James Harden is dribbling out the clock with Paul George guarding him, and the four other Rockets are closely guarded by Pacers.
Some people might want to chastise George here for getting beat off the dribble a bit by Harden. But he remains close enough that Harden is still going to have to take a tough shot if he wants to get to the rim — where Roy Hibbert is eagerly waiting.
The real problem is Luis Scola; there is absolutely no reason for him to drop down to cut off Harden when Hibbert is right there. This leaves Donatas Motiejunas wide open in the left corner for an easy catch-and-shoot corner triple.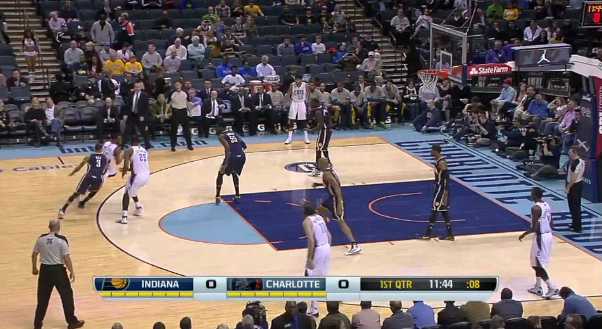 This next play is similar.
Kemba Walker and Al Jefferson are running a high pick-and-roll that Hill and Hibbert should be able to handle (along with some step-over help on Al Jeff by West).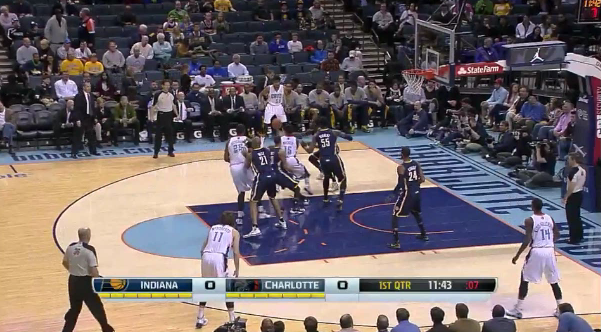 Yet Lance Stephenson feels like he needs to get involved. He collapses way too far too help slow down Walker, who makes the simple pass to Chris Douglas-Roberts for the open 3 from the left corner.
It's a strange development to watch this happen over and over.
The starting unit has played so many minutes together that there should not be a lack of trust or communication. Why would Stephenson doubt Hibbert and Hill's ability to deal with a simple pick and roll — especially when the Al Jeff threat isn't exactly Blake Griffin or a prime Amar'e Stoudemire running to the rim? Or if it's not a trust issue, why has the whole roster collectively lost the ability to remain disciplined on shooters?
This isn't just Scola and Stephenson. And we can't blame it all on Evan Turner not knowing what he is doing out there and mucking up the whole defense. Paul George, George Hill and David West are doing it, too.
As we rake them over the coals, it's important to note that this isn't an easy thing to do. Staying home on 3-point shooters is counter-intuitive to the principles most players are taught their whole life. "Help and recover" is what you learn from a young age, and the threat of a player heading to the hoop has traditionally been prioritized over the relatively lower-percentage looks (especially for players at lower levels of play) that teams can get from a drive and kick.
But the data revolution (and perhaps the changing strategy of many NBA teams) has shown us that giving up a contested shot from close is often a better look to surrender than an unguarded 3-pointer. So players in a system like Vogel's, which tries hard to limit and contest all 3s, must recalibrate their behavior to ignore a decade or two worth of muscle memory that tells them to crowd down into paint when a penetrating player is presenting a threat.
So it is largely to their credit that, by and large, the Pacers have been remarkable at this over the past few seasons.
Still, that gives us no insight into why — all of the sudden — they can't do that now.
Allowing Easy Drive-and-Kick 3-Pointers
What we see in this video is largely more of the same. Too often, defenders are becoming way too focused on threats in the paint, sagging into the lane, and leaving shooters open. It would be more forgivable if Indiana's starting center was Spencer Hawes. But Hibbert is usually there lurking.
Then again, Hibbert has not been as dominant inside as he was to begin the season.
Are the players picking up on this and feeling like the team is vulnerable at the rim? Is this why they are sagging into the paint way too much? Or are they just being lazy/undisciplined?
Either way, these two screen shots show the recurring problem.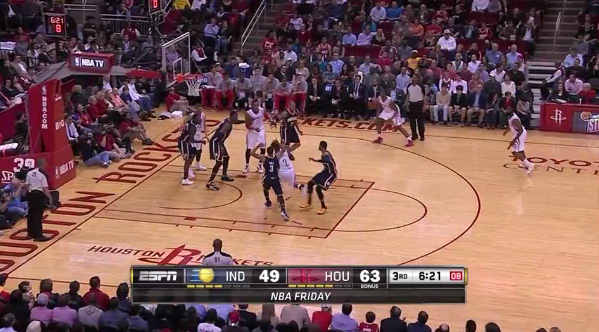 Five guys in the paint to defend three? Seems like overkill.
As for the 3-pointer that the over-crowding leads to, Paul George is most at fault this time. He reaches for a steal rather than staying home on Harden, who I've heard likes to let 'em fly from deep.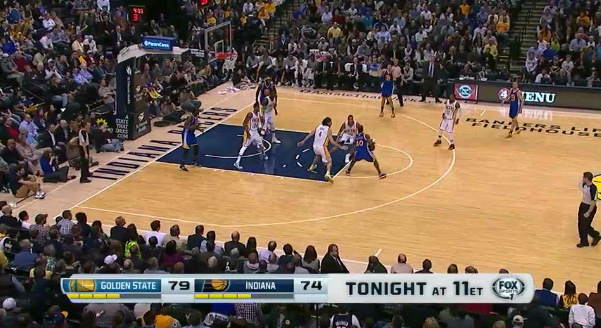 And here's Evan Turner being completely lost and then just deciding he'll plant himself in the key rather than care where Klay Thompson is.
Especially against teams like the Rockets and Warriors, this stuff is just not acceptable. They'll find the open man behind the arc most of the time, and in fact would often prefer those shots to contested shots in the paint.
Giving Up 3-Pointers in Transition
The Pacers defense can be daunting to face in the half court when it is fully set up. Thus, many teams have made a point to try to run and get easier looks on the fast break. Usually, this is easier said than done, but as of late opponents have been finding some success by pushing the ball ahead and then looking for a shooter spotting up behind the arc.
The video above shows the most glaring examples during the four-game losing streak, but let's break down the first two shown in the clip, which to me represent the gravest mistakes.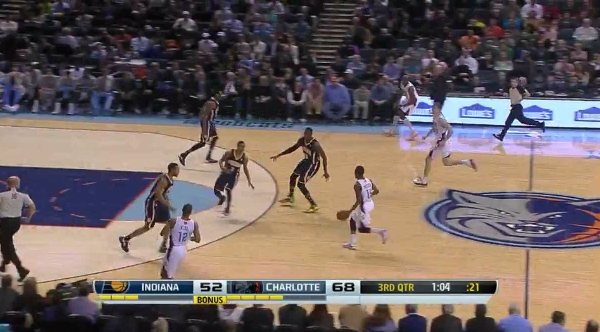 Here we see the Bobcats pushing the ball. It's four 'Cats running, but the Pacers have done a good job running back, with four guys standing in between a Charlotte player and the rim. This is nice work and nobody should be able to get too open.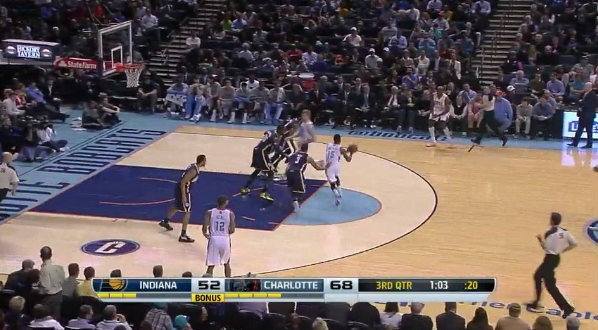 Unfortunately, the whole team collapses into the paint as Kemba Walker attempts to drive.
Instead, Rasual Butler should have trusted Hill and Hibbert to contain that threat, but he sags, leaving Anthony Tolliver wide open on the wing to knock down a 3.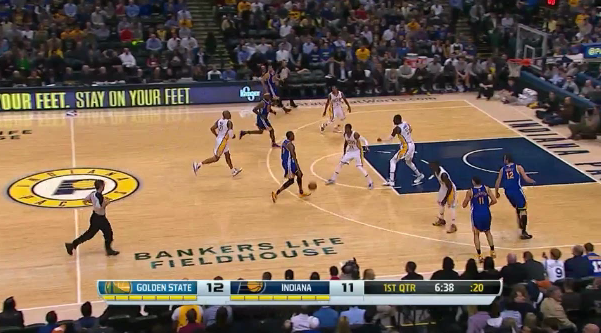 We see the same thing basically here: Golden State is trying to push tempo, but Indiana has gotten back. David West is a little slow, but this type of "fast break" shouldn't create a crisis.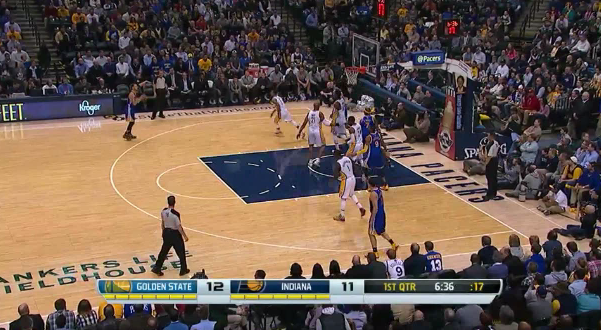 Except it does. Because Indiana again over-reacts to penetration and leave Steph Curry — of all people — wide open. I mean, WIDE OPEN. This is the type of paint clogging you would expect to see in a JV game, not something you expect the best defense in the NBA to do, particularly against a team it knows likes to shoot the 3.
It's hard to say if scouts have found some sort of flaw that makes Indiana particularly vulnerable to 3s in transition or if this is just a recent spike that has come as a result of happenstance. Or perhaps the Pacers are being overly lethargic during their losing streak and making themselves more susceptible to transition triples?
Either way, the forecast against the Pacers on fast breaks — and seemingly everywhere on the court these days — is increasingly looking like rain.
Tags: Indiana Pacers