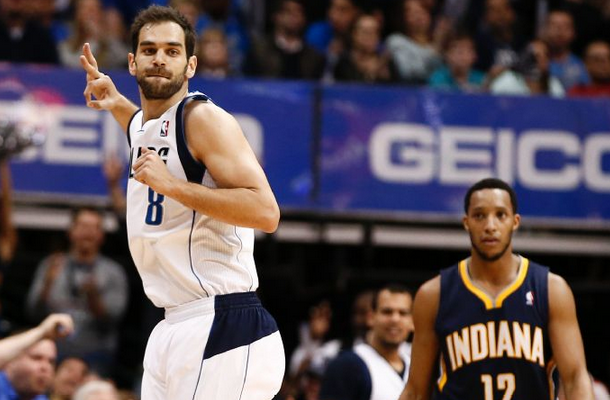 Indiana's starters didn't play well last night against the Mavericks. Their biggest sin, in their 18 minutes together, was giving up points too easily, allowing a sad 107.4 points per 100 possessions — a figure nearly as bad as what the worst-defense-in-the-league-having Utah Jazz have allowed this season (107.7), per NBA.com.
Still, despite the poor defense, the guys Indiana usually relies on to score were at least reliable in that regard (David West notwithstanding). The staring lineup scored 90 points. The reserves, on the other hand, managed to contribute just 4 points. Four. With an F. As in, "WTF, guys?"
Moreover, when Frank Vogel first went to his bench around the four-minute mark of the first quarter, subbing in Luis Scola for West and Donald Sloan for George Hill, the Pacers' deficit remained manageable at five points (13-18). But by the end of the first (when Scola, Sloan and Evan Turner shared the court with starters Paul George and Roy Hibbert), Dallas' lead had ballooned to 12 (18-30).
And Evan Turner was more responsible than anyone else.
Check the video.
Here we see uninterrupted footage of four straight possessions: two for the Pacers and two for the Mavericks. In each instance, Turner makes a major mistake that either costs the Pacers their best opportunity to make a shot or directly leads to Maverick points.
It may seem like just a four-point swing, but this was the worst segment of the 15-2 run (spanning the first two quarters) by Dallas that blew the game open and created the hole that the Mavs would eventually bury Indiana in.
Turner's First Sin
The video starts off with a 24-second violation that comes on a possession that we join halfway through. After Paul George draws a non-shooting foul on Vince Carter, Indiana inbounds the ball with 14 seconds left on the shot clock. The Pacers never get anything going after a Sloan/Scola pick-and-roll goes nowhere. (Nice defense, Dirk.) Sloan, looking like a third-string point guard, certainly doesn't help matters by dribbling around while the shot clock dwindles, but eventually the ball gets to Turner on the right wing.
If he was paying any attention, he should have known that the shot clock would soon expire and that it was time to abandon any semblance of good offense. In this situation, he should know that there were only two outcomes for this play: him (1) missing, or (2) making a shot. It's the easiest, more-pressure-free scenario a talented scorer can find himself in. This is when his job description turns to a single duty: take the best bad shot you can. Instead, he (badly) tosses a hand grenade to Scola, who obviously cannot get off a shot before the shot clock expires.
The hierarchy of outcomes on any NBA possession is very clear: Good shot, bad shot, no shot. Turner — a guy whose abilities lead to you having to live with the fact that he will take some bad shots once in a while simply because he is good enough to make them — assured Indiana got the worst outcome.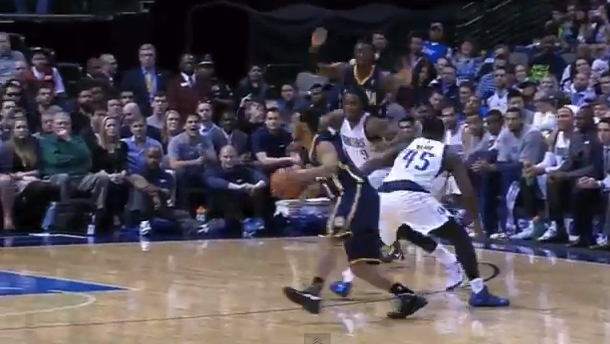 Take the shot, Evan. RIGHT NOW. You know you want to.
Turner's Second Sin
This one is even worse. Due to the 24-second violation, Dallas has to bring the ball up against a set Pacers' defense — which if we base our logic on full-season numbers, should be the hardest time to score in any NBA game this year.
After Scola, Sloan and (mostly) George do a good job stifling a Devin Harris/Dirk side pick-and-roll, the Mavericks have to move on to plan B. With Vince Carter holding the ball at the top of the key, they run Nowitzki through a double screen on the baseline, presumably to get him the ball on the wing and let him go to work. Scola trails and loses Dirk a bit, but Luis makes his way over the top of the many bodies in his way to stay within a reasonable distance from Dirk. Had Dirk flared to the corner, he might have gotten an open look, but it would have been a tough pass for Carter and that's probably something you have to live with when you have Scola trying to defend one of history's best shooters.
Turner, however, decides that such a minor threat must receive major attention, essentially leaving Jae Crowder wide open three feet from the hoop so as to provide a pointless hedge towards the cutting Nowitzki. Never mind that the passing lane between Carter and Dirk was clogged when Turner turned his attention to Nowitzki; the real question is "What the hell are you thinking, Evan?"
You can almost see Carter's eyes light up as Crowder turns to receive the ball. He catches it, uses his excess time to gather himself, turns and lays the ball in the hoop.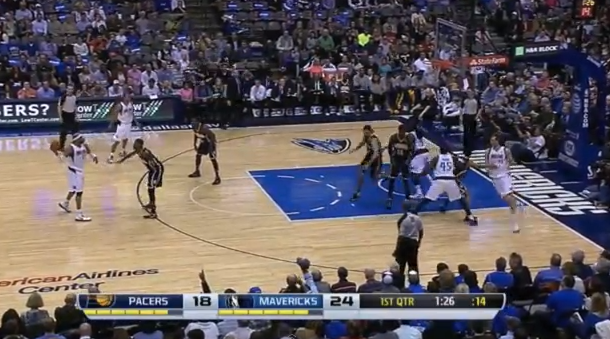 "Tag. You're it, Dirk" – Turner
Turner's Third Sin
We all know Turner can't guard many people. He's a scorer and, reportedly, a playmaker. And that is what makes this third sin arguably the worst.
Indiana runs Turner off two screens to get him the ball on the left wing. Scola comes over to initiate a pick-and-roll before slipping the screen as Dirk cheats up to hedge at Turner. Evan understandably doesn't spend much energy trying to find a way to make the pass to Scola, who based on recent evidence would probably just miss a jumper.
He also doesn't seem to bother trying to get the ball to Hibbert, who becomes open as his man rotates to Scola and presents a nice, big target in the middle of the paint. That would be the optimal play here: Get the ball to Roy who would then be able to operate with the much-smaller Vince Carter on his back. Roy has a ton of real estate and despite the taller Crowder and Dirk being nearby, Turner could probably whip the ball in there to set up Roy for a high-percentage look around the restricted area — potentially a dunk if the dish is good enough.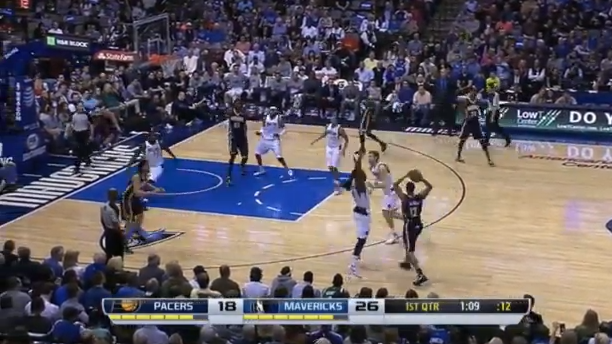 Still, it isn't an easy pass and if Turner didn't "check down" from Scola to Hibbert quickly enough, it was something he probably missed. It's also simply understandable that Evan knew he was about to have a one-on-one matchup against Jae Crowder and he thought he could exploit that into a bucket.
Which is his next move — and an excellent choice.
Crowder is badly out of position and Turner is able to drive hard into the middle of the floor as Dirk retreats to Scola. But the paint is clogged up and Crowder does a good job recovering. At the same time, as the Mavericks wildly rotate (Dirk picking up Hibbert, Carter moving to check Sloan), Devin Harris gets a bit lost. He's appears unsure whether he should be guarding Paul George on the wing or Sloan in the corner.
And this leaves George wide open on the wing. Which is such an obvious pass.
We can excuse Turner for not seeing Hibbert, but how can he not make this simple drive and kick to Paul George for the open three-pointer?
Instead, he choses to keep the ball, let Crowder fully recover to cut off his drive and then purposely hand the ball to Hibbert.
Roy can't do anything with the ball, so he just looks for his safety valve, Paul George. Now, Indiana has wasted another possession since George has the ball 40 feet from the hoop with the shot clock expiring. (To his discredit, George does the same thing Turner did here in Sin #1 — rather than using his All-Star skills to try to create something out of nothing, he tosses a hand grenade to, of all people, Donald Sloan, who has to heave the ball at the rim so the shot clock doesn't expire.)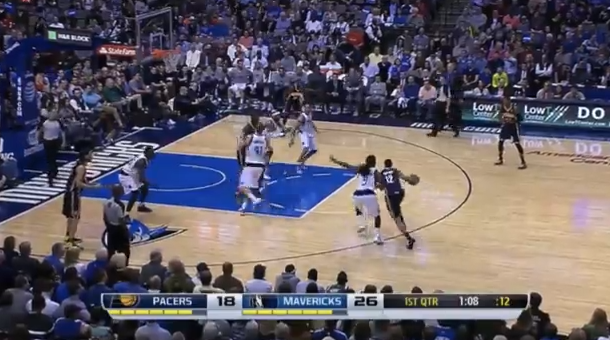 Crowder on your hip, three Mavs in the paint and Paul George STILL isn't open enough to pass to?
Turner's Fourth Sin
I understand that these first three mistakes — though glaring — might have been tough to see in real time. Hopefully, they also illustrate just how complex the NBA game is and how difficult it is to make good decisions in a league that features so many screens and actions during a 24-second (at most) possession.
This last one is just a fundamental basketball blunder though.
After the Sloan miss, Dirk does a good job of floating the ball ahead to Devin Harris to get a bit of a slow break going. The Pacers got back well so it shouldn't be much of a threat, but the move should have served Dallas well to simply initiate something early.
Instead, Turner allows Harris to blow by him with a simple dribble move and this directly costs the Pacers two points. Hibbert is forced to drop down and cut off the penetration and this leaves Dejuan Blair wide open at the rim. Harris makes a slick bounce pass in between Roy and Evan to Blair, who attacks immediately. Hibbert is in no position to protect the rim but tries anyway and the result is two free throws for Dejaun and a personal foul on Roy.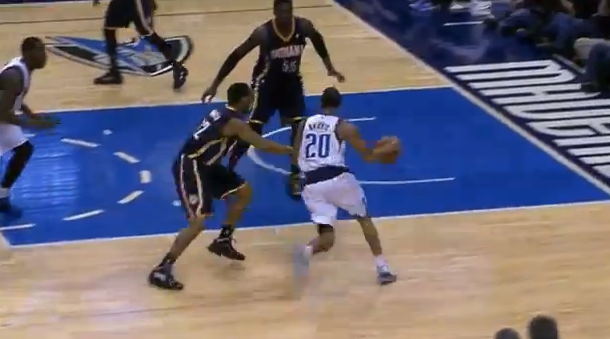 More than anything, Turner getting smoked in the open court illustrates just how good Indiana's other players are on defense. We almost never see this happen: a Pacer defender getting blown by. But Turner hasn't been in this system long and just doesn't have the same mentality as the rest of the team. So the breakdown comes as a complete surprise and nobody is anywhere near ready to react to something that so seldom happens.
I think we should expect things like this. Turner has never been much of a defender and even people who are will take time to learn a new team's schemes and principles. He deserves a bit of leeway in this respect for a few weeks.
So it's the offensive blunders that are really troubling.
Vogel probably knows that Turner is going to come in off the bench and leave something to be desired on defense. But if he can't rely on him to make obvious plays with the ball in his hands, what exactly is Turner adding to the team?
We've seen that Turner can, in fact, bring a lot to the table. But now we've also seen a stunning four-possession stretch of just how much he can take off of it, as well.
Tags: Evan Turner Indiana Pacers