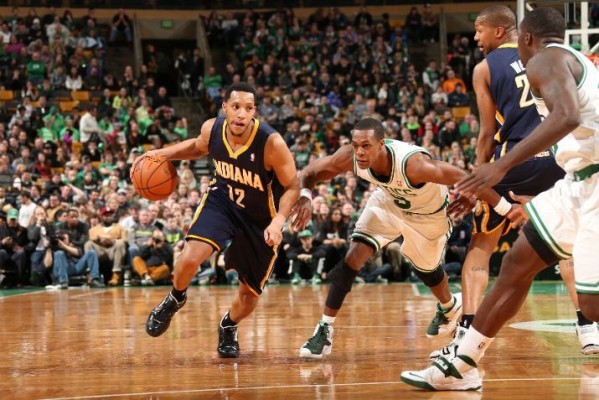 After a week of playing against the punching bags of the league, the Pacers are now 45-13, which is two game ahead of Miami.
Since the All-Star Break
The Pacers played the Hawks, Timberwolves, Bucks(twice), Lakers and Celtics. The Pacers went 5-1.
They're scoring 106.1 points per 100 possessions, which is 12th overall. They're only allowing 100.1 points per 100 possessions, which puts them at 6th. They are tenth in net rating.
Paul George's averages: 26.0 points, 6.8 rebounds, 3.8 assists and 2.2 steals. 45-45-92 shooting splits.
Best Defense Ever?
There's a lot of season left and the Pacers could fall out of the picture, but they are on pace to hold the best defensive rating since the 1973-1974 season. The Pacers are slightly stingier than the 2003-2004 San Antonio Spurs and 2007-2008 Boston Celtics. Pat Riley's Knicks round out the top five.
For units that have played at least 400 minutes, Indiana's notorious starting five remains the strongest defensive unit.
Everything Lance
Bleacher Report did a lengthy feature on Lance Stephenson. Stephenson talked about when he first heard the news of Danny Granger's trade, trash talking and his future with Indiana. You can read the full feature here. Here are quotes I thought were interesting.
His 'Born Ready' nickname:
I mean, I'm always ready. When I was young, I was playing with the older guys. I was always the youngest on the floor, so they decided to name me "Born Ready" because I was the youngest on the floor, playing with 20-year-olds already. That's why I think I got that name.

I'm still doing it to this day. There's older guys in front of me and I'm still doing what I have to do on the floor. I think that name's always going to live.
On his favorite part of playing basketball:
Getting a rebound and pushing it. Just having fun, trying to beat the defense and get the easy layup or the easy pass for my teammates.
What Danny Granger has meant to him:
I mean, Danny had a major impact on our team and on me. His work ethic, his leadership. Him being there, it had a great impact on me and everybody in the locker room. He's a great guy. Losing him hurt us in our heart. I wish all the success for him.
An Eastern Conference scout on Lance Stephenson:
"He's just a pit bull. He's rounded out his game. He takes the challenge defensively, and then offensively, you can't discount him. Years ago, as an opponent, you would game plan for him to get the ball. You wanted him shooting it. Now, you can't game plan like that."
Read other takes here.
Highlights
Evan Turner scored 17 points against the Boston Celtics last night. Here are the highlights. If you haven't been paying attention, Paul George is playing awesome. He scored 25 last night in Boston and scored 32 in Milwaukee.
David West, Roy Hibbert and Paul George destroyed the Bucks on Thursday night. Individual highlights can be seen here.
Random stat I thought was interesting: 52-percent of Evan Turner's points come from mid-range shots. Only 8-percent of Lance Stephenson's points are mid-range shots.
Through three games with Indiana, Turner is 10-of-20 from the mid-range area, per nba.com
The Week Ahead
Tonight, they are back home to face the Utah Jazz. The next three games are against the Golden State Warriors, Charlotte Bobcats and Houston Rockets. Each of those teams are top ten in defensive rating. Can Paul George sustain his offensive tear? We wait and see.
Tags: Pacers Pulse