(This is Evan Massey's first contribution to 8p9s. You can find more of his work on Hoops-Nation and Pro Football Spot. Follow him on Twitter @Massey_Evan.)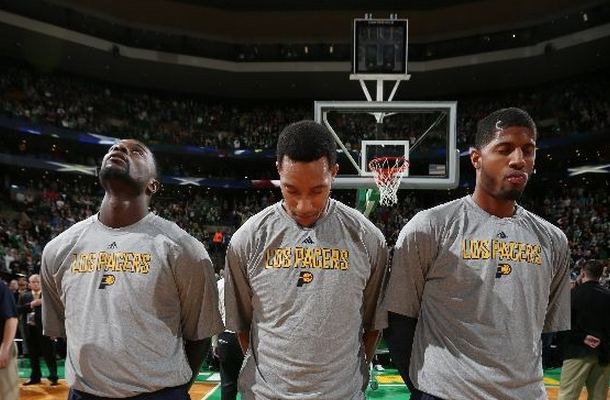 The Indiana Pacers were able to hold off the Boston Celtics last night by a final score of 102-97. Evan Turner was one of the main factors in bringing this win home and had his best game since donning the blue and gold. Turner put up 17 points on 8-for-14 shooting and ended up running the point guard position down the stretch.
Larry Bird made the trade to acquire Turner because he felt that the former 76er could score at a high level and play multiple positions. Turner did those two things against Boston and even was able to put good defensive pressure on Rajon Rondo late in the fourth quarter as well. The Pacers have been searching for a player who can be an X-factor off the bench, and with his play last night Turner may very well have made his case to Frank Vogel for more playing time late in games.
Turner was the number-one option in Philadelphia, and he seemed to have that killer instinct down the stretch. One area that he could improve in a bit is his shot selection, especially when he's playing with the starting five. There were times that he took a contested jump shot when he could have passed the ball off to Paul George or Lance Stephenson, but it was nice to see another aggressive player showing confidence late.
Perhaps the main thing that Turner brings to the table for the Pacers is a leader off of the bench. The Pacers were hoping that Luis Scola would be able to come in and bring that leadership consistently, but he has struggled in a big way over the last month. Turner is used to being a primary scorer, and he is bringing that mentality to the Pacers.
Defense was the main area that many questioned about Evan Turner when he was originally acquired from Philadelphia. While he isn't the quickest of feet, he has shown a basketball IQ that makes up for that deficiency. Playing against a point guard like Rondo certainly isn't easy, but he used his body to bump Rondo around and played him very well off of picks. He struggled at times to get through screens quickly, but he seemed to understand the process he was supposed to follow and Indiana's other capable defenders were there to make up for the slow execution. While more improvement will be necessary if he wants to fit in with this defense-minded unit, Turner showed Vogel that if he wants to use Turner at the point guard position more often, he has the option and can get good production.
Overall, the trade for Turner has looked very good through his first three games with the Pacers. So far,he is averaging 12.7 points (on 44.4% shooting) , 5.0 rebounds, and 2.3 assists per game. As much as Pacers fans love Danny Granger, Turner has already proved that he can be a huge upgrade from what Granger was providing in the first half of the year. As we have come to expect, Larry Bird is once again looking like one of the best executives in the business.

Tags: The New Guy