In the Pacers Week in Review, we look back at the past seven days to get a feel for the current pulse of the Pacers. Recap what you missed, note the recent trends and look ahead to the week ahead.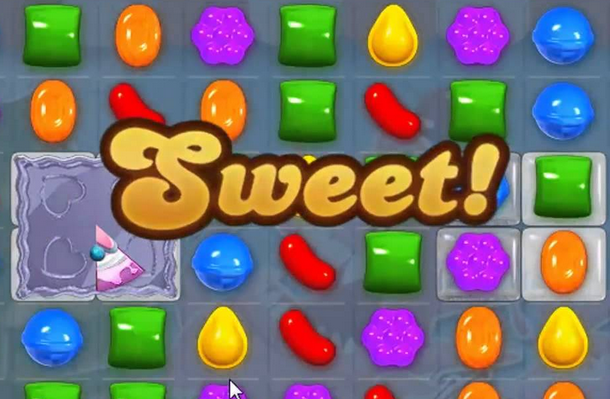 A Big, National Television Victory
The Pacers nearly pooped out their 11th loss against the super-charged Trail Blazers last night. But George Hill and David West, who combined for 67 points, escorted Indiana to a 5-point win in overtime and the Pacers are now 39-10 overall and 24-2 at home.
What's up Paul?
Paul George stunk yesterday. 5-of-23 shooting (and missed 5-of-6 three-point shots). This was just one bad game. But he has also stunk in the last seven of them. His season-long shooting percentages remain respectable: 44% from the field, 36% behind the arc, and 85% at the charity stripe.
But over the last seven George's outputs are down across the board: 30.0% from the field, 19.0% from distance, and 75.0% at the line.
Here's a shot chart from the past seven games for a better visualization of George's shooting woes.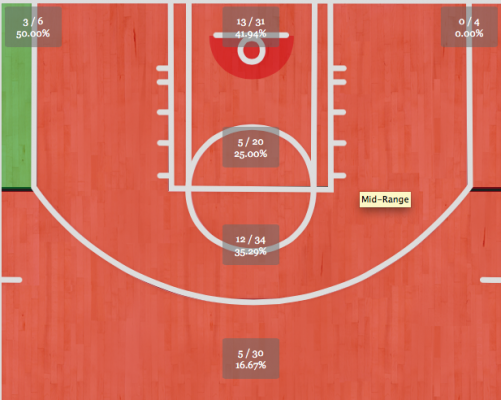 Hey, there's some green in the corner. He'll have a chance to bring these averages back up, as Indiana's next three games are against teams in the bottom half of the league defensively (Orlando, Dallas, and Denver).
Mr. West Is in the Building
David West definitely did not stink last night. He burned the Blazers with mid-range jumpers (created off penetration from George Hill), defended LaMarcus Aldridge nicely (by closing air space on LMA's patented mid-range turnarounds), and grabbed 10 rebounds.
Moreover, how about his production over the last seven games? Masterful. During this stretch, with West on the floor, Indiana is outscoring teams by 10.1 points every 100 possessions. That's the highest net rating on the team over the last seven games.
His per-game numbers are also up over this stretch: 18.6 points (on 54% shooting) and 7.3 rebounds per game, up from his yearly averages of 13.5 points (on 48%) and 6.7 rebounds.
Here's a graphic of his shooting over the past seven: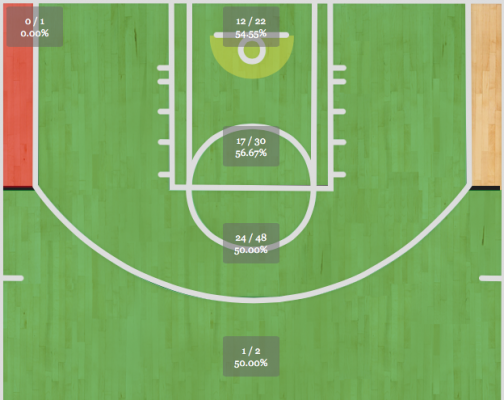 The mid-range section looks good. West is sixth in made shots from mid-range area since January 25th, that is more makes than the Zeus of the jump-shot … or Stephen Curry.
Speedy Bench Unit
The squadron of C.J. Watson, Lance Stephenson, Danny Granger, Luis Scola, and Ian Mahinmi have played a total of 152 minutes, making this Indiana's second-most-used lineup next to the starting five. Most five-man bench units do not have the luxury of a steady reserve point guard (one that protects the ball like BenJarvus Green-Ellis), a borderline All-Star, a former All-Star, a mid-range killer, and a capable rim protector.
Even though the Pacers' scoring falls when these guys are on the floor (this unit outscores opponents by "only" 6.6 points every 100 possessions), it's also the Pacers' fastest lineup that has played at least 55 minutes together, averaging nearly 100 possessions per 48 minutes. That's a good change a pace for Indiana, which generally plays at a below-average pace compared to the rest of the league.
George/Granger/Hibbert
Since January 1, every three-man lineup combination that has played at least 100 minutes has outscored opponents by at least 3.0 points per 100 possessions. Well, all except for one: the Paul George, Danny Granger, and Roy Hibbert trio.
When those three are on the floor they are outscored by a staggering 9 points every 100 possessions. That isn't good, for those of you who were wondering.
Adding fuel to the fire, it's the three-man unit that is last on the team in effective field-goal percentage (42.0%).
Why is this lineup scoring at a lower rate than the 30th ranked offense? Is it fatigue? After all, Granger usually enters the game when Hibbert and George have played a good portion of the quarter.
Hope may be here, however: Last night in 31 minutes, the trio finished with a 32.4 net rating — a fantastic mark.
Pacers Talk Scheme
Paul George has been ridiculous coming off screens and spotting up for threes this year. He has made 39-of-92 attempts (42.4%) on spot-up threes along with 33-of-82 attempts(40.4%) on attempts coming off screens, per mySyngerySports.com. In the clip above, George discusses catch-and-shoot jumpers as well as reading pick-and-rolls.
Since becoming head coach in 2010, Frank Vogel has a career record of 150-84 (61%). Indiana edged out Memphis for the top spot in defensive rating last year and has a commanding lead over second-ranked Chicago this year. In the clip below Vogel talks about drills and defensive principles.
David West is a beast. It's been a pleasure watching him play this season, and I'm very, very impressed with it. Here, he touches on his mind set when playing against larger power forwards and double teams, as well as the team's defensive scheme.
Even though most of Danny Granger's per-game numbers are down, he's shooting a satisfactory mark on catch-and-shoot opportunities. Danny talks about reading screens and making plays with the ball after the catch.
Candy Crush
Real men don't play #CandyCrush. They play @CallofDuty.

— Roy Hibbert (@Hoya2aPacer) January 21, 2014
A few weeks ago, Hibbert tweeted out to his 233,000 followers about his love of Call of Duty. Hibbert is a huge gamer and takes his Call of Duty multiplayer experience seriously. Real men don't play Candy Crush, according to him. I haven't played Candy Crush yet so it's good to know I'm still a real man.
All my @pacers teammates play #CandyCrush. Shots fired boys. Who pays for moves? Or changes the time on phone or tablet.

— Roy Hibbert (@Hoya2aPacer) January 21, 2014
I don't know if I can believe this. All of the Pacers play Candy Crush, Roy? Even David West? I can picture every Pacer playing Candy Crush except for Mr. West. This is important, Roy. We need to know.
The Week Ahead
Tommorow, Indiana tips off at 6 p.m. against the lowly Orlando Magic. They beat Oklahoma City yesterday on a buzzer beating dunk by Tobias Harris. Cool stuff.
After Orlando, there's two games before All-Star break: home games versus the Dallas Mavericks and the Denver Nuggets. Both could be tough games. Indiana lost to Denver two weeks ago by 13, and led by Dirk Nowitzki, Dallas is ranked third in points per possession.
I'll predict Indiana goes 3-0 and heads into All-Star Weekend with a 42-10 record.
Thoughts? Complaints? Shout at me on twitter: @jalen_ny
Tags: Pacers Pulse