Normal
0
false
false
false
EN-US
X-NONE
X-NONE
/* Style Definitions */
table.MsoNormalTable
{mso-style-name:"Table Normal";
mso-tstyle-rowband-size:0;
mso-tstyle-colband-size:0;
mso-style-noshow:yes;
mso-style-priority:99;
mso-style-parent:"";
mso-padding-alt:0in 5.4pt 0in 5.4pt;
mso-para-margin-top:0in;
mso-para-margin-right:0in;
mso-para-margin-bottom:10.0pt;
mso-para-margin-left:0in;
line-height:115%;
mso-pagination:widow-orphan;
font-size:11.0pt;
font-family:"Calibri","sans-serif";
mso-ascii-font-family:Calibri;
mso-ascii-theme-font:minor-latin;
mso-hansi-font-family:Calibri;
mso-hansi-theme-font:minor-latin;}
Well, that was ugly. I think I watched too many Carlos Boozer rim cuts resulting in layups. The Bulls scored 84 points through three quarters en route to a 110-94 win. Anyway, 81-1 is still there for the takingand here's a little "Hair of the Dog" that bit you last night.
The Five:

The Hill-Stephenson-George-West-Hibbert lineup that assaults opponents with power, speed and smarts has remained relatively supreme through ten games, except these last two. In 34 total minutes 'The Five' is allowing an appalling 119.3 points per 100 hundred possessions and scoring only 90.1 points per 100 possessions, which would be below the likes of Utah and Cleveland's putrid offenses.
What about tonight? Even shoddier. In the course of 20 minutes of their second game against Chicago, 'The Five' scored twenty-seven points lower than their average offensive efficiency mark, and that's 107.1.
They were a mess defensively, especially at the rim, where the Tom Thibodeau led Bulls made half of their shots. Chicago finished all seven of their cuts to the rim, per MySynergy Sports. As I mentioned in the foreword, Boozer got in on the entertainment, making two layups and a dunk off of cuts that were result of Paul George-Lance Stephenson miscommunication(I actually thought George should of stayed on Boozer), Derrick Rose penetration and Luis Scola's slow feet and lateral movement. Related:Mike Dunleavy whipped past Lance Stephenson on a cut too.
Did I mention Nazr Mohammed had one also?
Well, Derrick Rose is sort of good: The 2011 MVP is a career 30% shooter from beyond 23 feet 9 inches, which is well below average. No staff is instructing their team to fight like hell to get around ball screens to obstruct his three-ball attempts like a staff does Steph Curry.
Before last night, Rose only made six threes through seven games on twenty-four attempts. Tonight? How about six of them on eleven attempts. I'm certain the Pacers will live with Derrick Rose taking eleven out of his sixteen shots outside of the restricted area, where he did not find any riches, missing all three layup attempts.
Paul George's rough night: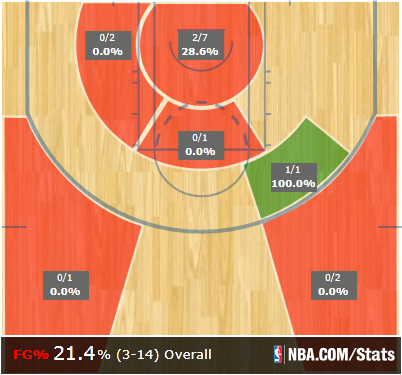 Some games you just don't have it. Other than two measly shooting numbers at home versus Chicago(not last night) and Toronto, Paul George has made over 48% of his shot attempts. After tonight the percentage dropped to 46%. He was 3 of 14, missing seven of his jumpshots as well as five layup misses. There was a handful of shots, specifically shots of rim, that George would generally make. He was somewhat lethargic when defending off the ball, getting beat on a Deng back-door cut. In his defense, they were down by 30 points but his normal exertion wasn't present.
At least Hibbert was solid

:
Occasionally there is a trickle of positives in a double-digit loss. Tonight had them. One was the rim defense on Derrick Rose and the other was the NBA's leading shot blocker, who finished with three blocks, five defensive and offensive rebounds along with 14 points.
COP3LAND: Give it up for six million dollar man! In 16 minutes he made three out of his four three pointers, including a silly one dribble pull up over Taj Gibson. However, that was his only triumph over Taj, who exploited on the low block multiple times during garbage time in the fourth quarter. I'm hoping this momentum carries over to Wednesday against former team if he sees the court. Come on Frank, get him some minutes against New York.
Parting note: If you ever wanted to survey a mismatch at the center position, it will be present on Wednesday night where Indiana will play Andrea Bargnani and the gloomy New York Knicks.
Feel free to disagree and let your thoughts be known to me on twitter. @Jalen_NY
Stats provided by NBA.com.
Tags: Game Recap