v:* {behavior:url(#default#VML);}
o:* {behavior:url(#default#VML);}
w:* {behavior:url(#default#VML);}
.shape {behavior:url(#default#VML);}
Normal
0
false
false
false
false
EN-US
X-NONE
X-NONE
/* Style Definitions */
table.MsoNormalTable
{mso-style-name:"Table Normal";
mso-tstyle-rowband-size:0;
mso-tstyle-colband-size:0;
mso-style-noshow:yes;
mso-style-priority:99;
mso-style-parent:"";
mso-padding-alt:0in 5.4pt 0in 5.4pt;
mso-para-margin-top:0in;
mso-para-margin-right:0in;
mso-para-margin-bottom:10.0pt;
mso-para-margin-left:0in;
line-height:115%;
mso-pagination:widow-orphan;
font-size:11.0pt;
font-family:"Calibri","sans-serif";
mso-ascii-font-family:Calibri;
mso-ascii-theme-font:minor-latin;
mso-hansi-font-family:Calibri;
mso-hansi-theme-font:minor-latin;}
(Editor's Note: Please welcome Jalen Bishop to 8p9s. Jalen is a sophomore at St. John's University, and he will be one of (hopefully) several new voices around here as we try to provide new perspectives and content this season. He's going to give you a little "Hair of the Dog" that bit you last night. You follow Jalen on Twitter @Jalen_NY)
Line and Shot Chart of the Night: Paul George (24 points, 6 rebounds, 5 assists, 3 blocks)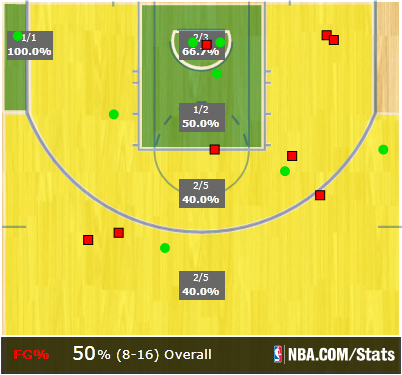 Paul George was 8-of-16 from the field — including 3-for-5 from three — to go along with 5-of-7 from the foul line. A healthy shot distribution tonight from George, who used all of his off- and on-ball skills to score on Orlando's defenders. His 2013-14 debut featured muscling the helpless Moe Harkless for layups, stroking threes, and coming off of zipper screens from David West at the top of the key to generate offense in pick-and-rolls.
A great sequence tonight from 2013's Most Improved Player: At the 3:46 mark in the third quarter, George is isolated on the right side of the court with E'twaun Moore defending him. Two dribbles later, he drives past Moore and finishes over the top of Kyle O'Quinn. Orlando passes it in quickly to Jameer Nelson, who attempts to create in semi-transition just in front of the three-point line; he is met by a standstill Paul George for an offensive foul. This happened in about seven seconds. A quick course of events that truly exhibits his powers as a two-way player.
Quality individual game.
Born Ready for a Raise: Someone is smelling a big payday coming in the summer of 2014. Stephenson did everything from menacing the Magic in transition, hitting threes along with some slick putbacks on missed shots.
Orlando, Welcome to the Block Party: Eighteen mean, nasty swats. Fifteen of them came from George (4), David West (5), and Roy Hibbert (7), who had the team high. Victor Oladipo — the second overall pick of the 2013 draft and an Indian University product — was greeted with a huge cheer from Hoosier fans in attendance, then welcomed to the NBA by a Paul George chase-down block. It is uncertain whether Jason Maxiell will recover from his 0-point, -15 performance tonight and the one-handed block he received from Hibbert. Both were terrifying.
Pacers control the beginning fourth quarter: Even with just one starter on the court to start the fourth quarter (Stephenson), production did not slip. From the 11-minute mark to 6:20, Indiana took a 72-64 lead and increased it to 92-73. By no means is Orlando a stellar offense, however the second-half unit played steady defense by holding Orlando to 31%(5-of-16) shooting during that stretch, while the Pacers had seven different scorers, per NBA.com. Nice balance.
20 Turnovers: A lot of shoddy post-entry passes, and junky passing in general — stuff that Indiana has had a problem with in the past. Attributable to some of Orlando's defense but it is nothing that can't be fixed. Let's use first game jitters narrative for justifying their turnovers.
Restricted area is closed: Below is Orlando's shot chart. No surprises. Besides shooting a little over league average on threes taken above the break, the Magic were swallowed by the NBA's top-rated defense from a season ago.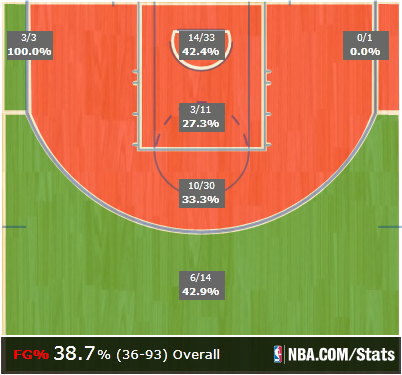 Parting words: The Pacers play their first road game tonight against the new-look Hornets Pelicans. Roy Hibbert says his knee is fine and will play. I'm curious to see whether or not Chris Copeland plays any meaningful minutes.
Shot charts courtesy of NBA.com's media stat site.
Tags: Next Day Thoughts