Let's take some time off from talking about Roy Hibbert and discuss four wing players that the Pacers are reported to be interested in: O.J. Mayo, Courtney Lee, Carlos Delfino, and Gerald Green. With Jamal Crawford and Nick Young signing with teams in the past couple of days, it seems like the free agent wing the Pacers have been wanting to sign will be one of these four players. I want to talk a little about their games and how they'd fit with the Pacers. The profiles are done in descending order of how much it would cost to sign each player.
O.J. Mayo – SG – 6'4″, 210 lb., 24 years old
His Game: There are a lot of misperceptions floating around about O.J. Mayo and the way he plays basketball. Because of his high-profile high school career, high draft position, and flirtation with the point guard position, many people assume that Mayo is a ball-dominant, creative two-guard in the mold of Dwayne Wade and Kobe Bryant. This is not true. As Chris Herrington points out in this fantastic overview of Mayo's game, his playing style and career numbers are far more in line with sweet-shooting scorers like Ray Allen, Ben Gordon, and Kevin Martin. The main take away from this comparison is that while Mayo is pretty good at creating his own shot – he was assisted on 51.3% of his baskets last year, 16th among SG's – he's not very good at creating for others.
He's been given plenty of opportunities as a creator, and he gives it a decent effort, but it's worth noting that while he has decent looking assist numbers (3.4/36min), he also turns the ball over fairly frequently. Mayo is also not a great player going to the basket. He takes about 21% of his shots at the rim and does not finish particularly well (56.6%). Defensively Mayo struggles, though it's not for a lack of effort. Mayo simply lacks the size, length, and elite athleticism to be more than an average defender. His defensive struggles are the primary reason he's been coming off the bench in favor of Tony Allen for the last 2 seasons. There are 2 other factors worth noting: 1. Mayo has struggled coming off the bench the past 2 seasons. 2. He seems to have a rocky relationship with his coach, Lionel Hollins.
The Fit: The Pacers are looking for a player who can create their own shot against good defense and carry the load offensively off the bench. Mayo fits the bill in both instances. He also represents a significant talent increase over any player he'd be replacing. He would fit well into the Pacers egalitarian approach where any of 6 or 7 players could be the best guy on any given night. However, I would find it hard to spend big money on a guy who's spent 2 years struggling in the role you're paying him to fulfill. One thing to consider is that Lionel Hollins is considered to be a fairly old-school, hard-nosed coach. We've seen players who wilted under this type of coach (but remember, we're not talking about Roy Hibbert today) thrive under the uber-positivism of Frank Vogel.
Overall Take: Mayo is an expensive proposition (He's reportedly not returning any phone calls from teams not willing to offer more than the full mid-level exception which starts at $5 million), but I would classify him as medium risk and high reward. The worst thing you're going to get if you sign Mayo is an overpaid, slightly above average basketball player. There's potential, however, for much more. Neil Paine of Basketball reference recently pegged Mayo as one of 6 free agents who are statistically poised for a breakout season. There's a chance that a change of scenery, coaching voices, and teammates would propel Mayo toward the stardom he seemed destined for after his first couple years in the league.
Note: Mayo also had a famous ABCD camp battle with Lance Stephenson back in '05.
Courtney Lee – SG – 6'5″, 200 lb., 26 years old
His Game: Lee has a very well-rounded game. To begin, he's a very good shooter. He's shot above 40% from the 3 point line 3 out his 4 seasons in the NBA while shooting 2.9 3's a game over the course of his career. In addition to his outside game, Lee is pretty effective going to the basket. He gets to the rim at the same rate as Mayo (21%) but he finishes more effectively (62%). One thing to note is that Lee is assisted on about 10% more of his rim baskets than Mayo. This gives us the portrait of Lee as someone who gets to the basket by cutting off the ball in addition to taking his man off the dribble. Lee does not create shots for other players, but he also does not stop the ball offensively.
He generally plays within the context of the offense and is known as a guy with a high basketball IQ. Defensively, Lee is a very good player. He is known as a player with a passion for the defensive end of the floor. He is quick enough to guard PG's, but has also had success guarding bigger players: he made Kobe Bryant work very hard while guarding him in the 2009 finals.
The Fit: While Lee is a very good basketball player, he is not the high-volume scorer the Pacers are reportedly looking for off the bench. Like Mayo, however, he definitely represents a talent upgrade over whomever he replaces. Lee reminds me quite a bit of George Hill – a consistently above-average player who works hard on both ends, takes what's given to him, and makes relatively few mistakes.
Overall Take: Lee is a good basketball player. He's a low-risk, medium-reward signing. He doesn't have the breakout potential of OJ Mayo, but he's also likely not quite as expensive. He is a guy you will never regret having on your team. He's also an Indiana native and a proven playoff contributor.
(Note: There is a definite drop-off in price, role, and expectations between Mayo and Lee and Delfino and Green. Mayo and Lee are going to need 25+ minutes each night and $5+ million a year. These next two guys won't.)
Carlos Delfino – SG/SF – 6'6″, 230 lb., 29 years old
His Game: Delfino is, in many ways, the perfect wing for "smashmouth" basketball. He's a big, physical player who likes to play defense and rebounds incredibly well. Offensively, he doesn't give you much, but he doesn't hurt you at all either. For Pacer fans, it would be good to think of him as a more jump-shot oriented, less ball-stopping version of Dahntay Jones. Pretty much all Delfino does on offense is shoot 3 pointers. In fact, last year 52% of his shots were from behind the arc.
He has very little game inside the arc, however, and is a poor finisher at the rim (56.6%). He does handle the ball well for a big 2 guard, but he lacks the explosiveness to use this ability to do much other than bring the ball up the court occasionally. He is a good passer who makes good decisions and few mistakes, but no one would mistake him for a great creator or a guy who could initiate the offense. Defensively, Delfino is solid. He uses his big body and strength well to make up for his lack of great athleticism.
The Fit: Like I said, Delfino basically gives you much of the same things Dahntay Jones does, just at a slightly higher level. Delfino's sweet spot is the corner 3 point shot, and that seems to be one that is available frequently in the Pacers' offense.
Overall Take: Delfino is not the scorer that the Pacers are looking for, has almost no upside, and only provides a slight upgrade over the incumbent wing players. He is, however, a tough guy who plays good, solid basketball. However, I don't know that I see the point in signing Delfino to take away valuable developmental minutes from guys like Stephenson and Johnson, especially if Dahntay Jones remains on the roster.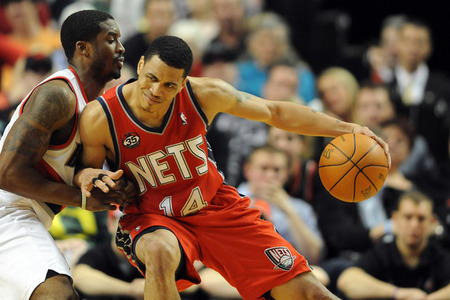 Gerald Green – SF – 6'8″, 200lb, 26 years old
His Game: Before I tell you about Gerald Green, you should read this. If you followed instructions, then you know that Gerald Green is an uber-talented former first-round pick and slam dunk champion who's had a rough path through the nether-regions of professional basketball while trying to resurrect his dream of playing in the NBA. Looking at Green's stats and game, two things become readily apparent: 1. He's not afraid to shoot, and 2. He doesn't create his own shot.
This is not usually a good combination. Last season, Green put up close to 15 shots each 36 minutes he played. While that doesn't sound like a lot, that's nearly the same rate at which OJ Mayo shoots the ball. He has a similar usage rate to Mayo also. The major difference between the two players is that Green was assisted on 67.5% of his buckets last year, while Mayo was only assisted on 51%.
While Green cannot create his own shot, he is a good shooter when a shot is created for him. He had the highest true shooting percentage (57.4) and effective field goal percentage (54.8) of all four players. Green also is a fantastic finisher at the rim (70.7%), but, again, he doesn't get there on his own – he was assisted on 70% of his makes at the rim. Defensively, he's just figuring things out. Avery Johnson, his coach with the Nets last season, had this to say about his defense, "He'll make a mistake every now and then, but he competes on defense." Green has Paul George level length and athleticism, so the ceiling is pretty high defensively.
The Fit: At first glance, grabbing a guy like Green who resurrected his career by making open shots created by Deron Williams (Green played over half his minutes with Williams last season) wouldn't seem to make a ton of since for the Pacers. However, I actually feel like he's a pretty good fit with the second unit, especially if that unit is going to feature Lance Stephenson. Stephenson, though he's an unfinished product, is a guy who seems focused on creating shots for his teammates. Green is a guy who would thrive taking advantage of these shots. The Pacers' second unit also needs another player who's not bashful about shooting as only Tyler Hansbrough seems to really look to score when the second unit is together. Also, Green's high school coach believes that Green thrives when the people around him believe in him, and Frank Vogel is still the coach of the Pacers.
Overall Take: Assuming Green can be gotten for a reasonable price, he'd be a very low-risk, high-reward acquisition. The potential that made him a top 20 pick coming out of high school is still there, and he seems to be developing the maturity to harness it. If Green can reach his considerable ceiling, he has starter level talent.
Ranking the Deals/Players
Upside: Mayo, Green, Lee, Delfino
Risk Level (from high to low): Green, Mayo, Lee, Delfino
Current Talent: Mayo, Lee, Delfino, Green
I'd be happy with any of these players on the Pacers, though I'd be less excited about Delfino than the others. All four guys have skills that would help the Pacers and are likely to come at different prices. This is a situation where beauty is in the eye of the beholder, and it really depends upon how much Pritchard and Walsh want to spend and gamble.
Tags: 2012 Free Agency