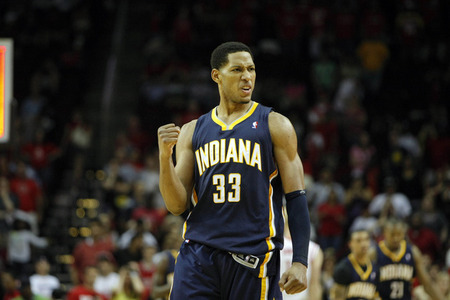 Since the Pacers' horrendous, back-to-back losses against the Knicks on consecutive days in mid-March, they have finally been starting to pick it up. They have gone 7-3 after losing to New York in Indian and now have the third-best record in the Eastern Conference.
Much of the credit should go to Danny Granger, who has finally emerged. Granger picked it up after an 11-point performance against Knicks, putting up 25 the next game as the Pacers knocked off the Chris Paul- and Blake Griffin-led Clippers 102-89.
It continued into the next game, where he dropped 16 as he helped the Pacers eek out an 85-82 win in Washington over the Wizards on March 22. That was just the beginning of a back-to-back-to-back stretch, however, as they would face the Suns the next night, when Steve Nash helped end it late as Phoenix won, 113-111. Granger did all he can, scoring 28 in the game on 9-of-13 shooting, but it wasn't quite enough. Indiana got back to their winning ways next game though, as Indiana defeat Milwaukee 125-104 with the Captain putting up 15.
Then came arguably the team's best win of the season. Indiana made a huge statement victory against the Miami Heat, destroying them 105-90. Danny played strong and held his own on 25 points, 9 rebounds, and 8-of-19 shooting. Just when everything looked great, however, things again went down hill two nights later. The Pacers suffered an embarrassing loss to the New Jersey Nets. Deron Williams went off for 30 points in the 100-84 beating. Granger? He would only have 5 points on 2-of-8 shooting … in 21 minutes. His best contribution to his team that night might have came when he fouled out.
But Granger soon picked it up as he helped Indy beat Washington again with 25 points a night later and followed that up with 18 points on 7-for-13 shooting, albeit in a defeat to the Spurs.
Really, all that was just a nice precursor for what was to come. Over the last two games, Granger has shown what he has become: a leader. It's been questioned for years whether Granger's leadership he can lift this team. If you judged him from his last two games, it was a good sign that he was the man.
It started off in Houston, where Granger scored 32 points on 11-of-20 shooting. On top of that, he played awesome defense and contributed on the boards with 7. Moreover, he was clutch. With 15.7 seconds left in overtime, Granger would hit two big free throws before Chandler Parsons ended up tying the game on a lay-up. Moments later, Darren Collison helped extend the lead to two on free throws. Then came in the Captain, who blocked Parsons from pulling up a game-winner at the end. He also hit his fair share of big shots late in regulation
No. 33 wasn't done yet.
Down by as much as 17 last night against the Knicks, Granger sparked a miraculous comeback with a long-range-shooting and free-throw barrage, scoring 27 points, including 14 in the fourth quarter — of which he played every second. Indiana outscored the Knicks 40-17 to win 112-104. Granger did his best Reggie Miller impersonation, which was quite the honor for the legendary Pacer who was inducted to the Hall of Fame a day before. It started looking like a victory for Indiana once Granger did the Discount Double Check after his big three in the corner. (See video below.)
The last two games have been the most impressive but it really has been an excellent 10-game stretch.
Take a look
As you can see, Granger has improved significantly over the past ten games. He no longer is jacking up as many errant shots as he was earlier in the season. And the results show not only on Granger himself, but on the Indiana Pacers as a whole.
The Captain has emerged.
Tags: Danny Granger