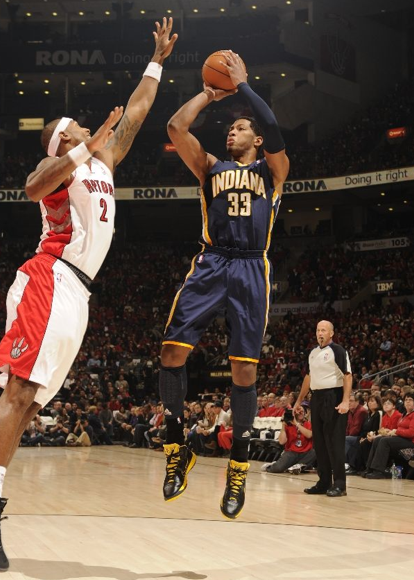 Saddled with high expectations after a subtly superb offseason and following a dominating win in the season opener, the Pacers defeated a not-as-awful-as-we-thought Toronto Raptor squad in what was the home opener for Canada's only team.
The beginning of the game looked exactly as we expected in the beginning of the season after an extended lockout and abbreviated training camp. The team were throwing the ball everywhere, except in the basket. At the end of the first quarter, Toronto had just eleven points. Granted, part of that could be the pesky prowess of the Pacers' rangy defenders. But still. Eleven!
To be fair, the rustiest part of the post-lockout NBA may be the officiating, but more on that later. The officiating has been awful thus far. Great examples in this game included obvious basket interference, an airball free throw that didn't stop play and a foul called on Lou Amundson when a Raptors player leaned right into him.
Regardless, for the second straight game in as many attempts, the Pacers shot under 40% but came out on top. Tha seems to be a sign of better things to come (and the team is already on pace to go 66-0).
Speaking of things to come, Paul George appears to be dramatically improved from his rookie season. It's prudent to avoid any outlandish predictions, especially since the opponents combined for just 52 wins last season (a sum less than that compiled by seven individual teams). Thus far, however, he appears confident and improved, a legitimate force that teams will need to game plan for defensively.
George still has a lot of growing up to do as a starter in the NBA. As a glaring example, he shot — and missed — a three-pointer with the shot clock turned off at the end of the third quarter when the Pacers could have held for the last shot with a 10-point lead. That absent-mindedness led to a Toronto basket on the other end. Still, he could really be something — and that could happen relatively soon.
Last year, George became a lockdown defender whose offensive presence was mainly a liability except in transition. Now, his perimeter shooting has become a legitimate threat (he hit 4 treys tonight), which will only help spread the floor and open up the interior for Roy Hibbert, David West and Tyler Hansbrough.
Though George may have been the flashiest, Darren Collison was quietly magnificent. As the team still adjusts to a revamped system with new pieces, Collison has kept the offense serviceable despite poor shooting. George Hill will certainly play better and become more comfortable, but for now, the battle for the starting point guard spot isn't even close. Case and point: The Pacers were +16 with Collison in the game, -8 with Hill.
Early excitement for this season centers around the Pacers extreme depth, in which any of seven players (supposedly) could lead the team in scoring on any given night. But in the second game of this shortened season, it became patently obvious that Danny Granger still runs the show.
With the once-comfortable lead dwindling down to five, Granger nailed a deep three to push the lead back to arm's reach with just over two minutes left in the contest. A minute later, now up just two, he hit another triple to help ice the game. before West did so for good with a jumper of his own.
Danny Granger: Still the leader; still the man; at least for now.
Other Thoughts
In a game played north of the border, nothing is more entertaining than yelling "He shot that from (insert obscure Canadian location here)!" Based on Paul George's showing from long range, I got to use Ottawa, Prince Edward Island, Calgary, Vancouver and Prince Albert (yes, it's a real city there).
A.J. Price is the Dominic Rhodes of the Pacers. He spends all game on the bench getting hype out of his mind and bounces around to congratulate his teammates during timeouts. At some point this season, Collison will get in foul trouble, and Lance Stephenson will be serving a suspension for setting off firecrackers in Vogel's office (or whatever teenage delinquents do these days). Then, we'll actually get to see Price play. Sources say he wasn't half-bad in the Pacers playoff series last season.
Officiating has been awful thus far. Great examples in this game included obvious basket interference, an airball free throw that didn't stop play and a foul called on Lou Amundson when a Raptors player leaned right into him.
Some people like Amundson's potential, but if you ask me, Jeff Foster cannot get healthy fast enough.
Tags: Game Recap