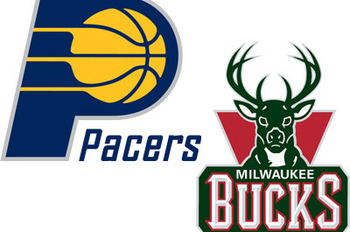 The Indiana Pacers and Milwaukee Bucks play in the same division, and Wednesday's game in Milwaukee will feature two very similar teams.
The Pacers had a dominating win at home on Monday night against the Toronto Raptors, 124-100. Danny Granger did a little bit of everything as he tallied 21 points, nine rebounds and five assists. It was Brandon Rush that stole the show though, putting in a season-high 26 points off of the Indiana bench. Darren Collison also chipped in 17 points, as the Pacers had seven players score in double figures.
The Bucks had a date with the surging Miami Heat on Monday night, and fell victim to them at home.
When you look at the rosters and even the front offices for both franchises, there are many similarities, which are both good and bad from different perspectives. The Pacers will travel to Milwaukee on Wednesday night to face the Bucks for the second time this year. The Bucks defeated the Pacers at Conseco Fieldhouse earlier this season.
Darren Collison and Brandon Jennings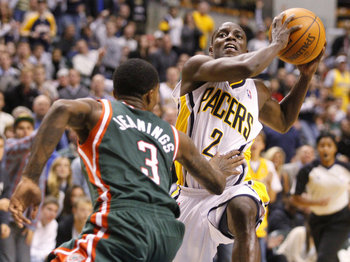 Like many teams around the league today, both of these teams have been searching for a rising young star at the PG position. Both teams look to be satisfied with what they have found. Brandon Jennings and Darren Collison are both in their second year in the NBA, and both had some really outstanding performances last year as rookies.
Nobody can forget the night Jennings put up 55 points against the Golden State Warriors. In the absence of Chris Paul last year in New Orleans, Darren Collison looked to be the next big thing, and even looked better than Paul in many games last season.
Both of these guys are quick and capable of doing some major damage at the offensive end of the floor. Though not "traditional point guards," these guys can really play, and they both look like they will be around for a long time. Both guys are also very capable of being very good defenders. They are both still learning, and have tremendous pressure on their shoulders as they look to get their teams into the Eastern Conference Playoffs.
Roy Hibbert and Andrew Bogut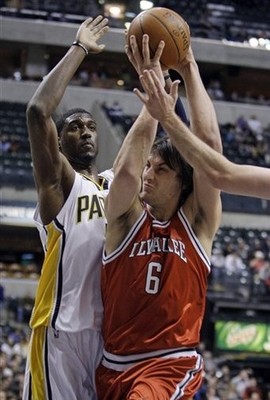 If you were to make a list of the top five up-and-coming centers in the game today, I think you would have to put these two at the top of the list. Andrew Bogut has been fantastic the past couple of years, and has really emerged as the team's go-to guy. Had he not had that horrific injury last year right before the playoffs, the Bucks were going to really make teams "Fear the deer" in the postseason. He is that much of a difference-maker, and yes, he is that good.
I actually think the Bucks would have been favored in their postseason series against the Hawks. You would be hard pressed to find a better talent, and a guy with as much potential as Bogut.
On the other side, the somewhat quiet breakout season that Roy Hibbert is having has propelled this Pacers team to where it is now. His offseason workouts with Bill Walton, and his MMA training over the summer have gotten him in the best shape of his life, and he has truly evolved into a very good center.
Now in his third year, Hibbert has really dedicated himself to becoming a great player. He is really behind the franchise as far as getting back to its winning ways. He is adored by the fans here, as he has his own "Area 55″ arena space at Conseco Fieldhouse. He is giving maximum effort, and is saying all the right things, and really becoming a leader of this team. This will be an exciting battle to watch during Wednesday's game, as two of the best young centers in the game get together.
Wing Players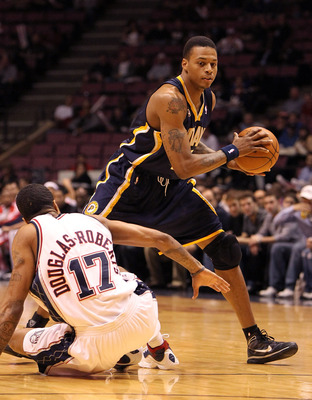 Al Bello/Getty Images
Both the Pacers and Bucks have some quality guys at the wing positions. These guys might not be the superstars like LeBron, Wade or Carmelo, but they are good, and they play well together.
The Bucks have some quality guys like John Salmons, Corey Maggette, Chris Douglas-Roberts, Luc Richard Mbah a Moute and even Carlos Delfino. All of these guys have proved over the years that they know how to play. Some of these guys are up-and-coming, and have shown some real potential.
The Pacers have guys like Brandon Rush, Danny Granger, Mike Dunleavy, Paul George and James Posey. There is a nice mix of veterans, and young talent here. Brandon Rush has really come a long way since his early Pacers days, and Mike Dunleavy is returning to form. James Posey adds valuable experience, and a defensive mindset.
Big Three: Pacers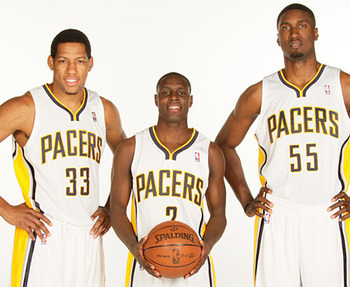 The Pacers have a young "Big Three" in Collison, Hibbert and Granger. These guys are the core group of this franchise, and look to be for the coming years. Each one of these guys has led the way in multiple games so far this season, and the team will count on them every single night.
The Pacers rank 13th in the NBA in points per game, fourth in rebounding, 10th in assists and 11th in points allowed.
Big Three: Bucks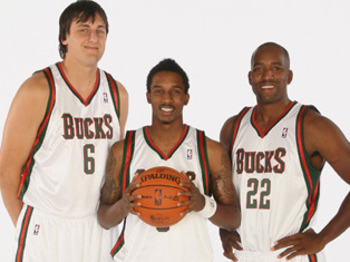 While Michael Redd may not be a part of Milwaukee's version of the "Big Three," you can take your pick of which guy to put in his place. I think the best candidate for this spot right now would be Luc Richard Mbah a Moute. You could easily make a case for John Salmons, but the effort that Mbah a Moute gives on the defensive end really helps this team. Clearly Bogut and Jennings run this team, but just like Indiana, they are young, and will only get better in the coming years, which is really scary if you think about it.
Like the Pacers, the Bucks boast very good rankings in the rebounding and points allowed categories (sixth in both), but they rank 30th in the league in both points per game, and assists per game.
Conclusion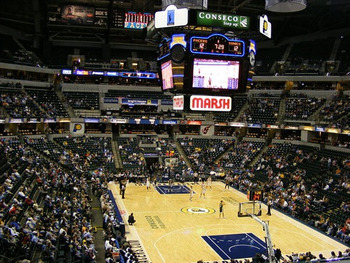 Most people would agree that the Bulls are the class of the Central Division, and it would be hard to make a case for either of these teams to top them, but they are more talented than most people think. They have real potential, and could really surprise a lot of people late in the season. Both of these franchises have had horrible years recently, but they are both on the rise, and the other teams around the league should sleep with one eye open.
Tags: Andrew Bogut Brandon Jennings Danny Granger Darren Collison Indiana Pacers Michael Redd Milwaukee Bucks NBA Roy Hibbert