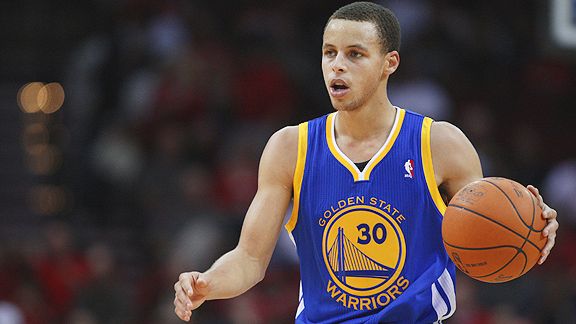 I usually agree with ESPN's columnist J.A. Adande and his solid work. But for once, I just didn't agree with him. In Adande's latest article, he pointed out that Golden State Warriors' point guard Stephen Curry would be much better off at shooting guard, considering that's mainly what he is a good at in the league. However, I would have to disagree.
Adande made some very good points, as it would be tough for Curry to be an All-Star in the NBA considering the other great point guards in the Western conference alone. He already pointed out Chris Paul, Deron Williams, Steve Nash, Russell Westbrook, Tony Parker, Andre Miller, Aaron Brooks, Chauncey Billups, Jason Kidd and Tyreke Evans. That's very logical reasoning there along with that it would be easier for him being shooting guard as he could pass by O.J. Mayo, Thabo Sefolosha, Kevin Martin, Eric Gordon, and teammate Monta Ellis while being in an elite core of players like Kobe Bryant, Manu Ginobili and Brandon Roy.
But first of all, think about it: The guy's size. He is 6'3″ and 185 pounds! Phil Jackson said that Curry may not fit all that well at shooting guard.
"He's not big, he's not strong," Jackson said. "But he's quick, he knows how to play the game, and I think that gets him by. He's got a great shot and he's got a great attitude towards playing, and I think that's important."
Adande would point out Curry's shooting and quickness, but Curry will still be taken over. What about when he sometimes faces Eastern Conference teams and he has to put up with some big guy like 6'8″ Joe Johnson, who plays shooting guard actually. How would he be able to guard Kobe Bryant or Manu Ginobili as both clearly can dominate Curry?
Curry likes point guard.
"I knew that I had to be a point guard [in the NBA], I had to learn how to manage the game and get my teammates involved," Curry said. "You see the game differently from the point guard position. I still have a lot to learn in that regard, but my last year at Davidson really helped me."
Adande says that if Curry switched to shooting guard, it would be like moving from the passenger's seat to the driver's. Curry pointed out that he could take advantage of screen plays at shooting guard, but he says at point guard you need the vision, and that is what it takes to be one of the top players at the point. And Curry has potential to do that if he stays at point and continues to mature and evolve. Shooting guard would be tough and I think he would rather struggle.
"When you're coming off a screen [as a shooting guard] you have two options: You can go one way or the other," Curry said. "But if you're a point guard, you've got four other guys you've got to always have in your vision as well as the basket.
"It's a lot to process, as the game's so fast when it's happening. But that's what the great point guards do. They make the right play every time and get the ball where it needs to go and kind of read the defense."
And Curry could do that. Curry has been watching the elite point guards play and he is taking his notes. That is what it also takes to be on top.
"Mostly the way they're using spacing on the floor," Curry said. "They're never under duress at all. They're always where they want to be on the floor. If they're not, they attack, then they get to that spot.
"Watching them run the pick-and-roll game, it's like they always have an out. They never put themselves in trouble. And I learned bailout spots where my teammates are going to be, depending on where I am, so I always have an out."
Just because a point guard is a solid shooter rather than passer, it doesn't mean he can just switch. I mean, the guy has six assists averaged right now, which is pretty good for a team he is on like the Warriors. If he had more solid core of players around him, just think of how many more assists he could average. Plus, with David Lee now back, the assist rate could in fact go up.
Adande instead could have wrote that Monta Ellis should be a shooting guard. Ellis may be good at point guard, but he can take control at shooting guard as well. Having Curry at point and Ellis at shooting would be much more beneficial. Ellis' main position is shooting guard, and despite that he has the same size as Curry, he is still able to dominate. He can guard the elite players, just not Curry.
Why not let Curry play what he was drafted as? Curry may have a tougher chance of being among the elite point guards, and he knows that, too.
"It's a tough, elite group to try to crack into," Curry said. "But I've got a lot of time to learn and try to get better, so hopefully I can."
And that's the best way to put it.
Cdawg133 said this in the comments section of the article, and I totally agree with the point:
Curry cannot guard the 2, Monta can guard the 2. JA, you slippin, man. This is the one of the most illogical articles I've ever read. You think they should stunt Curry's growth as a point guard and plug him in at 2? He won't be able to guard any other shooting guard out there. Besides having a point guard who is a pure shooter is an extreme luxury. Curry can have a Nash/Bibby like impact. And yes, while he has Dell Curry's shooting DNA, he also has a lot that Dell Curry didn't have in his DNA. He can do WAY more than be a spot up shooter. Are you suggesting that Steph should fill a JJ Redick or Kyle Korver role? I'm honestly offended by this article. It seems like you wanted to write something about the Warriors, and didn't know what to write. It's fine if you don't know anything about the Warriors, most people don't, but it worries me that this article shows no understanding of the game of basketball.
Adande has written a bunch of great articles, but this one was just distasteful. Curry is fine where he is. Let him be what he is. Not something that he's not.
What do you think? Should he be point guard, or shooting guard?