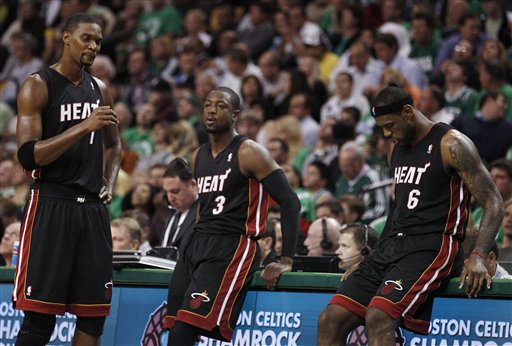 The Miami Heat are recently just coming off a three-game losing-streak, and it could be counting.
It first started off with a miraculous buzzer-beating, game-winning shot by Rudy Gay for the Memphis Grizzlies to clinch a 97-95 victory. Gay got it right over LeBron James, who played great defense. But it wasn't enough to stop Gay.
Miami would then head back home and face the Indiana Pacers. Easy win, right? Not at all. The Pacers dominated, led by Danny Granger's 20 points, eleven rebounds, and six assists along with Brandon Rush's 20 points to whoop the Heat, 93-77.
Then Dwight Howard would have his taste of the Miami's struggling squad, fueling for 24 points and 18 rebounds as the Orlando Magic knocked off Miami, 105-94. With six minutes left in that game, Miami was coming back and they were up by a point. The Big Three was fueling for Miami, but after that one-point lead, everything turned into a disaster. Dwyane Wade, LeBron James, and Chris Bosh all struggled and did terrible towards the end. Jameer Nelson and Howard were tearing up the team.
"Orlando is supposed to win this game," Wade said.
Wade had another poor performance, shooting 6-of-21 despite having 18 points. This game was six times better than the Pacers loss, as Wade was one-of-13 and only had three points, making this one of the top three worst games of his career. In the Pacers game, LeBron James was quoted saying, "We're not having fun." And again, the Heat did not have fun.
"It is definitely going a lot slower than we all thought," James said of the team's progress. "At some point we're going to have to figure it out."
The Heat are trying to find chemistry between their three players. Right now, so far, it's been one player stepping up big time in each game while the other two struggle. We have seen that a lot, mostly from LeBron James. Then Wade, who has had his fair share of big games. Chris Bosh is coming off some big ones, especially with his 35-point performance against the Phoenix Suns. But the Heat are now 8-7, way worse than many expected. Fans expected at least 13-2 or something like that.
"Me and LeBron are going to continue to try to find a way with the game plan we have," Wade said. "We're trying to be effective. We have a great coaching staff; I'm sure they'll look at things and see how to utilize us a little better."
Right now, many defenses have found ways to stop the powerhouse scorers in Wade and LeBron, and it continues to get worse for Miami.
"We have so many options that we take what the defense gives us," James said. "We have sets where we go through our progressions."
The Heat are struggling and they just can't seem to click now as everything is going in a downward spiral.
"If we had the answer right now, we wouldn't be sitting around .500," James said. "That is something we've got to continue to dissect and get better."
Right on.
But everybody, come on now? Seriously. Okay, yes, we all know the Heat were a much better team last season through 15 games. Heck, even the Cleveland Cavaliers were doing better last season at the 15-game mark. But this team has a lot of potential for greatness.
Right now, the Heat are lacking the chemistry. Shaquille O'Neal joined the Los Angeles Lakers in the 1996-97 season and it took a couple of seasons for the Lakers to get their chemistry going with him and Kobe Bryant before they would be able to win their first NBA title. Heck, Michael Jordan's Bulls needed chemistry to get things on track as well.
The Heat's big problem is the point guard and center position. Listen, plain-and-simple, you can't win games when you have guys Carlos Arroyo and Mario Chalmers at your point guard position. Wait, what's the need for a point guard? Isn't LeBron James basically a point guard? Couldn't the Heat just start James at point guard and add another forward like James Jones? Also, what about that center position. The Heat are desperate there, and they are now calling up Erick Dampier, a guy who has been available since like what, August? That just shows a sign of panic for this team. Juwan Howard is decent for the team, but who else do you have in the front-court besides Chris Bosh?
The Heat are lacking at center. That is the big problem. Michael Jordan had a center to win. So did Kobe. LeBron didn't. Bosh didn't. D-Wade did, when he had Shaq. That just proves Miami needs a big man. Chris Bosh is not your big man. He is a scorer and a power forward. When I say big man, I mean a guy like that is a true center. A guy that is big and not skinny like Bosh. A guy who can easily put up nine or more rebounds any given night.
The Heat don't have that. It's not the coaching that's the problem. Erik Spoelstra is fine. Miami needs a center. Miami needs to get better in chemistry and know what to do with their big three.
The Heat have potential to be the best ever. Just not now. You can't expect things to happen just like that. And that is what everybody has been thinking. It's not right, fans. The Heat can easily make the Finals this year. The got 67 more games to go. Bring it on!
But people, don't be surprised that the Heat are struggling right now.
It's the path to becoming a great team.
No.
A legendary team.