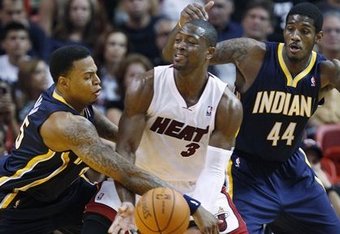 The Pacers went down to Miami to take on LeBron, Wade, and Bosh. They come back with an impressive "W".
Danny Granger and Brandon Rush each scored 20 points for the Pacers, who improved their overall record to an even 6-6. Granger also had 11 rebounds and six assists, while Rush also recorded seven rebounds and four assists. Roy Hibbert and Josh McRoberts were in foul trouble, but the bench provided the boost they needed to finish off the Heat, 93 to 77 on Monday night.
The Miami Heat did get Dwyane Wade back from a wrist injury, but he was clearly not 100%. Wade struggled, shooting just 1 for 13 from the floor, finishing with just three points in 38 minutes. LeBron James led all scorers with 25 points, and Chris Bosh added 21, but it wasn't enough to contend with the Pacers. The Heat were without Udonis Haslem and Mike Miller, and they only got a total of four points from their bench.
This was the worst shooting game of Dwyane Wade's NBA career. Good timing for the Pacers.
Wade missed his last nine shots of Friday's game against Charlotte, when he was battling flu-like symptoms. He didn't play Saturday in Memphis with a wrist injury, then made just one of his 13 shots against the Pacers tonight. Over that span, he's gone a baffling 1 for 22 from the field.
The Pacers were 11 of 13 from the free throw line, while Miami hit 25 of 38 attempts. They nearly made twice as many free throws as the Pacers took for the entire game. Wade was just one of five from the line, and had five turnovers. His struggles were one of the keys to the Pacers' victory.
Indiana did play well, out-rebounding the Heat by nine, and dishing out ten more assists. They had more steals and less turnovers than Miami, who looked sloppy at times. Indiana also had 20 more points in the paint than Miami.
The Heat are obviously the better team, but tonight the Pacers played better. I don't expect this same result the next time these two play this season, but the Pacers are putting themselves out there as a much improved teams that teams must respect.
The Pacers had a different starting lineup tonight, as they got Darren Collison back in the lineup after missing a few games with a left ankle sprain. Coach O'Brien also elected to start Brandon Rush at SG over Mike Dunleavy. The position battles between those players could be viewed as a great thing for this team. Both Ford and Dunleavy provided a much needed boost from the bench. Dunleavy finished with 11 points, and Ford added 13 points, six rebounds, and five assists.
Granger didn't shoot the ball particularly well tonight, but he was still effective, making plays on defense, moving the ball, and rebounding. Anytime he can reach double-figures in rebounding, the Pacers have a much better chance of winning.
The Pacers made a 29-11 run in the second quarter which gave them momentum for the rest of the game. The bench for the Pacers really decided this one, as they outscored the Heat 40 to four. Miami won last season's two home games against Indiana by 34 and 30 points. This game was nearly the complete opposite.
Up next for the Pacers is a home game tomorrow night against the Cleveland Cavaliers. Tip off is set for 7pm at Conseco Fieldhouse.
To be honest, I much like everyone else, didn't really see the Pacers winning this game. On paper, with James, Wade, and Bosh, it didn't look promising. I guess that's why they play the game.
Tags: Brandon Rush Chris Bosh Danny Granger Dwyane Wade Indiana Pacers LeBron James Miami Heat NBA T.J. Ford