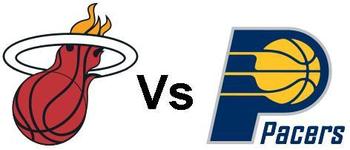 After facing one tough opponent from Florida, the Pacers now head down to Miami to face the other.
The Pacers fell to the Orlando Magic at home on Saturday night in the final seconds. Now they face their toughest test of the young season. Although the Heat might be without one of their top weapons, the Pacers will still have plenty to overcome.
Miami might be without Dwyane Wade, Udonis Haslem and Mike MIller, and the Pacers might not have starting PG Darren Collison for a fourth-straight game. Not exactly an even trade, but we will take whatever we can get.
Previewing the position battles on the floor, the obvious edge will go to the Heat. While the Pacers have surprised some teams this season, don't expect them to sneak up on Miami. The Heat are coming off a tough road loss, falling to the Grizzlies at the buzzer on a Rudy Gay jumper Saturday night. A Miami Heat team on paper is a tough enough task, but an angry and motivated Miami Heat team at home? This could get ugly.
Head Coach: Jim O'Brien vs. Erik Spoelstra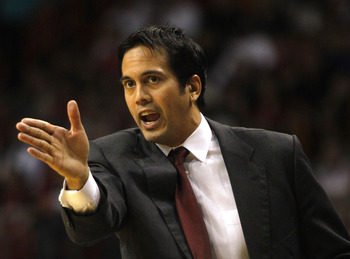 Marc Serota/Getty Images
Although neither coach has a strong proven record of winning, these guys will still play a key role in this game. It will be important for Spoelstra to have his team ready and not overlook this Pacers team.
As for O'Brien, he could be out next year if the team doesn't improve this season. He has yet to do anything that impresses me, and I don't expect him to be around very much longer.
The edge here goes to Coach Spoelstra.
PG: Carlos Arroyo and Mario Chalmers vs. Darren Collison and T.J. Ford
Marc Serota/Getty Images
Though Miami doesn't really use one true point guard, this is where Carlos will start. It is unclear whether the Pacers will have Collison for this game, so Ford may be the most likely option here.
Carlos is a very underrated player in my opinion, going back even a couple of years ago. Chalmers hasn't quite lived up to what some people think he could be, but he is progressing.
While many people wanted Ford gone, he is playing decent enough in the absence of Collison. A.J. Price could get some playing time if Collison is not dressed. He is playing okay as well, but he is no Carlos Arroyo.
Edge: With a healthy Collison, I would give the edge to the Pacers, but we aren't sure of that yet, so I will give the slight edge to Miami.
SG: Dwyane Wade and Eddie House vs. Mike Dunleavy and Brandon Rush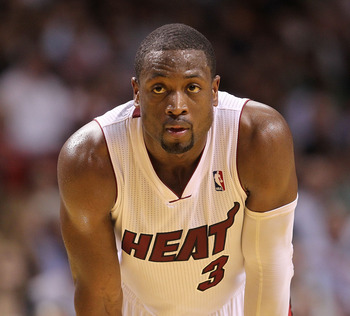 Mike Ehrmann/Getty Images
Wade missed the last game with a sprained wrist. If the Heat are going to be without him for this game, that will give the Pacers a huge boost. Obviously with him, they are the definition of the clear favorite here.
Dunleavy has been shooting the ball well this year, and is still healthy. Rush has been playing hot/cold since he came back from his five-game suspension. He played well in his last game, with 14 points off the bench. Does that mean that in this game he struggles? History would say yes.
Miami gets the edge here if Wade is in. If Wade doesn't play, the Pacers could possibly have a slight edge.
SF: LeBron James and James Jones vs. Danny Granger and James Posey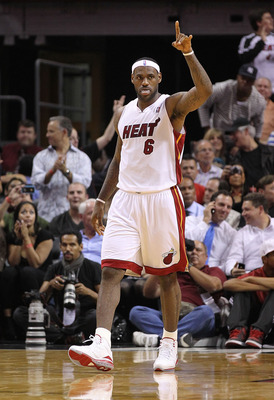 Mike Ehrmann/Getty Images
Let's face it, there isn't much debate here. Take James Jones out of the equation, and he would still get the edge.
Granger is a good player and Posey is a nice veteran to have, but James is arguably the best player in the game. Danny will have to shoot well and actually play defense if the Pacers want to have a chance in this game.
Clear edge to the Heat.
PF: Chris Bosh and Udonis Haslem vs. Josh McRoberts and Tyler Hansbrough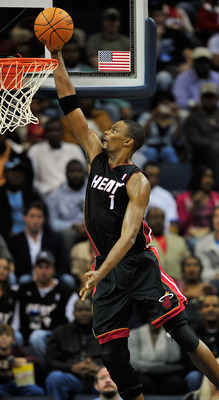 Grant Halverson/Getty Images
Much like the other positions, we don't know if the Heat will have Haslem for this game. The problem for the Pacers is, even without him, Bosh will still be a handful.
McRoberts and Hansbrough have improved this season, but I'm not sure either can guard Bosh. McRoberts can probably defend him better, but if they want to try and get him in foul trouble, Hansbrough might be the better option on offense.
It will be interesting to see who guards Bosh most of the night, but the obvious edge here once again goes to Miami.
Center: Zydrunas Ilgauskas and Joel Anthony vs. Roy Hibbert and Jeff Foster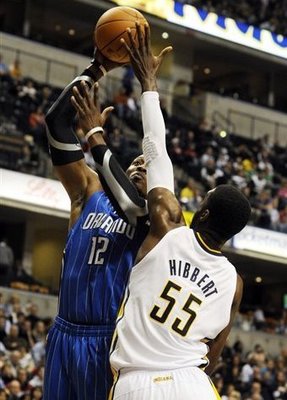 This is one position where the Heat don't appear to have the clear advantage. Ilgauskas was a big piece they were able to add, but he can't play the entire game. Anthony may not be a star, but he can give them valuable minutes.
Hibbert continues to be one of the most improved players in the NBA this season, and really showed what he was made of against Dwight Howard on Saturday night. Thankfully, Foster is healthy and the Pacers won't have to send Solomon Jones out on the floor.
For the first and only time, I give the Pacers the edge at this position.
Conclusion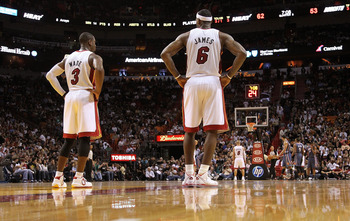 Mike Ehrmann/Getty Images
It appears that this matchup will be just as ugly as it looks on paper. The Heat just have too many weapons for the Pacers to handle. Even if they are without Wade, they should be the clear favorite at home.
The Pacers will have to limit their turnovers and play good help defense for most of the game. I expect them to feed the big man in the post, so he must stay out of foul trouble. If Granger wants to show us his improved defense, he will have the spotlight on him coming up on Monday night.
Monday night in Miami looks like a scary day for the Pacers. Can they surprise some more people, or is this one already over?
Tags: Chris Bosh Danny Granger Darren Collison Dwyane Wade Indiana Pacers LeBron James Miami Heat NBA Roy Hibbert