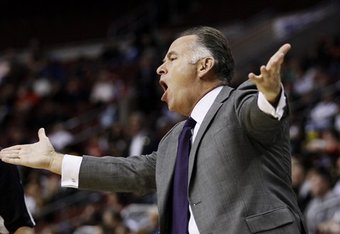 What was that?
After the first week of the season, the Pacers looked like a different team than we have seen in recent years. They looked rejuvenated, motivated and ready to pounce.
Wednesday night the old Pacers showed up in Philadelphia, and it wasn't pretty.
The picture of Jim O'Brien says it all for this article.
Really, there was no silver lining for the Pacers in their 26-point route.
They let Elton Brand have his way, as he tallied 25 points and 12 rebounds. The Pacers were outperformed in virtually every statistical category. The Sixers shot 47 percent from the floor, compared to the Pacers' pitiful 31 percent. The 76ers shot better from three-point range, and hit 21 of 25 free throw attempts. The Pacers were just 12 of 17 from the line. The Sixers had the edge in rebounds, assists, turnovers, blocks, steals, blocks, and even fouls. They also had more fast break points and more points in the paint.
In short, this was a game to forget for the Pacers.
Six players for Philadelphia scored in double figures, while the Pacers had only two, and just barely. Darren Collison finished with 11 points and Josh McRoberts added ten for Indiana.
Danny Granger played 39 minutes, and only managed seven points and seven rebounds. He was just 2 of 14 shooting on the night.
Collison was just four of 16 shooting and no Pacer had more than four baskets on the night.
The Sixers were able to get their first win of the season even without their head coach Doug Collins, who left at halftime for vertigo related symptoms.
Through the first three games of the season, I have been pleased with what I saw from the Pacers. They had improved in virtually every facet of the game, and looked to really "get it" as a whole.
That same team was nowhere to be found tonight.
What I saw was the same team that finished under .500 in recent years.
The turnovers and lack of execution on offense was horrific. It was almost as if the first three games, they had been wearing masks for Halloween. Now that November was here, the masks came off and they have returned to form.
I want to believe this was just a fluke. I want to believe that it's tough to beat the same team twice in a row. I also want to believe that Jim O'Brien knows how to fix this.
I want to believe that, but I fear I am wrong.
O'Brien does not have a good track record at all, he has virtually never done anything to make us say "Wow, this guy knows what he is doing."
The perception around here is that O'Brien was brought in as the "in between guy" and that he was okay with that. If the Pacers are somehow able to make the playoffs as a six or seven seed, I wouldn't expect that he will be back as coach next season.
I questioned him several times in this game tonight. I have never understood his reasoning for playing Solomon Jones, ever. I understand he is the backup center with Jeff Foster still not able to play, but there has to be another solution to that equation.
Dahntay Jones also saw the court for the first time this year, and I'm just not sure if he even knows what rotation he wants to use this season. He has been consistent with the starters in all four games, but after that, things get complicated.
The offensive system he wants to use is not right for this team.
I think Larry Bird understands that, but I also think he wants to wait until after this season to make a change. He has been extremely loyal to Jim for whatever reason, but I think it's safe to say he doesn't think O'Brien is the long-term answer at the head coaching position for this team.
It was stated that they wanted to run the offense through Hibbert this year, but that completely goes against the offense that O'Brien runs. Something has to change.
There will be off nights, like the one Granger had tonight. The question is, when he has those rare nights, who is going to be capable of stepping up and leading this offense?
The whole team struggled shooting the ball, and the transition game also suffered. I would also like to know why O'Brien chooses to play Ford over Price at the backup PG position. Price was clearly ready to go this preseason and was lighting up the scoreboard.
The best thing the Pacers can do right now is forget that this game ever happened.
They do need to address the offensive game plan when Danny Granger is off like he clearly was tonight. They need to continue to focus on rebounding and improving the defense.
They still have a long way to go, and this was a major speed bump in the road, but they have gone over it and now it's time to focus on the road ahead.
The Pacers will return home for a date with the up-and-coming Milwaukee Bucks on Friday night at Conseco Fieldhouse. Tip off is set for 7:00pm.
The Bucks are a much better team than their 1-3 record indicates. They are in Boston tonight, and are actually leading the Celtics midway through the fourth quarter. They have a very dangerous offense that can explode at any time, and they will certainly test the Pacers' defense.
Indiana is back to .500 with their 2-2 record, but the differences between just missing the playoffs and having the last lottery draft pick, and sneaking into the playoffs for some much needed experience (and fan satisfaction) are these games here.
Beating the other teams that are basically in the exact same situation as you are.
The Pacers have been notorious the last few years for beating the best teams (Lakers, Celtics, Jazz) while getting beat by the mediocre-at-best teams like the Bobcats, Pistons, and Wizards.
I expect the offense to recoup from this porous performance and come to play Friday night at home. They had better too, if they want to keep pace with the Bucks.
The defense will be tested, and the key match up will be between the big men, Hibbert and Bogut.
While I am being very critical of Coach O'Brien and the Pacers' offense, I expect better things from them, and I am confident that they will show up with a better performance at home on Friday night.
Tags: Darren Collison Elton Brand Indiana Pacers NBA Philadelphia 76ers