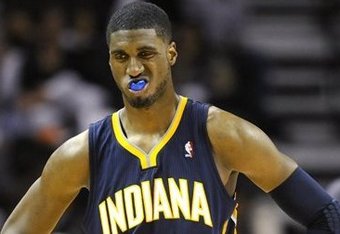 Some things never change, and some people never learn.
The Pacers traveled to San Antonio on Wednesday night to begin their 2010-11 NBA season. They lost the game 122-109, but it was much closer than that for about 40 minutes.
The first three quarters were relatively surprising in some aspects. The Spurs were running a fast paced offense, and the Pacers outscored the Spurs in the paint in the first half. The third quarter will tell you most about your team, which was the case tonight.
The Pacers committed too many turnovers which lead to too many points for the Spurs. Five Spurs finished the game in double figures. There were plenty of things to be happy about though, as the Pacers' version of the "big three" played very well. Roy Hibbert had 28 points, Danny Granger chipped in 26 and Darren Collison added 19 points and seven assists.
Then there was some questionable decision making in the second half.
For the life of me, I can not figure out why Jim O'Brien was playing the reserves so much in the second half. Obviously, McRoberts was in foul trouble early in the first half, but this wasn't the case in the second half, and he clearly outperformed Solomon Jones in every aspect of the game.
I honestly don't know why the Pacers decided to keep Jones over Magnum Rolle. Jones provided the Pacers with plenty of turnovers, poor defensive play, and just had bad overall chemistry with everyone.
Add that to the fact that T.J. Ford and James Posey played more than expected. Ford logged 18 minutes, while Posey was on the floor for 24 minutes. The Pacers only used four bench players, and Tyler Hansbrough was not one of them. Paul George played some solid basketball in his first regular season game in the league.
I'm not sure which made me more sick; watching the Pacers continue to play absolutely pathetic defense, or the flopping that was on display by Manu Ginobili. I swear if they played outdoors he would feel a slight breeze and fly halfway across the court. Four times in the game he was barely even touched at all, and every time he did a slide or roll he made it appear as though he was shot by a sniper.
The Pacers seemed so afraid to even breathe on Ginobili, that he was open from the arc all night long, which is probably why he had five three-pointers. I'm sure the lack of defensive skills also contributed to that.
I understand Coach O'Brien can't play all of his starters 48 minutes a night, but if you are going to play four bench players, why would you not include Hansbrough or Foster if both of them are listed as "healthy". Foster is one of the best defenders in the post. I don't know what O'Brien sees in Solomon Jones, but whatever it is, he is infatuated with it.
Yes, this is just one game, but I really hope things change in the next two games, on Friday and Saturday. How confident can you be as a fan, when you look up and see Ford, Dunleavy and Solomon Jones on the floor at the same time?
I didn't see much of anything from Dunleavy tonight, which makes you wonder how long he is going to last. He didn't play terrible, but I don't see any reason to start him over Rush when his suspension is up, regardless of what O'Brien has told the media.
It's obviously too early to make any judgment calls, but hopefully things will look a little different this weekend. The Pacers will head to Charlotte to take on the Bobcats on Friday night.
I found more positives than negatives for this game, as the Pacers were in it during the fourth quarter, which is something that didn't happen a lot last season. The offense looked good, and the defense looks the same, but it could improve had the proper people been on the floor for the Pacers.
The Pacers weren't expected to win this game, or even compete. They kept this one in question until the final six minutes. They won't be going 82-0 this year, but if they play up to this level on Friday night, there is no reason to think they can't head home with a win, and a .500 record.
Tags: Charlotte Bobcats Danny Granger Darren Collison Indiana Pacers James Posey Jeff Foster Jim O'Brien Josh McRoberts Magnum Rolle Manu Ginobili Mike Dunleavy NBA Paul George Roy Hibbert San Antonio Spurs Solomon Jones T.J. Ford Tyler Hansbrough