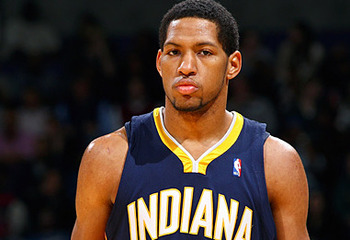 The Pacers are taking their talents to San Antonio, where they face a tough road test to open their 2010-211 NBA season.
The good news is the Pacers will have a fully healthy roster to open the regular season. Danny Granger will be ready to go after spraining his ankle earlier in the preseason. Backup point guard T.J. Ford will also be ready for the Pacers after suffering from a sore hamstring since the opening of training camp.
The bad news for Indiana is that they face an equally healthy Spurs team that has its sights set on another playoff run with Duncan, Parker and Ginobili.
Much like Roy Hibbert for the Pacers, the Spurs have seen a much improved Tim Duncan coming into this year. He has lost some weight and seems to finally be 100 percent healthy. With a rejuvenated Spurs team ready to open the season at home, the Pacers will have to play excellent basketball.
The two teams' offensive game plans couldn't be any more different.
The Spurs like to set up their half-court offense and work it around, trying to wear down the defense. The Pacers are always looking to push and are ready to run with their young, athletic team. The Spurs may be older, but they have much more experience that will most likely prove to be the difference.
History has shown us that the teams with experience seem to prevail in the long run. The Lakers, Celtics and Spurs are living proof of this. Younger teams like Chicago, Orlando, Atlanta and Oklahoma City have done well, but they haven't built up that experience yet.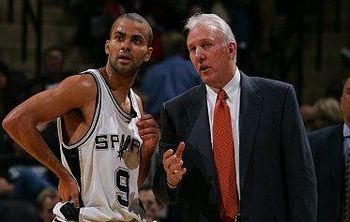 The matchups always start at the top, and the Spurs have the clear advantage there.
While Gregg Popovich is one of the most respected coaches in the league, Jim O'Brien comes back to Indiana for his fourth season—if there isn't any improvement this year, he is almost assured to lose his job before next season.Popovich has a very impressive resumé, and he knows what he is doing. This team has been together for quite some time, and don't expect him to not have his team ready for this game.
While the Pacers will clearly be underdogs for this game, he knows all too well that you can't overlook any opponent. The edge here is clearly to the Spurs.
The point guard spot is an interesting one in a sense that the two matching up are miles apart in different aspects of the game.
While Darren Collison has youth, athleticism and speed on his side, Tony Parker is a veteran that can take over at any point of the game. He is relentless in getting to the basket and finishing. These two leaders may not be that similar, but they are both considered big pieces to their team's respective puzzles for the season. In a game like this, the veteran almost always gets the edge, though, so this one goes to Mr. Longoria.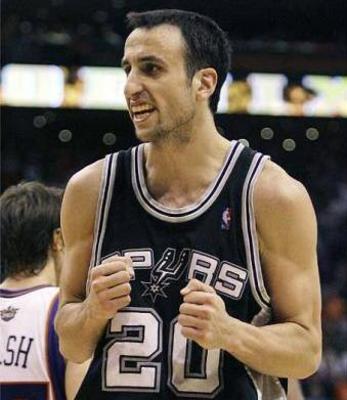 The shooting guards for both teams are similar in their situations but very different in their roles.
While Mike Dunleavy is finally playing basketball with a clean bill of health, he will be looked to hit open shots and provide help on defense. Whether the Spurs go with Manu Ginobili or George Hill, they will both be looking to attack the rim. Ginobili is one of the best in the game at driving to the basket, and he almost always is able to finish. Most often it is a layup, sometimes a foul—sometimes both.
No matter how you slice it, the Pacers are without Brandon Rush now, so it is important for Dunleavy to play quality minutes, and whoever fills in when he needs a breather will have to play solid defense. Once again, give the edge to the Spurs.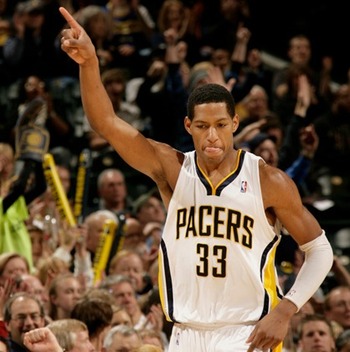 At small forward there are a lot of questions for both sides.
For the Pacers, Danny Granger looks to hit the floor for the first time after spraining his ankle in preseason play. His summer has been well documented, and his playing time (or lack thereof) really put a magnifying glass on his weakness as a player. His lack of defense virtually got him nothing but a spot on the bench this year with the USA team. He is still the leader of the Pacers, and they will rely on his offense as usual.
Richard Jefferson has been surrounded by questions all offseason before finally re-signing with the Spurs. People weren't sure if he was the right fit with San Antonio, but he said he is ready now more than ever to prove his worth. While I do believe he is a valuable player, I give the edge to Granger and the Pacers at this spot.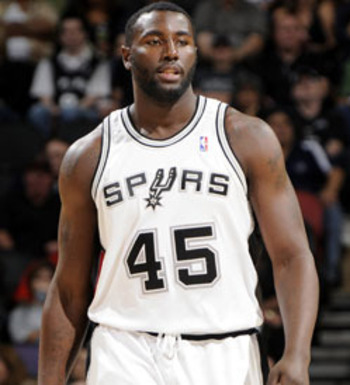 The power forward position has been the biggest question surrounding this Pacers team ever since they made the trade to acquire Darren Collison. The loss of Troy Murphy is something they were willing to deal with, and they think they have adequate solutions…for now.
Josh McRoberts has surprised everyone with his emergence as the starting PF. Tyler Hansbrough is finally healthy and should see some minutes. He might be better suited to guard DeJuan Blair than Duncan, but he and McRoberts should be able to keep Duncan from having a 40/14 night. If Duncan is playing this spot as opposed to center, there is no easier way to say—edge goes to the Spurs.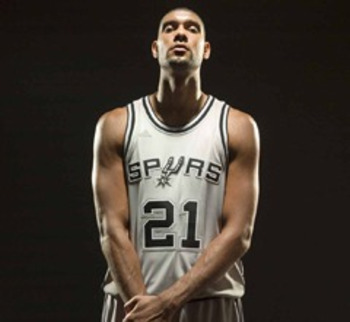 The center position is one that could really be a key factor in the game. Hibbert has impressed everyone with his offseason workouts and his readiness to accept a larger role with the team. The Pacers will now look to run some of their offense through him.
The Spurs might want to start DeJuan Blair for most of the season, but I don't know if he starts this game at center. I would imagine McRoberts/Hansbrough would take on Blair, while Hibbert would try to contain Duncan. This could be the biggest matchup as far as the five positions go for me.
If Hibbert is able to stay out of foul trouble and play solid defense on Duncan, he might be able to give the Pacers a chance. On the other hand, if the veteran Duncan is able to get Roy into foul trouble, it's hard to see the Pacers having a shot at this game. If Blair is at center, I give the edge to the Pacers; if Duncan is at center, the edge goes to the Spurs.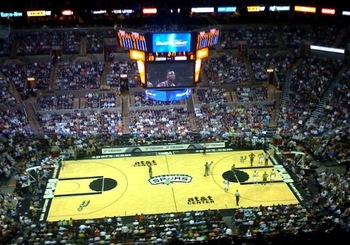 I think the PG and C position battles could be a wash (or at least close enough) which really makes it a battle between the other three spots. Although I give Granger the clear edge at SF, I just don't see the Pacers being able to stop Ginobili/George and one of the two big fellas. Couple that with the crystal clear coaching edge, and you have the Spurs opening up the season stress-free with a decisive win over the Pacers.
Not to worry Pacers fans, this team will be much improved from last year, but asking them to open up the season on the road with a win against a rejuvenated Spurs team is just too much, too soon. I wouldn't have a heart attack if the Pacers somehow pulled this one out, but I see the Spurs winning this one by double digits.
Tags: Atlanta Hawks Boston Celtics Brandon Rush Chicago Bulls Danny Granger Darren Collison DeJuan Blair Eva Longoria FIBA FIBA Basketball FIBA World Championships FIBA Worlds Free Agency George Hill Gregg Popovich Indiana Pacers Jim O'Brien Josh McRoberts Los Angeles Lakers Manu Ginobili Mike Dunleavy NBA NBA Free Agency NBA Pre-Season NBA Training Camp Oklahoma City Thunder Orlando Magic Pre-Season Richard Jefferson Roy Hibbert San Antonio Spurs T.J. Ford Team USA Tim Duncan Tony Parker Training Camp Troy Murphy Tyler Hansbrough USA USA Basketball