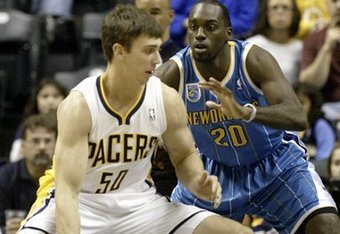 The Pacers wanted to finish their final preseason home game on a positive note. Mission accomplished.
The Pacers defeated the New Orleans Hornets on Friday night in a close game, 101-98. Josh McRoberts dove to the ground with just 12 seconds left and called a timeout for the Pacers, as their lead was down to just one, after leading by 15 at halftime.
James Posey hit both of his free throws, and the Pacers held a three-point lead. The Hornets were unable to get a three point shot to go down at the end of regulation, and the Pacers got their second win in a row, albeit the preseason.
As the New Orleans Hornets came to town, they saw a familiar face in the new starting point guard for the Indiana Pacers. Darren Collison filled in for the injured Chris Paul last year, and did so well everyone has already labeled him a star.
Darren Collison finished with 16 points, five assists, and four rebounds in 34 minutes of play. The guy he sat behind last year, and probably the best point guard in the league (Chris Paul) ended his night with 12 points, eight assists, and four rebounds in 29 minutes.
On a night when it was all supposed to be about these two, Tyler Hansbrough had other ideas. Tyler decided to come off the bench and lead the team in scoring. He tallied 19 points in just 19 minutes of play. A point-per-minute, not bad for a white guy coming off the bench. Tyler was also able to add five rebounds and an assist to his stat sheet.
The Pacers once again went with the same starting lineup, all but setting it in stone for the early part of the season. Who knows what will happen with Brandon Rush after his suspension. It all will most likely depend on the play of Mike Dunleavy and Paul George.
Roy Hibbert finished the game with 15 points, five rebounds, and three assists. Dunleavy had 13 points and six rebounds, while Josh McRoberts ended the game with eight points, eight rebounds, and four assists. Danny Granger also finished with eight points, only playing 16 minutes in this game, before leaving with sprained left ankle just before halftime.
Paul George took some of those minutes, and put them to good use. He finished the game with nine points, and seven rebounds, leading the team in that department. He played a total of 29 minutes on Friday night.
James Posey also added nine points off of the bench for the Pacers. He hasn't seen a lot of minutes this preseason, but he is a veteran. Another guy that hasn't seen the floor much also got on for a few minutes. T.J. Ford played seven minutes, and had two points and three assists before leaving with another injury. Jeff Foster also had two points in the contest.
Dahntay Jones and A.J. Price also played a few minutes, but did not score. Seven Hornets players scored in double figures.
Lance Allred, Solomon Jones, Lance Stephenson, Brandon Rush and Magnum Rolle all received a DNP—Coach's Decision.
The Pacers out-rebounded their opponent for the third straight game, which has resulted in wins in two of those events.
Both teams shot 43% from the floor, nine fast break points, and 18 turnovers in the game.
Coach Jim O'Brien said this week, that he would be looking to find his ten-man rotation for the regular season. He says he wants to have eight, nine, or ten guys that he can rely on. It appears as of right now that the ten guys may be:
PG Starter: Darren Collison Backup: A.J. Price
SG Starter: Mike Dunleavy Backup: Paul George
SF Starter: Danny Granger Backup: James Posey
PF Starter: Josh McRoberts Backup: Tyler Hansbrough
C Starter: Roy Hibbert Backup: Jeff Foster
The Pacers next preseason game will be on Tuesday, when they head to Minnesota to take on the Timberwolves, after defeating them two days ago at Conseco Fieldhouse. Tip off is set for 8 pm.
Tags: Indiana Pacers NBA New Orleans Hornets Tyler Hansbrough