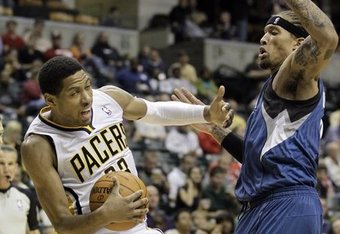 Tonight the undefeated Minnesota Timberwolves squared off against the winless Indiana Pacers. Naturally, the Pacers got the victory.
Not only did the Pacers get the win, but they did it convincingly, dominating offensively and defensively. Only one Timberwolves player scored in double figures, and that was Luke Ridnour, who finished with 11 points. Kevin Love and Michael Beasley were held to just nine points each.
A familiar face led the Pacers on the night they got their first win. Danny Granger finished with 30 points, 11 rebounds and four assists.
The Pacers held the T-wolves under 32% shooting from the floor. They also shot just 66.7% from the free throw line. The fast break points were in the Pacers favor, as they outscored the Wolves 16 to 7. The Pacers also did more damage in the paint, as they outscored the Wolves 30 to 22.
Perhaps the biggest surprise was the Pacers' improvement on the boards. They out-rebounded Minnesota 63 to 48.
The Pacers shot 42% from the floor, despite shooting just 25% from three-point range. They also shot 62.5% from the free throw line.
T.J. Ford, Dahntay Jones and Brandon Rush did not play in this game. The Pacers again went with their probable starting lineup of Collison, Dunleavy, Granger, McRoberts and Hibbert.
The bench provided basically nothing, besides Paul George's 10 points and 6 rebounds. Lance Stephenson, A.J. Price and Solomon Jones all finished with two points each. Tyler Hansbrough, Magnum Rolle, Lance Allred, James Posey and Jeff Foster all played, but failed to score a single point.
On the flip side, the starters all played very well. Danny Granger led the way as stated earlier. Darren Collison finished with 19 points, three rebounds and three assists. Roy Hibbert added 16 points, 14 rebounds, 4 assists and 7 blocks.
Mike Dunleavy had 9 points to go along with his 6 rebounds and 3 steals. Josh McRoberts finished with 8 points, 11 boards, 3 steals and 2 assists.
Three Indiana Pacers starters pulled down double-figure rebounds, which is impressive for a team that has struggled in that department. Roy Hibbert had seven of the team's eight blocks, while only getting called for three fouls in 30 minutes of play.
I can't remember the last time three Pacers players finished the game with double-doubles.
The Pacers still need to cut down on their turnovers, as they are averaging nearly 20 per game. However, the 20 assists and 8 steals are something to build on.
Coach Jim O'Brien still sees plenty of room for improvement. "We have to become a much better and tougher defensive team," O'Brien said. "We'll have plenty of offensive weapons, but we need to grow at the defensive end."
While the Pacers mainly played their starters and the T-Wolves bench players saw a lot of action, it was still refreshing to see the Pacers play well.
Since I am a glass half-full kind of guy, I will just say it was nice to get a win and seeing Indiana's "big three" perform well.
The next preseason game for the Pacers will be Friday night, when Darren Collison will face his former team, the New Orleans Hornets. The game is at Conseco Fieldhouse, with tip off set for 7 p.m.
Tags: Danny Granger Indiana Pacers Minnesota Timberwolves NBA