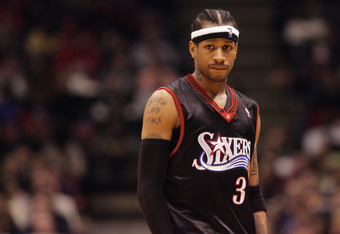 What is the next destination for Allen Iverson? Will he return to the Philadelphia 76ers? Will he join a team in need of a point guard? He's in serious talks with a team, according the Associated Press.
Which NBA team could it be? Actually, it isn't an NBA team, nor any team located in the United States. Apparently, the veteran point guard is in serious talks with the Turkey national basketball team.
According to Iverson's manager, Iverson will be playing for the Turkey Besiktas. Yahoo! Sports reported that the deal would be worth over two-million dollars for a span of one season.
Iverson was just coming off two short stints with the Sixers and the Memphis Grizzlies last season. He was voted to the All-Star team as well.
"We are in very serious negotiations with [Besiktas]," Iverson's manager Gary Moore told Yahoo! Sports. "Istanbul is beautiful from everything we've learned. It's not that far from the U.S., and the competition is good, which makes it all attractive.
"Allen wants to play basketball."
Iverson reportedly just completed signing on the contract and it will be sent to have Turkey take a look. The contract, however, is expected to take around ten days to be fully finalized and completed.
The Besiktas are one of top teams in the team's division and Iverson will make a huge difference to the squad.
However, the Besiktas have been into troubles with money and financing, according to Eurobasket.com. The team was recently sued by American player, Lonnie Baxter.
Like Stephon Marbury, Iverson was also looking at China to play for them. This was according to Yahoo! Sports, as China and A.I. were trying to make a deal work out just last month.
Iverson had not been contacted by any NBA team.
"We're very astonished, to say the least, that not one team has contacted us with any interest," Moore said. "I just don't understand it."
Iverson was averaging about 14 points per game before leaving the season in March due to issues in his family.
Iverson has had a very great career so far in the NBA. Let's see if he can bring back his old swagger, as he is easily the best player on his team now and will carry the Besiktas on his back like he did in his prime when he was with the Sixers. I wouldn't be surprised if he did, despite his age.
Iverson is healthy and has been training in Atlanta for the past month.
He's in good shape and ready to go.
Maybe a good season overseas could help him get back into the NBA again for the 2011-12 NBA season. It happened Marbury, but he declined playing in the NBA, though.
Wish all the luck to Iverson.
Tags: Allen Iverson NBA Philadelphia 76ers Turkey Turkey Besiktas