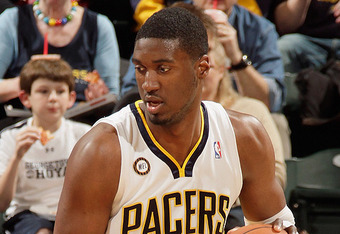 Roy Hibbert wants to be the best. He also understands that if you want to be the best, you have to beat the best.
As preseason play begins, the Pacers' big man finds himself going up against some of the best in the game. On Wednesday night, he went up against Marc Gasol. Just as Eli Manning is not Peyton Manning, he is still very good. The same philosophy holds true with Marc and his brother Pau. Hibbert finished with 18 points and 14 rebounds against the Grizzlies, leading the team in both departments.
Two days later, in the Pacers' home opener, Roy went up against the best center in the game today, Dwight Howard. On this night, Hibbert finished with 12 points, four rebounds, and three blocks. Dwight was held in check as he tallied 10 points in 27 minutes of play. As soon as that game went final, the Pacers were on their way to Houston for their third preseason game in four nights. Now Roy is preparing to go toe-to-toe with Yao Ming.
Now entering his third season in the NBA, Hibbert comes into this year well-prepared. In his words, he is easily in the best shape of his life. He is now at just seven percent body fat, and has dropped nearly 30 pounds. Roy was one of the hardest-working players this summer, not only in Indiana, but in the entire league. He worked out with Bill Walton and other Hall-of-Fame centers in preparation for this season. Roy also took up mixed martial arts this offseason.
The Pacers have been rebuilding for quite some time now, and with the recent addition of promising young point guard Darren Collison, Hibbert knows they have a chance to make a splash this year. Collison led the Pacers with 18 points Friday night against Orlando. The three promising young rookies (George, Stephenson, Rolle) will also improve the team, which by the way, still has All-Star Danny Granger.
With today's NBA theme of "the big three" (see Heat, Celtics, Bulls, Lakers, etc.), the Pacers hope to be building toward one of their own. While they probably won't do it like the others did with free agency, they will do it from the ground up, drafting and building with their own pieces. That could even be more special if they are to become a dominant trio.
Head coach Jim O'Brien has been adamant the past few weeks that they ball is going to go inside to Hibbert a lot more this year. His fundamentals have really improved, and his quickness and knowledge of the game are also much better. He seems to like the offensive system that the Pacers find themselves in, and has really been playing well with Josh McRoberts, the surprising starter at power forward that Coach O'Brien has been talking about all summer.
Hibbert knows that every great team needs a solid big man. That has been fueling him during his workouts all summer. Danny Granger has been the guy here in Indy since Reggie left, and everyone is buzzing about what Darren Collison is going to become. Roy is ready to become a star in this league, and make some noise.
Darren Collison might not be Mark Jackson, Danny Granger will never fill Reggie's shoes, and Roy Hibbert may not be the next Rik Smits, but Collison is Collison, Granger is Granger, and Hibbert is Hibbert.
This trio could be something special in the making.
Tags: Indiana Pacers NBA Roy Hibbert