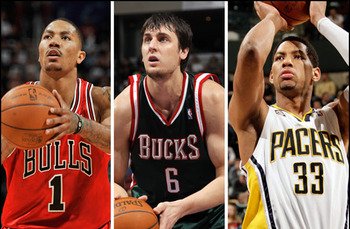 The Eastern Conference has gotten even stronger during this off-season, due in part to some big time moves by teams in the Central Division.
The acquisitions of Carlos Boozer, Darren Collison, even Tracy McGrady have created a major shake up for these teams. Even the loss of LeBron James will have a huge impact in this division. Other stars coming back from serious injuries like Michael Redd and Andrew Bogut will also make things interesting.
Previewing each team, we will take a look at each team's key player, a fresh face in town, and the player with the most breakout potential for this season.
The division as a whole may not be the best in the league, but it will definitely be competitive this year. Where does your team land? If they deserve to finish higher or lower, please let me know why you think so.
5th Place: Detroit Pistons
Key player: Rodney Stuckey
Fresh face: Tracy McGrady
Breakout potential: Austin Daye
Analysis: Hard to figure out why the Pistons made the move to sign McGrady. They already have Rip Hamilton and Ben Gordon, so it will be interesting to see how things work themselves out. Another question people are asking is, was it worth signing Ben Gordon and Charlie Villanueva to those big contracts? Another unanswered question is what will happen with Tayshaun Prince? The Pistons want to add some depth to the PF and C positions. Many unanswered questions may lead to another disappointing season in Detroit.
4th Place: Cleveland Cavaliers
Key player: Mo Williams
Fresh face: Joey Graham
Breakout potential: J.J. Hickson
Analysis: Obviously nothing can ease the pain of losing LeBron James, but a new coach and a "team" that will be forced to play together may be something positive. The real problem the Cavs face is not only the loss of LeBron, but the burden of finding a replacement for Big Z and Shaq. There is no answer at the Center position right now. If Hickson and Jamison can play up to their potential, they may be able to salvage a decent season, but don't look for them in the playoffs this year.
3rd Place: Indiana Pacers
Key player: Danny Granger
Fresh face: Darren Collison
Breakout potential: Roy Hibbert
Analysis: The franchise and it's fans have never been more excited than after the big trade this summer. The lack of a quality PG was the itch that everyone here has been wanting to scratch for the last decade. The arrival of Darren Collison, coupled with the talents of Granger and Hibbert provide some hope for Pacers fans. Three promising young rookies in Paul George, Lance Stephenson, and Magnum Rolle have taken the excitement to a whole new level. We must be careful not to let this excitement go to our heads though. Anything more than a 7 or 8 seed in the East would be a far stretch.
2nd Place: Milwaukee Bucks
Key player: Andrew Bogut
Fresh face: Drew Gooden
Breakout potential: Brandon Jennings
Analysis: The Bucks showed some real promise last year before the injury bug bit them again. First it was sharp shooter Michael Redd going down yet again, then the horrific injury to Andrew Bogut just before the playoffs. It will be interesting to see how those two come back, and the role John Salmons will play with Redd coming back. The SF position battle will also be an interesting one to watch. If Jennings is ready to take that next step, the Bucks could seriously contend for the division title this year. Teams really should "fear the deer" this season.
1st Place: Chicago Cubs
Key player: Derrick Rose
Fresh face: Carlos Boozer
Breakout potential:
Analysis: Obviously Miami made the most improvement to their roster this past off-season, but the Bulls did very well for a team that didn't get LeBron, Wade, or Bosh. The addition of Carlos Boozer is huge and will be a big payoff for this team, especially late in the season. Rose has some great weapons at his disposal now, and has no excuse not to be a legit super star in this league. Even though Boozer will miss the first couple of months with his broken hand, Taj Gibson is more than capable of filling in and providing a spark. The other additions of Kyle Korver and Ronnie Brewer greatly improve the SG position for a team that didn't have many great shooters. James Johnson, Kurt Thomas, and C.J. Watson also give the Bulls great depth on the bench. With Joakim Noah locked in with the Bulls and Luol Deng ready to have a great season, the Bulls should easily win the division, and make a deep run in the playoffs. No bull.
Tags: Chicago Cubs Cleveland Cavaliers Detroit Pistons Indiana Pacers Milwaukee Bucks NBA