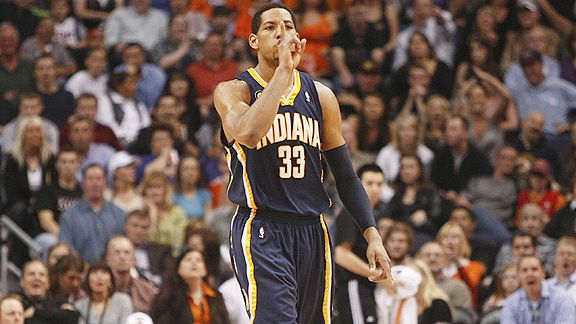 The Indiana Pacers will enter this season with a lot of high hopes now. This is the season where it's time go to business. No more lottery picks, no more suffering. It's time for some real good things to happen for the basketball state of Indiana. And it happens now. No more excuses. The Pacers need to get it together for this year.
Here is the 2010-11 Indiana Pacers season preview.
Season Recap
Last season was a big disappointment. I predicted the Pacers to finish somewhere around the seventh or eighth seed and make the playoffs. However, the came nowhere near that, struggling right from the start. They got struck by injuries, most importantly from Danny Granger, who missed a month.
Towards the end of the year, the Pacers got it together, but it wasn't enough. They finished the year 32-50.
There were some good signs in the year, though. Indy would go strong towards the last few months of the season, but it wasn't enough. A.J. Price played hard and strong, playing nothing like a second-round draft-pick, but more like a first-rounder. Tyler Hansbrough disappointed however, only playing 29 games that year.
The Pacers hope to improve much better than what they did in 2009.
Off-Season Recap
The Pacers did great in the draft. They drafted a clone of Danny Granger in Paul George, who will see a lot of playing time this year. Indy also got Lance Stephenson, who will hopefully get some playing time even after his arrest. Indy also got an underrated power forward in Magnum Rolle, who has a lot of raw talent in him.
The Pacers would have to let go of Earl Watson, who would however sign with the Utah Jazz later. Luther Head also left to play with the New Orleans Hornets. I heard he is currently now trying out with the Sacramento Kings. I wish the best to Head. The Pacers made a big move towards the ending of the off-season, trading away power forward Troy Murphy to the Nets in order to receive James Posey and Darren Collison from the Hornets. It was easily the best move of the off-season. Indy would finally get a point guard, along with a great leader in Posey.
Strengths and Weaknesses
The Pacers will have a strong defense entering the season. They did great defending last season, most importantly their first-shot defense. With the addition of Darren Collison, they are sure to do a lot more. Dahntay Jones continues to be the defensive stopper he is. Danny Granger will need to improve a bit, but I guess he will learn from his size and learn to take aggressiveness from it. Roy Hibbert has been learning from Bill Walton a lot, so expect to see some stronger defensive skills from him, too.
Rebounding is going to be the big problem for the Pacers. Roy Hibbert will be getting tons, but he can't be the one-man show for that. The power forward spot is going to need some tremendous help, especially if Tyler Hansbrough may start. Hansbrough has been a poor rebounder for much of his basketball career, and will need to step it up this season. The Pacers were one of the worst rebounding teams last season. They need to improve, badly.
Outlook
The Pacers will be entering the season strong. They have too much talent to not make the playoffs. One Pacer will be gone by the time training camp is over and I see Solomon Jones most likely to leave and be released.
So here is how the depth chart will fair:
PG: Darren Collison/T.J. Ford/Lance Stephenson/A.J. Price
SG: Mike Dunleavy/Brandon Rush/Dahntay Jones
SF: Danny Granger/James Posey/Paul George
PF: Tyler Hansbrough/Josh McRoberts/Magnum Rolle
C: Roy Hibbert/Jeff Foster
Darren Collison will easily have an All-Star season, especially with all the guys he will be passing to, especially Danny Granger and Roy Hibbert. T.J. Ford will get the playing time he needs and will have to prove himself. So does Lance Stephenson, as he needs to make up for his arrest. A.J. Price will return soon and I hope to see him dazzling again.
Mike Dunleavy will have a comeback year in my opinion. I look to see the signs of his performance from 2007. Brandon Rush will also be much more improved, as Collison told the media that B-Rush has been a lot more consistent lately. Dahntay Jones will do great, too, as he has vastly improved his offensive game. He has also done well on the defensive side of the ball for much of his career.
Danny Granger will end this season as one of the top 15-20 players in the league. Expect a great year from him. I see James Posey coming in and being the three-point specialist. Paul George will be able to show his stuff, too.
I think Tyler Hansbrough is in for a breakout year. Josh McRoberts has been a beast from what I've seen last season. I see him breaking out. Magnum Rolle looks to improve his raw talent. I am really looking forward to that kid.
For Roy Hibbert, he is going to be a monster this season. He will attack on points and on the boards, easily. He has also been learning a lot from Bill Walton, too. Jeff Foster will be back and healthy again, so I expect a lot of good coming out from him.
All-in-all, I think it's going to be a bright year for Pacers' basketball. I am very optimistic for them.
Final Record: Pacers will finish with a 42-40 record at the seventh seed, second in the Central Division.
Tags: Indiana Pacers NBA