BY CHAD SMITH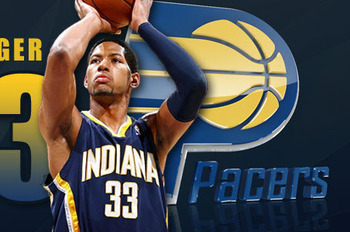 The Indiana Pacers will begin training camp on Tuesday, in preparation for the upcoming 2010-11 NBA season.
There are some obvious new faces as the team continues their long-term rebuilding plan. While most teams made their big changes in the early part of free agency, the Pacers made their big splash toward the end of the summer. Even better, they might be able to make another splash before the season begins.
There are many questions that will need to be answered in training camp. Let us take a look at five of the biggest ones they will look to answer in the coming weeks.
Who Will Win the Battle for PF?
The vacancy left by Troy Murphy in the starting rotation is something the organization has been trying to fix since they made the trade to land Collison. There are many options here, you can't even list them all on one hand. The problem is that not one of them really stands out. Right now there is no leading candidate. Tyler Hansbrough, Jeff Foster, Josh McRoberts, Magnum Rolle, and Solomon Jones will all be fighting for the spot in training camp. The team hopes they can move one or two guys to not only land a starting PF, but also clear a roster spot so they can sign Magnum Rolle, whom they really like.
Can Tyler Hansbrough Play an Entire Season?
On Friday, it was announced that Tyler had finally been given doctor's clearance to take part in contact drills after dealing with vertigo (among other things) for nearly nine months. Hansbrough had been limited to non-contact drills since early July. He averaged 8.5 points and 4.8 rebounds in 29 games last season. Even though he has been cleared and may be one of the better candidates for the starting PF position, he only played 29 games last season. He will basically be a rookie again. He (much like Foster) will probably not start a lot of games next year because of their injuries last season.
Is Hibbert Ready to Take It To the Next Step?
I personally feel that Roy Hibbert could be a breakout player this upcoming season. All we have been hearing about since the end of last season was the work he had been doing with legendary NBA big men. He has been in the weight room, reducing his body fat percentage and becoming much quicker. Even though Coach O'Brien likes the up tempo playing style on offense, the team should still be able to feed the big man inside. This is something the organization has failed to do since number 45 was wearing the blue and gold. Roy will need to improve on defense though. While he is an excellent shot blocker, he had been getting in foul trouble in many games last year.
Who Is Ready Start in the Position of SG?
Much like the PF position battle, there are many options for the Pacers at the shooting guard spot. There are a couple of options that are up in the air right now though. It will be interesting to see what the coming weeks look like, and how the different situations will play out. Mike Dunleavy is coming back finally healthy. Paul George looks up to the challenge, but is he ready to take the starting role as a rookie? Brandon Rush and Lance Stephenson have their off-the-court issues that must be dealt with as well. The big question is will Dahntay Jones, T.J. Ford, or A.J. Price be around to compete for the job? This will be interesting going forward.
Who Is About to Become an Ex-Indiana Pacer?
The fact is the Pacers have 15 players currently under contract. They have not yet signed Magnum Rolle to a contract because they are looking to make a trade (probably a two-for-one) to clear a roster spot for Rolle. The Pacers are in love with Magnum's potential and work ethic. The second round pick has impressed the scouts and the organization since he was drafted. The question isn't will someone be on their way out, but who will be on their way out? Most likely the team will try to move one of the wing players, maybe Dahntay Jones and try to attach Ford to the deal in some way. It will be interesting to see who stays and who goes. The Pacers open training camp on Tuesday, and I will be sure to cover each day's action.