BY CHAD SMITH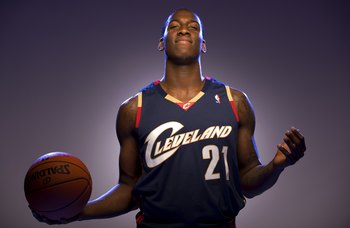 Every year there are certain players that jump out at you. You didn't really know much about them before the season started, but by Christmas, you keep them on your radar.
Who would have thought that Darren Collison could have stepped in to fill the void when CP3 went down? Who knew when Tony Parker and Manu Ginobili got hurt that George Hill would be such a valuable weapon?
This year will be no different.
Some of you may already know the names on this list, but in a few months, everyone will know their names.
Just missing my top five list is this guy on the cover…JJ Hickson. Very talented, but we will see how he fares without LeBron creating so much open space for him.
Here are the top five breakout players (in no particular order) for this upcoming NBA season.
Anthony Randolph
Randolph is probably on a lot of these "breakout" lists for the upcoming season, and for good reason.
Most players with Randolph's physical gifts don't care at all to put forth their best effort on both sides of the ball, but Randolph is different.
An athletic, long 6-10/205, Randolph is quite simply the ideal prospect, the versatile big man who can play any one of three positions, score in bunches and intimidate his opponent on defense.
Marcus Thornton
The last part of last season saw Marcus improve a great deal and put up quite a show, with almost 20 points per game.
During the time when he was playing, Chris Paul was out due to injury.
Now that he is fit, experts think that the combination could make something happen.
A healthy Thornton would be able to create opportunities and point-scoring positions for the other players and himself.
Roy Hibbert
Hibbert has been preparing for a breakout season ever since the end of last year. Roy is now down to less than 10 percent body fat, and has been working with legendary post-men that once ruled the paint.
If he can limit his fouling, Roy will not only be one of the best defensive big men in the league, but his offensive game will improve as well.
The Pacers are now confident that they can get the ball inside and let him go to work.
With the addition of Darren Collison to a lineup with Danny Granger, Hibbert should have plenty of opportunities to shine.
Michael Beasley
No, I'm not crazy. I think the biggest problem (whether he wants to admit it or not) is that he had to play in Wade's shadow in Miami. The city nightlife probably didn't help him focus on his game on the court.
With a completely new fresh start in Minnesota, Beasley will have the opportunity to be a star. His role will be much different than what was expected in Miami.
There won't be pressure on Beasley to perform, and he will be able to grow on his terms. This was a great move for everyone involved (Heat, Timberwolves, and Beasley).
Hakim Warrick
Hakim Warrick was a beast at Syracuse, but hasn't been able to live up to that in the NBA so far.
Warrick is heading to the best team he could possibly go to in my opinion. His game is the perfect fit for Steve Nash and the Suns' offense.
Look at what Stoudamire was able to do during his time in Phoenix. He should be able to have similar success, depending on how many more years Nash plays.
Expect him to have a great breakout season next year.
(Note: Blake Griffin and Greg Oden were not on the list just because they were out because of injury)
Tags: NBA