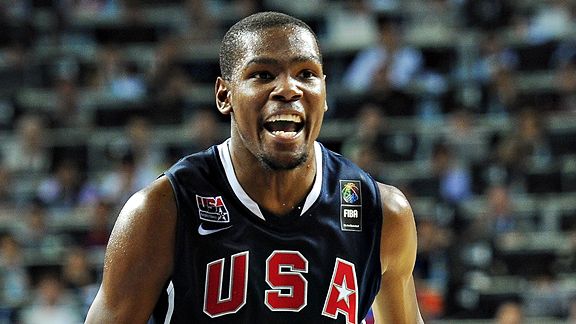 Do you seriously want to call this team the "B-Team?" Well, if you still think that, you may need to cut it out. This year's Team USA is no "B-Team." This so-called B-Team is the best team in the world! That's right. Led by no other than Kevin Durant, USA beat Turkey 81-64 to take home the title as this year's FIBA World Champions.
This is the first team USA won the FIBA Worlds since 1994. Kevin Durant would obviously win the Most Valuable Player award for the tournament after his sensational performance, automatically earning himself a spot with the 2012 Olympics squad.
After last night's showing of 38 points, Durant produced 28. He went to the bench at 40 seconds, celebrating with coach Mike Krzyzewski. Coach K finally own the title after trying for the last two years, only to end up with a bronze medal. Lamar Odom had 15 points and eleven rebounds, proving many naysayers that you do not need a big center to win a championship.
Many of the NBA superstars like Kobe Bryant, LeBron James, Dwayne Wade, etc. were watching at home, probably surprised to see USA win. The B-Team name-calling must have been a huge motivation along with hand of other doubts.
Hedo Turkoglu, the small forward for the Phoenix Suns, had 16 points for Turkey and was trying to bring a world title for them.
USA was entering this tournament with nobody from the 2008 Olympics team. Amare Stoudemire and David Lee were about to be on the team, however after injuries, were forced to leave the team and withdraw. If they did join, many of these wins would have been won by a lot larger margins.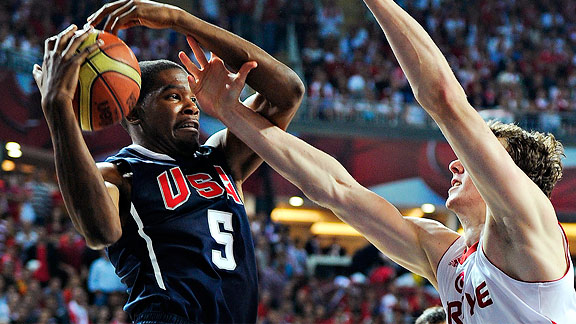 Durant, who was the NBA scoring champion last season, made seven three-pointers today. The place was so loud in Turkey, and whenever the Americans had the ball, a series of boos came from the fans. Along with that, whenever Turkey did something good, especially Turkoglu, the crowd went crazy. At one point, Turkoglu made a pair of three-pointers to give Turkey a 15-14 lead. However, USA would gain the lead back and make the game over from there.
USA needed to have their shooters, so at one point, they went out with a line-up featuring the Durantula, Rudy Gay, Eric Gordon, Stephen Curry, and Russell Westbrook.
It was a very beneficial game. It also helped in politics, according to the Associated Press:
President Barack Obama called Prime Minister Recep Tayyip Erdogan before the game, congratulating him on the success of the tournament and Turkey's team while acknowledging "the vibrancy of Turkey's democracy as reflected in the turnout for the referendum."
Before the game, FIBA inducted players into the Hall-of-Fame, one of them including former Sacramento Kings' center Vlade Divac and women player Cheryl Miller.
Russell Westbrook provided well off the bench, with 13 points.
Well, it has been a great year for USA in the FIBA tournament. They handled this tournament well, blowing out every team in their path. They proved everyone wrong that doubted them. This is a team I will remember. It's a great, sweet moment to savor.
This team shows greatness.
This is Team USA.
Tags: FIBA FIBA Basketball FIBA Tournament FIBA World Champions FIBA World Championship FIBA World Championships FIBA Worlds Kevin Durant NBA Oklahoma City Thunder Team Turkey Team USA Turkey Turkey Basketball USA USA Basketball