ISTANBUL—There just isn't a sweeter moment than this. Kevin Durant led Teem USA with a record-breaking 38 points over Lithuania, 89-74, for USA to head to the gold-medal game in the FIBA World Championships! Durant's 38 points would break a USA-record set by Carmelo Anthony, who scored 35 points. Anthony also averaged 22.1 points per game, which was also broken by Durant.
This goes as a great win for USA, as today marks the ninth anniversary of the September 11 attacks at the World Trade Center back in 2001. This win guarantees that the USA will play for the world title in the FIBA World Championships. The game will be against Turkey or Serbia. USA hasn't made it to the world title game since 1994.
Lamar Odom had 13 points and ten rebounds while Iguodala led the team with his defensive playmaking, especially over Linas Kleiza as he shut him down. Before the game, Durant posted the following message on his Twitter account:
"May God bless those who were effected by the events on Sept 11, 2001….9-11-01 on my shoes tonight..you guys will watch over us.."
Durant would dominate in the game, serving well for his nickname as the Durantula. In an exhibition game in Madrid, USA struggled with a three-of-21 shooting night as they would go for a 77-61 victory. However, USA showed they wanted to dominate.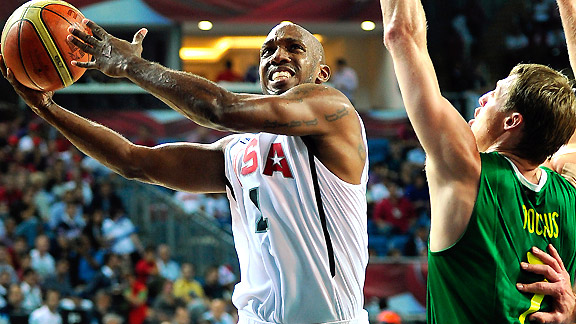 At a point, though, Lithuania was leading by two in the first quarter. Then Durant soar and went on a roll, getting USA up towards a ten-point lead. After that, it was all over and Lithuania couldn't recover. The Lithuanias rolled against Argentina, hitting eight straight three-pointers. But they were dead in the shooting performance against USA.
Russell Westbrook and Durant would help USA with nine points on a run to a 42-25 lead. They would lead by 15 points at halftime. USA would extend it to 19 points in the third quarter. Lithuania couldn't cut it to single-digit points and it was all over for them. Durant would shooting 14-of-25 and would also add nine rebounds to his stellar performance. He would take a seat for the rest of the game when it hit the 44-second mark in the final quarter.
Robertas Javtokas led the Lithuanians with 15 points. Kleiza, who averaging nearly 20 points per game in this year's FIBA tournament, only went one-of-eleven shooting.
USA led in many categories of statistics, including points per game with 95. However, they did the same thing four years ago, only to be halted by Greece in a 101-95 semifinals loss. It was disappointment, but this is a new year and a different one. Now USA can get the gold and automatically make it to the 2012 Olympics. Many are not sure that the players on the FIBA roster will make the Olympic team, but Durant will surely will.
USA will face Turkey or Serbia. No matter who they play, I expect a win none the less!
Go USA!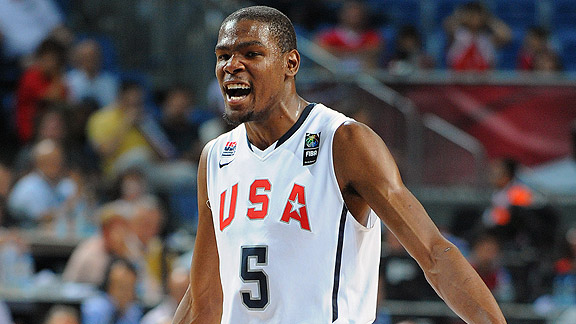 Tags: FIBA FIBA Basketball FIBA Tournament FIBA World Championships FIBA Worlds Kevin Durant Lithuania Lithuania Basketball NBA Oklahoma City Thunder Serbia Serbia Basketball Team Lithuania Team Serbia Team Turkey Team USA Turkey Turkey Basketball USA USA Basketball