BY CHAD SMITH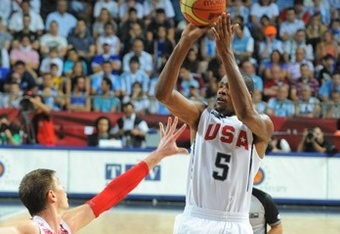 On the anniversary of the September 11 attacks in New York City, team USA looks to advance to the Championship round of the FIBA World Championship. Only Lithuania stands in the way.
Call it a gift, a perfect draw, or just plain luck. Whatever you want to call it, the Americans can breathe a sigh of relief as they will not have to face Spain or Argentina in the FIBA 2010 World Championship. Argentina was ranked number one overall in the FIBA Tournament, and Spain was in the top five as well. Spain was upset on Wednesday by Serbia on a last-second shot. After getting by a tough Russian squad earlier in the day, the Americans watched as Lithuania destroyed the number one ranked Argentina team.
Serbia and Turkey will play first on Saturday, and the winner of that game will take on the winner of the USA vs. Lithuania game in the Championship game on Sunday.
Almost everyone was getting prepared for a USA vs. Argentina semifinal game that would have been seen by millions of eyes. Now it appears that the Americans will have to settle for a date with Lithuania. While most will see this as a big break, the U.S. squad knows this will be a tough match up. If they don't take this game seriously, they will get embarrassed.
Lithuania has a talented roster; not to mention three players with the same name. Linas Kleiza of the Toronto Raptors, has been an outstanding player for them, averaging almost 20 points per game. He also leads the team in rebounding at more than seven per contest.
Martynas Pocius will be a familiar face to many Americans that will be watching on Saturday. He is the former Duke Blue Devil now playing for the Lithuania team. He has provided the team with a great spark and gives them some youth to keep up with quicker guards that the team faces.
Lithuania finished pool play (Group D) with a perfect 5-0 record, just like team USA. Their FIBA World Ranking heading into the tournament was sixth. They defeated the overall number one ranked Argentina squad to reach the semifinals where they now face the U.S. The Americans are number two on the FIBA World Rankings list.
Martynas Andriuskevicius and Robertas Javtokas provide them will nice size, as Javtokas is listed at 6' 11" and Andriuskevicius boasts a 7' 2" height. The average height of the entire Lithuania team stands at 6' 7", but the Americans were able to fend off the Russians earlier in the day, which had their fair share of big men.
Former Lithuania team coach Ramunas Butautas usually played Linas at the three, where he didn't feel that comfortable with his huge frame and massive strength by European standards. New head coach Kestutis Kemzura has him back at the PF position, where he is dominating.
Lithuanian basketball has always been known to be fast-paced, fun to watch and featuring plenty of three-pointers. Arvydas Macijauskas, Kaukenas and Siskauskas and many other top marksmen will not be able to help in Turkey, but they do have Martynas Gecevicius. This name might sound unfamiliar to you, but he will be the man to watch in Europe for the next decade. Some people are already labeling him the new Macijauskas.
Gecevicius has gone from zero to hero in the past season and led Lietuvos Rytas to successive Lithuanian titles for the first time ever. He surprised the whole of Europe with a bright performance on the continental stage.
The first game Team USA put together against Angola was their best game yet. Thursday's win over Russia got off to a sluggish start, but they picked it up in the latter stages and put the pressure on the defensive end. They got some experience going against a bigger team with inside presence, which should help in this game.
While there are bright spots, there are also glaring needs of improvement for Team USA. It was nice to see Durant explode and go for 33 points, just two shy of Carmelo's record of 35 in 2006). On the flip side, there wasn't much help. Billups and Westbrook had solid games scoring 15 and 12 points respectively, but outside of that, nobody else was able to contribute. Not a single U.S. player outside of those three had more than six points. Others will have to step up on Saturday if they want to get to the Championship game.
The Americans were out rebounded and shot a worse percentage from the floor than Russia did, yet still managed to win because of their defensive pressure (18 forced turnovers) and transition offense. They will need more of the same on Saturday against Lithuania. There will need to be a better balance of scoring, which means players will have to step up.
Saturday's semifinal game between the USA and Lithuania can be seen live at Noon EST on ESPN.
Tags: FIBA FIBA Basketball FIBA World Championships FIBA Worlds Lithuania Lithuania Basketball NBA Team Lithuania Team USA USA USA Basketball