BY CHAD SMITH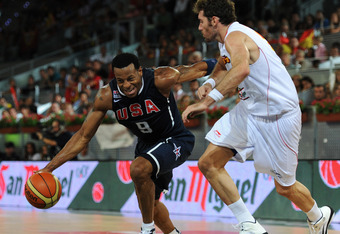 It's on to the next round for Team USA, where they will face another new challenge.
So far in the six FIBA games that the US has played in, they haven't faced a team with the size Russia possesses. The Russians are a physical team and have at least two players listed at 6' 11" and another coming in at 7' 1". The average height of the Russian team is 6' 8", something the Americans have yet to go up against as a collective group.
The size and physical play that the Russians have gave New Zealand problems in their first-round match up. New Zealand's two best players were in foul trouble all game, as they both had four personal fouls just after halftime.
Size is not exactly something this USA team has. While this presents obvious problems for Coach K., he can also use it to his advantage. This team really excels in the transition game, so if they are able to force turnovers, they will definitely be looking to run.
If they are unable to score in the paint, they should have no problem settling for outside jumpers, as they hit 18 three-pointers in their first round game against Angola, a game in which they won by 55 points.
This Russian team will be much tougher than Angola, in every sense of the word. The Russians (Group C) finished pool play with a 4-1 record, only losing to Turkey by nine points. Their size is well documented, and they have a fairly evenly spread roster.
Timofey Mozgov is leading the team in scoring with 12.5 points per game, with Sasha Kaun right behind him with 11.5 per contest. Andrey Vorontsevich is leading the team in rebounding with 6.8 per game, with Kaun right behind him at 6.5. Outside of the big guys, they have a fantastic guard named Anton Ponkrashov who is leading them is assists with 5.8 per game.
Andrei Kirilenko is the only true international star on the team, and in fact, the only player not with a Russian club. Unfortunately, Russia will not be able to count on him after he pulled out because of injury.
The head coach for the Russian squad is David Blatt. He knows the next task on hand will be a difficult one. After their win over New Zealand, Coach Blatt shed some light: "USA has athleticism, quality, and size that makes it difficult to play against them. They have better coaches, better players, and now we (have to) figure out how to play them."
Coach Blatt will demand that his players stay aggressive on defense and help each other out. Luckily, most of the players on the team have experience of playing complex team defense with their clubs so it doesn't fall on deaf ears.
Keyed by the long athletic players on the roster, Russia's defense was a nightmare for opponents in 2007 and it will be used as a blueprint once again.
Russia is a country with a winning tradition that spans many decades and dates back to countless USSR victories on every level imaginable, in particular through the successful 1990s when Russia had to compete on her own, and when they impressed again during 2007 by winning EuroBasket. Unfortunately, they went into the Beijing Olympics with high hopes, but flunked the tournament, managing only one win against Iran.
Even though some Russian players may not be asked to do a lot on their teams, they are still competing at the top level of European club basketball. They don't get jitters reading an opponent's roster because they have played with and against these types of guys all year.
Used to playing limited minutes, they don't have much trouble accepting a role which makes for a good atmosphere without ego clashes. A few players are very versatile, so they can play multiple positions.
Team USA will go for another well-balanced scoring attack if possible. They like to keep fresh bodies and be able to rest the starters (mainly Durant) late in the second half. They will need everyone to be healthy and fresh if they make it to the championship game.
If the U.S. can shoot the ball like they did against Angola, they shouldn't have too many problems, but that is never guaranteed.
The U.S. will need to force turnovers and capitalize on their transition offense against Russia. They can't be slowed down to a half-court type of a game. The ball movement is key against a defense like their's, and they vastly improved that during the game against Angola, getting 30 assists on 41 baskets.
Limiting their turnovers is one of the biggest keys to this game for Team USA. They only had five total turnovers in their game on Monday. They will need to see more of the same against Russia if they want to move on to the final four.
The USA vs. Russia FIBA tournament game can be seen live at 11 AM Thursday, on ESPN.
Tags: FIBA FIBA Basketball FIBA World Championships FIBA Worlds NBA Russia Russia Basketball Team Russia Team USA USA USA Basketball