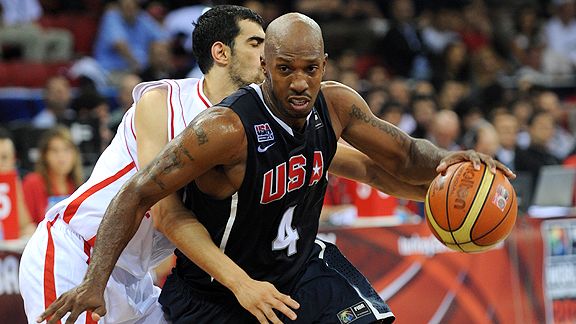 ISTANBUL—Many were concerned for Team USA after barely beating Brazil in a 70-68. But they showed no fear, blowing out Iran in a 88-51 victory. Outside of basketball, it's usually a political battle. But playing on the hardwood, there is nothing that really goes on than just trying to beat your opponent.
"For me, it's a normal game," Iran captain Mahdi Kamrany said.
It was a fairly easy game for the United States.
"We just respected their basketball team and we just played a basketball game," U.S. coach Mike Krzyzewski said. "There's no political aspect in my mind in the ballgame."
Kevin Love had 13 points and Kevin Durant had twelve points, has both helped Team USA stay on top in the FIBA World Championships and stay undefeated at a 4-0 notch. Hamed Haddadi led the now 1-3 Iranians with 19 points while Arsalan Kazemi had 14.
"I'm very happy, I played against the best team in the world," Kamrany said.
However, despite it's a basketball game, a lot of politics-matter was going on in the scene. A fan was holding a sign that showed a USA flag and an Iran flag which would read "PEACE" in the middle. The closest warlike seen in basketball-terms was when forward Rudy Gay got a bump on Haddadi. Other than, it was a well-played, clean basketball game.
"We should leave politics to the politicians," U.S. center Tyson Chandler said. "We're here to play basketball."
In a war for decades now, the war is now coming to an end as we end a chapter in both countries' histories. After the game, both coaches nodded and had a good agreement with each other.
"That's the first level of diplomacy. That's one thing we're in agreement with," Krzyzewski joked.
This is the first time the Iranians faced the Americans, and this could start out to be a fun rivalry between the two since there is not a lot of history between both countries in the sport of basketball.
"That's one of the beautiful things about sports," U.S. center Lamar Odom said. "If you think about the history of sports, you take people from different cultures, from different beliefs and bring them together. Sports is the one thing that can kind of bring people together and have a great atmosphere. It was great playing a game like this."
The U.S. struggled in the Brazil game and a little bit today, but they got a lot better.
"As the game moved along we got better in the game," Coach K said.
The reserves played excellent for USA, as Danny Granger had ten points and Derrick Rose delivered eleven. Tyson Chandler led USA in rebound with seven along with seven points. Eric Gordon had eight points. Stephen Curry led the team in assists with five along with four points. Both Chandler and Love showed much effort in today's game and showed that the big men on this team are very important to the team's success and can be very competitive towards other team's big men.
"Tyson and Kevin Love showed they could make a contribution, and I think that's important," USA Basketball chairman Jerry Colangelo said.
USA looks to keep fighting strong and hope to deliver that FIBA World Championships trophy since 16 years ago in 1994.
Tags: FIBA FIBA Basketball FIBA World Championships FIBA Worlds Iran Iran Basketball NBA Team Iran Team USA USA USA Basketball