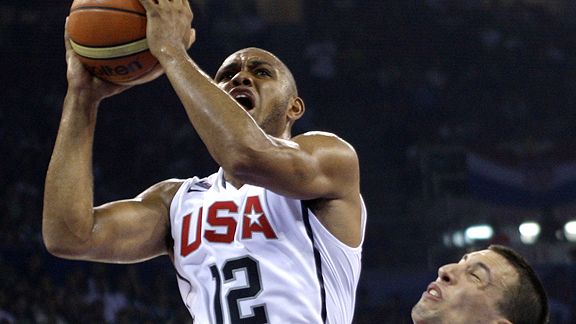 ISTANBUL—It's times like these where you just love watching basketball. Today was that day when Team USA rolled to beat Croatia in the first game of FIBA World Championships set in Turkey. The final score count of the victory was 106-78. It's been weeks since USA has been criticized for being said of what they can't do as well as being called "The B-Team."
Call it as you wish, but Team USA looks hot. And today, they did, especially off of Eric Gordon. The Los Angeles Clippers' shooting guard was a long-shot for making the FIBA team but made it, and coach Mike Krzyzweski should be happy and relieved that he did. The long-shot player but up some big shots to help blowout Croatia.
There is a lot of confidence building and many are optimistic that this team can win the whole FIBA World Championships since 1994 despite not having a single player from the 2008 Olympics squad and not having top-caliber center. But they can win it, and it will be led by Kevin Durant. Speaking of the Durantula, he scored 14 points in the victory.
"People aren't expecting us to come out here and win, so we just wanted to make a statement and I think tonight we did," Durant said.
Gordon led the United States with 16 points along with four three-pointers. With the help of the guard out of Indiana University, he turned a close game that could either way to a large-margin victory that Croatia can't defeat. Chauncey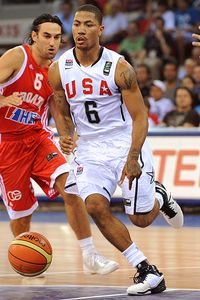 Billups scored twelve points in the making.
Today's game was impressive, and if USA can win the whole thing despite being undersized, boy what a feat this would be. Along with that, some of folks who were on the 2008 Olympics squad may need to watch out for what is coming towards them in the 2012 Olympic team tryouts.
Durant was another key feature, bursting for five points in the second quarter along with eight rebounds, all in a span of just 21 minutes. There was no sight for Kobe Bryant or LeBron James, but this time it was a show of Durant and Gordon. From the way they are playing right now, they have an excellent shot at 2012, but we'll wait for that. Let's worry about now. If USA can play like they did in the second quarter, many other teams are in for some trouble.
"We like that type of adversity," Gordon said. "People think we're too young or too small, but I think we're playing well as a team and we play much faster when we're smaller, and we're just an overall good team."
Bojan Bogdanovic added 17 points while Marko Popovic had 16 points to help out Croatia in their 28-point loss. Croatia used to be on top, but haven't done anything that is astounding since winning the bronze medal back in 1994, the same year where USA won it all. Croatia would end up having a bad shooting night, going three-of-17 from the field, and going one-of-13 from three-point range.
"We were good in the first period but then we didn't fight," Croatia coach Josip Vrankovic said. "We had some problems about free throws and 3-point field goals. We will be more careful the next day."
Team USA needs to play strong for the next four games to be in pool play.
"I think that's what we're learning to do," Rudy Gay said. "Every day is a process and we're getting better at it. We've only been playing together for what, five games? So we're still learning to play with each other."
Gay and Russell Westbrook had ten points. USA all-together shot 55-percent and were only outrebounded 41-39. That is something to be proud of, despite having a 6'10" starting center in Lamar Odom, who usually plays in the small forward/power forward range. Kevin Love played well, too, adding ten rebounds in just 13 minutes.
USA will face Slovenia next, looking to bring more of the same energy and intensity they had in the second quarter. Really proud of this team right now and there is a lot of hope for them this year. Let's go USA!
Tags: Croatia Croatia Basketball Eric Gordon FIBA FIBA World Championships Kevin Durant Los Angeles Clippers NBA Oklahoma City Thunder Olympics Slovenia Slovenia Basketball Team Croatia Team Slovenia Team USA USA USA Basketball