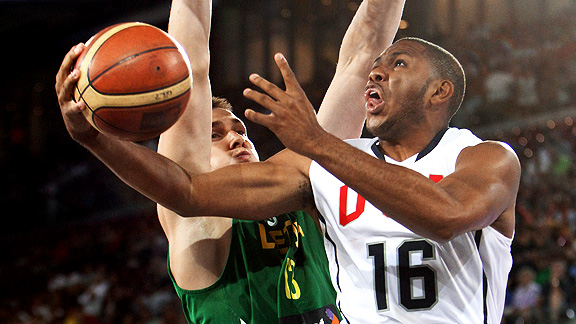 Though Team USA beat Lithuania in a 77-61 exhibition game win, head coach Mike Krzyzweski said there is still room for improvement on the squad. The press asked the Duke Blue Devils' college basketball coach of what areas Team USA should work on in this year's FIBA World Championships.
"Everything," he said.
USA had a bad first quarter, hitting only three shots out of attempting 21. They also had six turnovers, but after a rest and getting with their starters, USA got back on track and went on a roll. USA is doing good in the warm-up games and are getting ready for the real tournament to take place, which will go on from August twelfth all the way up to September twelfth in Turkey.
"We have to keep improving in every area as a team, including getting to know one another," Coach K said. "There's not that continuity or chemistry — there's the attitude, a great attitude to get to know each other, which is why games like this are so important and the game tomorrow is so important."
USA will start off against Spain, who are hungry for USA after what happened in 2008 in the Olympics where USA won it all after reviving from a disappointing showing in the 2004 Olympics. However, USA will have to settle with nobody from the Olympic squad for this year's FIBA World Championships, which helps explain why they did poor in the first period against Lithuania, where they trailed 15-7.
"I thought we were a little tight and they played well defensively," Krzyzewski said.
But with Lithuania struggling as well, USA rebounded and took a 54-49 lead. From there, it was all over. USA won and there was going to be no way Lithuania would come back then. In this part of the game, it included a 17-0 run that was
helped led by point guard Russell Westbrook and shooting guard Eric Gordon.
Kevin Durant led USA with 15 points while Linas Kleiza, who recently returned to the National Basketball Association after attending a season with Greece, had twelve points for Lithuania. Both teams had a very poor shooting night, with Lithuania shooting 25-of-62 overall and USA with 27-of-58 overall. Rudy Gay helped out big time when he come off the bench and he provided some very valuable minutes, ending the game with 14 points and five rebounds. But winning the game really came to the help of Gordon and Westbrook.
"I thought [Derrick] Rose, Gordon and Gay really picked us up," Krzyzewski said. "But you have to have that energy at the start of a ball game, we have to start out strong."
Westbrook showed that he belongs on the USA squad as Coach K will have to cut one player to trim the team's roster down to twelve to be set for Turkey. Many say Russell will be cut, but his showing of twelve points could help him stay. Gordon added nine points to the showing.
"I try to go out and not pay attention to what's happening with the cuts and whose getting cut," said Westbrook. "The key for me and the rest of the team is coming out and having a defensive mindset. If we defend our offense will take care of itself."
The floor was a problem in the game, as it was slippery. Coach K blamed it on the advertisements displayed on the hardwood.
"Any court where you just put those logos on, those are dangerous," Krzyzewski said. "It gets real slippery for the players and tonight the floor was very slippery and that's a concern. But that's not why we shot poorly."
Stephen Curry was able to play, after being suffered from an injury on his left ankle. However, point guard Derrick Rose had to leave the game after being poked on the eye. His eye will be evaluated on Sunday, according to the Associated Press. With an inexperienced squad in nationality basketball terms, USA hopes to win it's first FIBA World Championships title since 1994. Let's hope they can get it this year. There is a lot of hope for this squad.
"It was a tough one," Durant said. "But we fought through it."
Definitely. And Team USA fought very well. And they came through.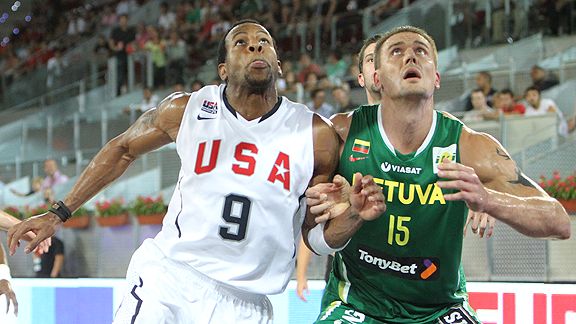 Tags: FIBA FIBA World Championships Kevin Durant NBA Team Lithuania Team USA