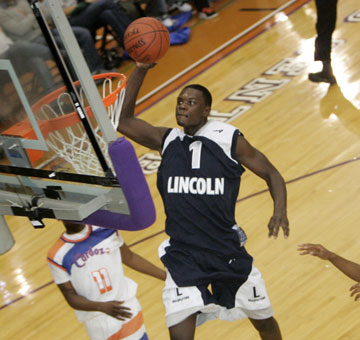 Larry Bird was very disappointed of the latest news that has just happened. According to the Associated Press, Indiana Pacers' second-round draft pick from this year's draft Lance Stephenson was arrested for hitting his girlfriend. Stephenson will be playing point guard this year, but these latest events could make a twist and turn things around for the young prodigy.
According to the police report, Stephenson pushed his girlfriend down a flight of stairs and then beat her at the bottom step. The 19-year-old out of Cincinnati was released from jail with a bail out worth $7,500. The confrontation happened when Jasmine (the girlfriend) went inside his apartment building. It was around 5 o'clock in the morning and Jasmine came home with two friends. Lance waited for her and said "Are you kidding me?" Then he pushed her down the stairs, and from there you know the story.
Larry Bird selected Stephenson as the 40th pick of the 2010 NBA Draft. Stephenson was about to play as the team's starting point guard until the recent blockbuster trade happened when the Pacers gave up Troy Murphy to the New Jersey Nets and the New Orleans Hornets gave away James Posey and Darren Collison. Collison will easily start. Stephenson would still get some minutes, but things can change like I said earlier.
"The news of Lance Stephenson's arrest is very disappointing to the Pacers franchise and to me personally," Bird said in a statement. "We have worked very hard to bring in players that are excellent representatives of our franchise, community and state both on and off the court. Our commitment to this goal is too strong to permit the actions of one individual to reverse all of the positive strides that have been made as a franchise over the last couple of years or to hurt the image of the rest of the players on our team."
Stephenson will head to court on October 19th, about a little over a week before the NBA regular season starts and gets going.
"Everyone in the Pacers organization remains strongly committed to our players representing Indianapolis and the state of Indiana in a positive way and will not condone behavior that reflects poorly on this franchise and community," Bird said. "We are continuing to gather all of the facts regarding Lance's arrest but regardless of the outcome of the investigation, Lance should not have put himself in the position he was in early Sunday morning. We have consistently emphasized to our players the importance of not putting themselves in situations where bad things can happen. Once all the facts are known we will deal appropriately with Lance so that he, the team and the entire Pacers community understands that this message cannot be ignored."
Mark Boyle To Walk Around the State
According to Mike Wells of the Indianapolis Star, Pacers' radio announcer Mark Boyle will walk around Indiana for a charity fund.
"The whole genesis is that I wanted to see if I could walk 500 miles," Boyle said. "I figured if I'm going to do that, we might as well see if we could raise some money so two things could be taken care of. Plus, I've done stuff with the Wish Fund in the past."
Reggie Miller a Hall-of-Famer?
According to a report from Indy Star, Pacers' all-time best player Reggie Miller is now eligible to be in the NBA Hall-of-Fame. This will come in 2011 and I can't wait. Miller played 18 seasons and had over 25,000 career points. His career points ranks 14th all-time. He also led the Pacers to their only Finals' appearance and created a great rivalry. He also was well-known for his clutch and three-point shooting ability. I think he can easily make it. AlwaysMillerTime.com is supporting you Reggie!
Tags: Hall Of Fame Indiana Pacers Lance Stephenson Larry Bird Mark Boyle NBA NBA Hall Of Fame Reggie Miller