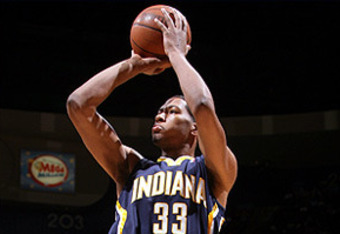 The Indiana Pacers had a very good draft.
Far better than what they had done back in the 2009 NBA Draft, taking a reach for Tyler Hansbrough, who is still unproven. A.J. Price, the second-rounder, even outperformed "Physco T."
Larry Bird saw what was coming to him this year when Gordon Hayward was coming closer. If it weren't for the Utah Jazz taking the huge reach for the Butler Bulldogs' hometown hero, the Pacers would have easily gotten him.
Instead, they got Paul George. At this moment, it was as if they would go for someone with the likes of Patrick Patterson or Luke Babbit. Or Cole Aldrich. But it was George, eho has the most potential out of anybody in this draft class.
The Frenso State small forward seems as if he is more athletic clone of Indy's franchise player in Danny Granger. With this, the Pacers have too good of something: small forwards.
Entering the second round, Indy needed a point guard. Instead, at the 40th pick, Indy went for Lance Stephenson. Stephenson, to many, is a steal for Indy in this draft. Along with that, the team got a helpful back-up power forward in Magnum Rolle.
But there was still no point guard, and many saw this as a disappointment. Each article I loom around, everybody says something that the Pacers never got a point guard. Indy has two. One is T.J. Ford. What's the other? Lance Stephenson.
Stephenson has right size, and after seeing him many, such as what Jared Wade of EightPointsNineSeconds.com, thought he was amazing. Simply put it as that, he was a "beast." Nothing more to describe. Stephenson put in some big number, game-in and game-out.
He was simply unstoppable. He came as a surprise to some that he would be the next point guard. But one more thing remains for Indy, and that's if they need another point guard. In my opinion, I still think they do.
But that's only to add depth and help with the rotations. With A.J. Price out for a couple of months, they can't just go ahead with T.J. Ford and Lance Stephenson playing the whole game. Or can they? Each split 24 minutes? I don't know, but I think Indy will work with it.
When I look at Lance, I see the next Gilbert Arenas. And when I mean Arenas, I don't mean his attitude or what he does off the court, and I hope you know that. I'm talking talent-wise, and Lance fits that. The new Agent Zero has entered the building.
The line-up that I would like to see is having Lance running the point, Dahntay Jones at shooting guard, Paul George starting the three-spot, Granger playing the four, and Roy Hibbert at center.
There's no reason for discussion on the topic of Lance at point guard, since we have already discussed that earlier before the paragraph above. Lance will be the scorer and will be dropping buckets like never before.
As for Dahntay Jones, he's proved enough that he can be a starter. Brandon Rush will have to do a lot more in order to get ahead of Jones. Jones is a great defensive stopper and showed a lot more offensive production. It was probably the best offensive season of his career.
Paul George will dominate at small forward. At some points, he will play shooting guard, but I see him starting. He's a great scorer and he can really bring it. George fits here like he did back with Fresno State.
Danny Granger has played power forward before, and I see him starting at that this year besides his regular small forward one. Granger can create a lot of separation from other power forwards and sometimes he is too fast for them. Granger can get a lot of touches down low.
Roy Hibbert has been a great offensive center with a lot of production. He'll be getting a lot of more touches at the orange ball. After coming off a double-double season, I see him heading for another. The only thing is that he needs to play a lot more physical when it comes to aspect of defense.
This is a line-up I really would like to see, but however, it might not look like that until the second-half of the season starts. What I am trying to say is that Troy Murphy will be the key to a different approach at the starting five, pretty much.
I see Indy starting Lance at point guard still, but George may get moved to starting shooting guard, which is no problem. George has played shooting guard before and he can have a great height advantage. This is another reason how Tracy McGrady was dominant at the two-spot.
As for Granger, he will get back to small forward while Murphy starts at power forward. I do have a few problems with Murphy. He tries to shoots to many three's and acts as if he is some big, old hot-shot shooting guard. But come on Troy, realistically, you are just some 6'11" power forward.
But the only reason Murphy will start is because he is productive. I mean, he did have a double-double season in points and rebounds. He's also one of the best defensive rebounders in the league. By the time the trade deadline hits, he could be on the move.
And that's where we revert to the line-up I was talking about. The Pacers can be very dominant in this situation and can add more offensive production to their game. Now with this, Indy can clinch the eighth seed.
It's possible. I can definitely see three teams heading to the playoffs from the NBA Central division. Hey, it happened last season when the Milwaukee Bucks, Cleveland Cavaliers, and Chicago Bulls all clinched. Why not this year?
There are also more chances for the Pacers to climb at the top of the Central division with the Cleveland Cavaliers already lost without LeBron James. As I see it, all the teams can contend and will be fighting hard in the division.
When it all goes down, the Chicago Bulls will finish out at the top. They have too much team chemistry going for them and already in the right place. Everybody knows each other very well from the Bulls' teammates to the former Jazz teammates. The Bulls will easily get to the top of the Central.
The Milwaukee Bucks are having too good of an off-season, and it can't got to waste entering the 2010-11 season. For me, the Bucks will finish out as the second-best team in the Central division.
When it all goes down, it will be the Pacers and the Cavaliers fighting for the third spot, and mostly probably the eighth seed. The Cavs are just a Richard Jefferson or Rasual Butler away for replacing the small forward spot.
According to ESPN.com's John Hollinger, LeBron James leaving will cut out 20-24 games from the Cavs original record. Last time I check, that's good enough for an eighth seed. Eventually, I can see Indy getting out on top.
39-43 seems like a good prediction to me. The Cavs will finish somewhere around 35-37 wins. The Pacers were close in the 2008-09 season. Let them fully get it coming into 2010. The Pacers have too much talent on the starting five, and they can't let the playoffs slip away from them.
Jim O'Brien is going to have a serious mindset coming into 2010. If he doesn't get them to the playoffs, he's fired. He's done for good.
This is the year to get serious.
Like their motto, Indy has got to get their passion and pride going.