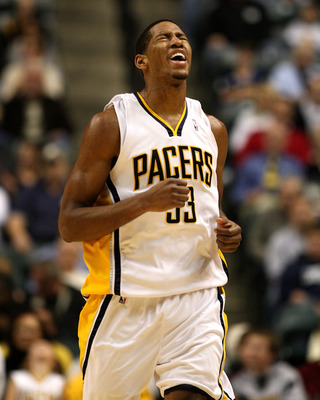 Written by Chad Smith
Much has been made about the Pacers push towards the end of the season, which basically hurt them more than it could have ever helped them as far as the future is concerned.
Now left with the number ten pick in the upcoming NBA Draft, the Pacers have some options, and it likely will not be known what they will do until draft day.
Here are just a few of the options that Pacers fans are mulling over at the moment.Draft Ekpe Udoh
Taking Udoh here is an option that a lot of Pacers fans are in favor of, except for myself.
I just don't see where he fits into the starting lineup with the team we have now. Maybe if we make other moves he could fit in nicely, but as of right now I don't see where he fits.
Draft Avery Bradley
While everyone agrees that the PG position is the one the Pacers need to address most, I don't know if Bradley is our guy in this draft.
I know Bradley and Ford both played at Texas, that has no bearing on what I am about to say.
I feel that Bradley is just a younger TJ Ford. Their playing styles are so similar I can basically already see his two or three year stint with the team before he moves on with his career somewhere else.
Trade First Round Pick for PG
Whether it be Darren Collison or Devin Harris, I think that the Pacers should seriously explore these options.
With CP3 staying in New Orleans, Collins will definitely be looking for some playing time somewhere else.
If the Nets were able to get the number one pick in the draft, the Harris deal could have been really possible, but I haven't ruled it out completely.
A young point guard that has proven talent would be the best choice for the Pacers in my opinion.
Trade Murphy and Rush for Parker
This is the big rumor out there right now.
If both sides can come to terms, both teams would be improved in my opinion for next year.
With the emergence of IUPUI standout George Hill as the future of the Spurs, look for Parker to possibly be dealt by San Antonio.
Who knows whether there is any truth to this rumor, but seeing no. nine in a Pacers uniform would definitely be a big improvement.
Draft Eric Bledsoe
Eric Bledsoe may be the best "true point guard" out there in the draft this year.
Although, he had to play more off the ball at Kentucky because of Wall, he has shown that he can shoot, but more importantly that he knows how to play team basketball.
Obviously he was surrounded by talented players at Kentucky, but he fit in very well and without Wall, he may have had much more attention on him by most NBA teams.
Draft Gordon Hayward
No Larry……fight the urge….
we do not need another Dunleavy Jr.
Draft Anyone Else at No. 10
Whether it be Xavier Henry, Patrick Patterson, Ed Davis, James Anderson, Hassan Whiteside…
Not really sure this is the best direction to go…so they will probably do one of these things.
Tags: Indiana Pacers NBA NBA Draft