Play Guitar by John Mellencamp
Or basketball. Either will do.
Don't get me wrong. It was nice, for a change, to see a little friction, baby. It was a somewhat pleasant to see the opposing team and fans treat the Pacers with something other than utter disinterest and contempt.
Still, just like everything else that happened this week, and this season, it didn't accomplish anything. A Steve Nash jumper that coincided with what was accurately described to me by @missbumptious as a "slap fight" put the Suns up six. Over the remainder of the game, that lead got no smaller than 4 and no larger than 10. It was a perfect microcosm for the season. The Pacers ran around in circles, flapping their arms wildly, going exactly nowhere.
However, the players, as usual, seem to have missed the point. From Earl Watson:
"I think we have a reputation of being soft," Watson said. "We're not going to just give in and let anybody do what they want to do. Our team is far from soft."
Earl, buddy, you guys don't have the reputation of being soft. You guys are soft. You can't spend 62 games demonstrating your willingness to give in and let anybody do what they want, then puff out your chest and deny it. Besides, the team you're going to prove your toughness against is the Phoenix Suns? And, you think squaring off against Channing Frye is going to re-establish your sense of manhood? Really? Look out, Earl, there's a wad of wet toilet paper in the locker room that's looking menacing.
Danny chimed in with:
"I love it, I absolutely love it," Granger said. "Whenever you get a whole auditorium chanting, 'You suck,' it's pretty nice."
Yeah, great. I'd love it a lot more if it you guys didn't spend so much time giving them evidence that they were right. Danny, you have been christened "The Gift" by Pacer fans, and you deserve it in so many, many ways. But, sorry, bunkie, you've got to get past this silliness. If you're going to shush the crowd, you need to do better than 6 points and 3 fouls in the fourth. You need to do more than taunt the crowd while missing two-thirds of your 4th quarter field goals and one of your (only) two free throws.
I do respect the urge to stick up for your teammates. I don't fully understand what caused Watson to slap Frye's hands away twice, but Frye's decision to react after Watson turned away by shoving a man 11 inches shorter and over 50 lbs. lighter than himself both deserved Danny's immediate reaction and confirmed my assessment of where Channing fits on the badass scale. However, one relatively silly act of (forgive my language) Mickey Mouse macho horse**** isn't going to change the basic reality of the situation.
The Pacers are a bad basketball team. The popular theory in Pacer land is that this state of affairs can be laid at Jim O'Brien's feet. Well, there's certainly a pretty good case against him at this point. The team continually falls behind early and gets blown out on a regular basis. The rotations can only be described as schizophrenic, and he been unsuccessful in coming up with even a Plan B to address the abominable offensive performance.
This sentiment reached a fever pitch this week when O'Brien dismissed Josh McRoberts' career high 15-point performance as "irrelevant." The comment was made after a spectacularly embarrassing loss to the Lakers, and set off a firestorm of criticism from fans and media alike. That game was followed by three more losses, and the team certainly appears to headed nowhere but down. We're three years into O'Brien's tenure, and for the first time in his NBA coaching career, one of his teams is significantly underperforming. A locker room that was reportedly as good as the Pacers have ever had a scant year ago now bears a disheartening resemblance to the cesspools of 2005, 2006, & 2007.
So, yeah, O'Brien has probably outlived his usefulness and should be let go. Now or at the end of the season doesn't seem to matter all that much.
However, if we were to pretend that Jim O'Brien and his coach is the biggest problem this franchise, it would be delusional. Consider:
Lack of Talent – Of 14 players on their roster, only Danny Granger is a bona fide NBA starter. He's at the point where he can either become a perennial All-Star, or hover on the fringes and become a player more known for what he can't do than what he can. While last year was an epiphany, this year has been a warning. Besides Danny, only Roy looks like a guy who will evolve into a starter, and that's far from a sure thing. He is a player from another time, and it remains to be seen if he can ever exploit his strengths to a greater degree than opponents can exploit his relatively obvious weaknesses. Beyond that, the veterans (Murphy, Foster, Watson, Ford, Dunleavy) are nothing more than placeholders. The young players (Rush, Price, S. Jones, McRoberts) don't look like much more than serviceable bench players. Brandon Rush is a complete mystery. He's got offensive skills, but undercuts them with his timidity. Defensively, he's good straight up, but makes plenty of mistakes in his total defensive floor game to downgrade him to little more than above average overall. Nobody knows what we have in Hansbrough, and worries that he may never return could be termed as extremely pessimistic, but, regrettably, not out of the realm of possibility.
Lack of Money – This isn't just limited to not having the ability to bring in free agents. The Pacers franchise are hemorrhaging money, and it's always unclear as to how long Herb Simon will be willing and able to live with that. This complicates things like the dismissal of O'Brien, which would result in paying two coaches next year. However, the fevered reaction to O'Brien's comments on McRoberts this week could threaten their pocketbooks more than paying two coaches.
Lack of Direction – The "three year plan" has been talked about ad nauseum. Really, in the grand scheme of things, winning 26 games this year instead of 36 doesn't affect the plan one way or the other. Some could argue that it actually could help in the form of a high draft pick. However, the way the fanbase has reacted to the performance indicates both a lack of understanding and a lack of faith in the three year plan. The lack of understanding comes in the surprising expectations of continual improvement. That was never the plan. They were hoping to nurse the serviceable vets that they had, get some growth out the young players, and hopefully hang around playoff contention while they waited out the contract situation. While they're clearly not able to hang around playoff competition, they have no choice but to continue to wait out the contracts. The lack of faith comes from the fact that the "three year plan" is starting to look more and more like this: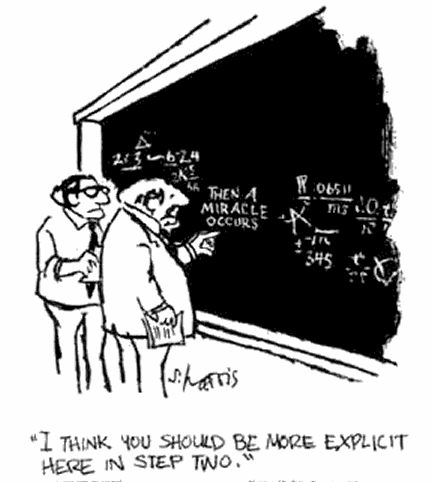 So, you'll forgive me if I am thoroughly unimpressed by some chest thumping and false machismo in yet another loss.
[TABLE=65]