By Chad Smith
.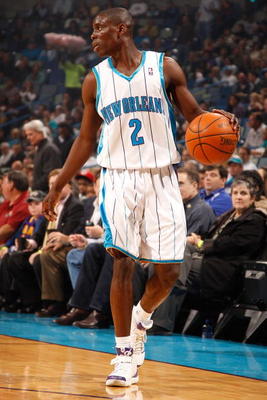 They are the "quarterbacks" of their franchises. Never has the point guard position ever been so important to the game. They are the leaders and the offense starts with them.
Of course you have the best of the best such as CP3, Deron Williams, Steve Nash, Derick Rose, Chauncey Billups, and Tony Parker.
There are up and coming rookies that have already impressed this year, such as Tyreke Evans, Johhny Flynn, and Brandon Jennings.
The position is so crucial to the team's success. Here is a look at some of the best point guards that nobody talks about.
Add to the list if you wish.
5. Russell Westbrook
Averages 16 PTS, 8 AST, 5 REB
The Thunder's success is due mostly to KD35, no doubt, but Westbrook is one of the up and coming stars as far as the position goes.
The Thunder are sort of like an All-Star college team, but Westbrook's play has really elevated them from a joke to a contender in the west. It's also worth mentioning that Westbrook is one of the nastiest dunkers in the game today.
4. Jarrett Jack
Averages 11 PTS, 5 AST, 3 REB
Jack didn't play much in Portland, and the Pacers wish they were able to keep him after last season, but he is fitting in nicely with Toronto.
The Raptors do have Chris Bosh, but Jack is a great presence for them as the floor leader. The numbers may not be as high as some of the rest, but he gets about 27 minutes per game.
3. George Hill
Averages 11 PTS, 3 AST, 3 REB
Perhaps no point guard has been as important to his franchise as George Hill is to the Spurs. With Tony Parker missing multiple games this season, the Spurs have relied on the young star to control the offense through Duncan and Ginobili. Hill came from a small college here in Indy, but Coach Pop absolutely loves him, and his potential is skyrocketing.
2. Rodney Stuckey
Averages 18 pts, 5 ast, 4 reb
The Pistons have vastly underachieved this season, after the moves they made this past off season. Health has been an issue, but the results have never been there this year.
One player that has stepped his game up this year though is Stuckey, who made a late push last season, and showed signs that he could become great. Stuckey isn't quite ready to take over Chauncey's shadow, but his skills are quite evident.
1. Aaron Brooks
Averages 19.5 pts, 5 ast, 3 reb
Who would have guess this one before the season? Brooks has the surprising Rockets playing well and competing with the top teams. With the losses of Yao, Artest, T-Mac (good or bad) the Rockets weren't expected to do anything this season.
Brooks has led the charge for Houston, and he has shown he is a great decision maker. His quickness is something that stands out, and he makes the guys around him better.
I know there are probably some that I have missed, just put them in a comment!