In Winning Time: Reggie Miller vs. the New York Knicks, director Dan Klores recounts one of the NBA's most underrated rivalries in a beautifully crafted tale that centers around three Pacers/Knicks playoff series from 1993 to 1995. I saw it yesterday and it certainly lives up to its heralded billing as one of the best films in ESPN's ongoing 30 for 30 film series.
Pacer fans will see it as the story of their adopted son leading their team to national prominence by slaying the hated Knicks. Knicks fans are likely to see it as somewhat less epic. (And those of us who are more enlightened — and much better looking — will, of course, view it as inspiration for the name of a great blog.)
The documentary will also be entertaining for all sports fans regardless of how familiar they are with the rivalry, as Klores brings plenty of laugh-out-loud moments in a work he calls "fun" and a "comedy." He provides a nice framework to allow the principle characters — the players, coaches and members of the media — to tell the story in their own words, so the uninitiated will quickly be brought up to speed with first-hand anecdotes of playoff heroics. By the time the documentary reaches the moment for which this site is named, even those who dislike the NBA will be pretty engaged in the drama of the rivalry.
And for those of us who feel as though we lived through those battles as soldiers in the fight rather than just passive onlookers, it provides so much more. It is both a reminder of the days when "Pacer Pride" actually meant something and a look behind the curtain. Even though the Pacers/Knicks battles of the 90s are almost part of my DNA (and I still have the scar from the headbutt Starks gave Reggie to prove it), Klores still was able to provide vignettes that were new to me.
For me, however, Winning Time was even more than that. It was a reaffirmation of who I am as a Pacer fan. The movie, and the anticipation of it, triggered strong memories. These aren't limited to Reggie's heroics. I found my entire life as a Pacer fan flashing before my eyes.
These are just some of the random fragments:
When the Pacers won their last championship in 1973, I was 7 years old. I have distant memories of going to the Fairgrounds Coliseum, but very little of the game play. My favorite player was Billy Keller. What I remember of the games is walking to and from the car with my dad and my godfather, his best friend Dick Perry.
I'm the youngest of nine children, and 10-and-a-half years younger than the second youngest. My only brother is 16 years older than me, and I spent most of my childhood being vaguely afraid of him. At one point, he convinced me that he kept a pet coyote ("ky-do-te" to my young mind) and water buffalo downstairs next door, which somehow frightened the bejeezus out of me. However, my most vivid memory of the ABA Pacers comes from listening to them playing the Dallas Chaparrals on a radio with Terry in his room one night. I don't even remember the score, but I remember the sounds and the light of the room and the dark outside.
The only reason I ever got to see John Havlicek play in person is because my brother-in-law, Vince, thought it was something a 12-year-old should see. The Pacers lost that night, but I distinctly recall the conversation Vince and I had getting out of the car. A childlike discussion of the preceding summer's telethon and strange, innocent feeling of pride surrounding the city banding together to save the team. Those of you outside Indiana — or just anyone under 30 — might not know, but the Pacers, once known as "the Boston Celtics of the ABA," faced fiscal straights that would have forced the team to relocate had the community not literally ponied up their own hard-earned money to bail out the franchise and keep them in Indianapolis.
Until late in Reggie's career, my favorite NBA Pacer was Billy Knight. That attachment was formed by listening to the Pacers on the radio every game during the 1980-81 season. This was my freshman year of high school, and it's when I formed my connection to basketball. I spent that year listening to the Pacers on their way to their first NBA Playoff appearance, and the Indiana Hoosiers on their way to their fourth NCAA title. I can still hear "Hockey" Bob Lamey's calls of running-one-handers, and cheering for BK and Johnny Davis and James Edwards and Boo-Boo and the return of Big Mac.
I remember a fleeting moment of glory in an otherwise disastrous 1985 season. My brother's best friend had a single season ticket (face value $4), and he couldn't go to a January game vs. the Chicago Bulls. The temperatures were frigid that night, but I was able to coax my '72 Cutlass down to Market Square anyway. I was joined by several hundred other fools, as we witnessed a rare Pacer victory. The big moment came with the Pacers up one and the clock ticking down. Michael Jordan isolated Jim Thomas, but Jimmy picked his pocket, securing the game. I think I lived off that game for like two years.
I was in Market Square Arena, with my brother Terry and my brother-in-law Vince as we cheered the selection of Wayman Tisdale, were stunned by the selection of Chuck Person, and did not boo the selection of Reggie Miller (though, in all honestly, we were hoping that Horace Grant would fall to the Pacers). We also sat through all 7 rounds of that 1985 draft, with Terry and Vince begging the Pacers to take Tyrone Corbin from DePaul. They did not. The Pacers took Billy Martin and Dwayne McClain with their two second-round picks. Tyrone Corbin went on to play over 1,000 games in the NBA. Neither Martin nor McClain were quite that successful.
Over the years, NBA Draft Night has risen to an equivalent stature in my house with the Super Bowl. Though we missed last year, I have usually had my brother Terry and my friend Alex (who has written here at 8p9s) over to watch the draft. The year we drafted David Harrison, I was in Kansas City on business. I spent the entire evening on my cell phone "watching" the draft with Alex.
I distinctly remember the look on Terry's face on the night the Boomer was "born." If I recall correctly, the Pacers were playing in Milwaukee, when, with much drama, Eddie Doucette breathlessly told of breaking news back in Indy. They cut to a grainy, Zapruder-quality video of some large stuffed animal breaking out of a box underneath MSA. If you would like a re-enactment of my reaction, just look at John Starks' face when he missed those free throws in Game One of the 1995 series.
Prior to Game 4 of the 1994 Eastern Conference Finals, the crowd at Market Square had reached a fever pitch. If you never had the pleasure, it is impossible to describe how loud that place could get. However, the other thing about that building was that it was a dome and the floor was actually well above street level. Market Street actually passed under it. Therefore, the entire building actually felt unstable when the crowd went off. As the teams huddled prior to tip, and the crowd rocked the building — both literally and figuratively — I spied second-year Knick Hubert Davis staring up at the crowd, slack-jawed, with an expression of awe that was teetering on the edge of outright fear.
These are just the old-school memories. This doesn't include the many other flashbacks that dot the years of my life as a Pacer fan like signposts. These others cover the entire range of emotion from the elation of beating the Knicks or making the finals to the Larry Johnson four-point play and the gut-wrenching dread that slowly descended on me in the hours after the brawl. I could go on for thousands of words without running dry.
As much as anything, the Pacers have been a part of my life. While that may sound like a life of misplaced priority, I would invite you to look at those memories again. Almost all of them mention family or friends. Those that don't were experienced in the company of family or friends. At the end of the day, the Indiana Pacers have been a vehicle through which I've been able to enhance connections with my family and friends, and forge new ones with those who share my passion.
There's no denying the dark cloud that has hovered over Pacerland for last few years. Many fans have fallen away, regrettably with good reason. The Blue and Gold haven't faced this much futility on the court in over two decades.
So this documentary could not have come at a more opportune time to help remind me of the basis of my connection with the Pacers. In fact, in the midst of an ugly basketball game earlier this season, the Pacers played a huge role in enhancing the most important relationship I will ever have.
If you're a Pacer fan, do yourself a favor, and catch Winning Time. Remind yourself of why you fell in love with the Pacers, and what it will feel like when they finally get back on track. Watch it for the laughs and the new information contained as the insiders share their perspectives. And if for no other reason, watch it for the opportunity it will give you to relive moments and memories with those near and dear to you.
Feel good about being a Pacer fan again.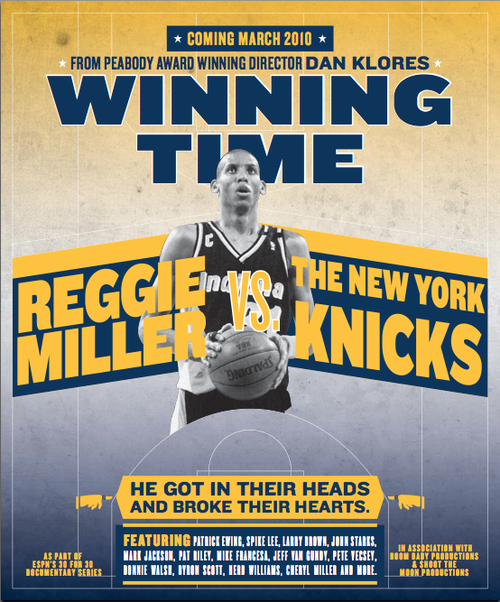 ESPN audiences will first see Winning Time on Sunday, March 14at 9:00 pm. However, those in the Indianapolis area can attend Special Premiere Movie Event at Conseco Fieldhouse at 8:00 pm on Friday, February 26. Reggie Miller, among others, will attend and proceeds from the event will benefit The People's Burn Foundation, Riley Children's Hospital and the Pacers Foundation. Also, below you can check out a preview of what is obviously the favorite scene of someone who would create a blog called Eight Points, Nine Seconds.
Tags: 90s Pacers ABA Days Dan Klores ESPN 30 For 30 John Starks Sucks Market Square Arena New York Knicks Reggie Miller Winning Time