Indiana Pacers 109, Philadelphia 76ers 98

————
In lieu of the old familiar, game-story-style recap, we're just going with some game notes today. So you don't get bored, we try to mix it up. DJ Pauly D style on the ones and two.
Beatin' up the beat. Pure creep mode.
But let's just get down to the biz-ness. Game Notes
1st Quarter
O'Brien went with Watson, Head, Rush, Granger and Murphy to start? Have we seen that one before? No … I don't think we have. You know what that means? Starting lineup number 18 number 17. *blue lights start flashing and confetti falls from the ceiling* Looks like you guys are our secret shoppers. Tell em what they've won, Chuck.
Danny just took a really terrible running bank shot that missed badly. But at least it was a bad shot from 12 feet instead of 28. Progress
The Pacers tried and failed to find Danny for like 10 seconds while he had AI sealed on the block. But the possession still led to a slick crossover by Brandon Rush who got all the way to the cup on a drive that he finished plus the harm, so it's all good. Sorta. Either way, nice to see Brandon being aggressive off the dribble. Especially this early.
Troy Murphy just set a nice pick on a left-wing screen/roll with Luther Head. Luther's guy was late to recover, and he got by him with a nice hesitation dribble that he took all the way to the rim for an easy layup. What's going on? Penetrators? On the Pacers? I don't know about this, guys. Seems like a risky strategy. Worth a shot though, I guess.
Roy just checked in and quickly got his first touch on the block. He tried his "Screw a post move — I'm just going right through this little guy" move, which he has been employing with increasing frequency. It didn't work this time, as he missed a little half hook, but he got his own board. And he missed the follow up attempt, which was frustrating, but he still battled for the offensive board yet again — enough so to draw a (dubious) loose ball foul on Brand. Nothing came out of that either, as MDJ missed a jumper after the inbounds pass. This all probably sounds bad. But the takeaway is that Roy came into the game after 9 minutes sitting on the bench and immediately played about as aggressively as you'll ever see him play. That's a good thing.
About two minutes later, Hibbert caught a pass mid-paint about 3 feet from the hoop while flashing and effortlessly hooked one in for a deuce. No hesitation at all. Nice.
AJ Price checked in and just got really badly embarrassed by Allen Iverson on his first possession. AI has been killing it anyway with 4 FGs and 4 assists, which means he has been responsible for 8 of the Philly's first 12 FGs, but this one was classic Answer. He crossed up AJ like he was still at Georgetown. Philly's broadcasters on AJ's first possession on the court: "Iverson greets him rather rudely."
After one quarter, the Pacers trailed 25-29. They played really bad defense, but at least they scored for a change.
2nd Quarter
Hibbert got deep post position again and made an easy-as-your-mom-on-Sunday-morning hook.
Roy followed that up by allowing two straight little men to make layups right in his grill. Poor perimeter defense let them get through, it should also be noted.
….and he followed that up with an 18-foot jumper. Say what you want about the guy's overall effectiveness early on, but he certainly has been involved.
Wow. Marreese Speights just squashed whatever was left of AJ's manhood post-AI cross when he Dwight Howarded his layup attempt out onto I-95.
AJ apparently didn't much care about his earlier emasculation and just drilled a three. That kid is aggressive. The Pacers predictably gave those three points right back on the ensuing possession when Wilie Green his a trey, which made Philly 5/5 from the field in the quarter. "Sixers having their way with the Pacers on both ends," says the Philly announcer. No word on whether or not the double entendre was intended.
Philly CSN's sideline reporter Jamie Maggio looks like she's on the way to the club right after this game. Sweet sequins.
Dahntay Jones inexplicably just took over the game for like 2 minutes on both ends. First, he found a cutting Granger under the hoop for a lay-in, then he hit a jumper, then he forced a turnover by pulling the chair on a posting-up Thaddeus Young and then he fed Watson under the hoop on a mini-fast-break. Watson not-so-uncharacteristically missed the gimme, but Murphy was there for the tip-in, so Dahntay's nice look didn't go for not.
Back-to-back Rush and Granger treys cut Philly's lead to 1. Could be a turning point. Working on at least half of all cylinders right now.
AI returned and immediately got Thad Young a wide-open look with a behind-the-back pass on a pick-and-pop. That was his 5th assist. Double-double?
Jrue Holiday, who looks like he's wearing an eye patch given the giant bandaid that's covering the 12 eyebrow stitches he got after diving on the floor on Saturday night, just threw an entry pass to a cutting Igoudala that exposed just how horribly out of position and/or athletically outmatched MDJ was/is in that matchup. After the catch, Iggy turned and scored easier than I could against my coffee table.
A Danny jumper with under a minute to play in the half pulled the Pacers within 2 and gave Granger 18 for the half on 7/11 shooting (3/4 from three) to go along with 5 boards. Nice little 24 minutes at the office the BatCave.
Half time.
Here's what happened in the first two quarters: 3rd Quarter
A couple minutes into the second half, Murphy hit a trey from … wait for it … the top of the key to put Indy up 2 for their first lead of the game.
Luther Head tried a delayed alley-oop to Brandon on a 2-on-1 break after a steal, but it was a bad/unnecessary pass that Rush had no chance at really getting. Brandon grabbed it eventually but stepped out for the re-turnover. Next time down, Head launched a 28-footer with 20 seconds still on the shot clock. Philly color commentator: "WOW. Head's really got the green light here." Philly play-by-play guy: "I think everyone does. Remember O'Brien from his one year here?"
Murphy made a terrible turnover and tried to save it while it was going out. He threw it back inbounds and it caromed off one guy and drilled AI in square in his mug. The Philly announcer was like "He took it right in THE FACE" and then said something else I didn't catch exactly but ended the sentence "IN THE FAAAACE" like Rob Riggle in The Hangover after the stun gun scene. IN. THE. FAAAAACE. I'm currently enjoying the surprisingly good announcers whose names I will not look up more so that the game play here — probably because I'm way to keenly aware of the DWade/LeBron shootout going on on the other channel that I would rather be watching.
Roy went right at Samuel Dalembert on his first post look of the half. Totally overpowered Sammy backing it down, turning and hooking it in. Hibbert has looked dominant so far in limited touches this evening.
Philly just had one of the ugliest possessions I've seen in a long time. Iggy dribbled around all ring-around-the-rosy style while a couple of Pacers chased him around Benny Hill style and the others crowded the paint. Andre missed a terrible, off-balance shot from 4 feet, a Sixer grabbed the offensive board in the scrum then got pushed and threw a 40-foot cross-court kick-out pass that was stolen by Dahntay Jones, who dribbled awkwardly up the floor before getting hammered at midcourt. The whole thing looked like two girls JV basketball teams trying to chase a butterfly.
4th Quarter
Granger finally recorded his 22nd point on a nice drive. He had 18 at the half. I missed his 19th and 20th points but my expert sleuthing tells me they came in the 3rd quarter.
Philly just had its best offensive possession in a while with some stellar ball movement that featured three passes around the perimeter and resulted in a wide-open three in the corner. Luckily, Young Thad couldn't make it. Sucka.
MDJ has been relatively irrelevant most of this game but we just got a key reminder that he is still the team's best entry passer — by far. Showed great patience there on the re-post of Hibbert on Brand. MDJ threw it in. Roy kicked it out. MDJ bought some time. Then threw it back in. No one else on the team would wait for that.
Whoa. Dunleavy followed that up with great defense on Young Thad in the post. He's starting to do the lil things that Lil Dun does.
For an example of a terrible entry pass, look no further than that last one thrown by AJ to Dahntay. Made him move 5 feet to catch it.
Stats say Brandon Rush finishes 50% of shots at the rim, which is an embarrassingly low total. I say "No way it's that high" after he got swatted badly on a layup attempt that should have been an uneventful dunk. Tim Donahue says: "That…that right there is what's wrong with Brandon in a microcosm."
A Granger/Murphy top-of-the-key PnR led to a nice Murphy lay-in at the hoop after he slipped the screen. Next play, they went right back to it, Murphy slipped the screen again and Danny dribbled hard right twice and pulled up for a 17-footer. All twine. Perhaps try this play more often.
With the Pacers up 3 with 3 minutes to play, Dahntay Jones just scored beautifully in the post. (Wait? What happened? No way.) Next trip down, Dahntay hit a baseline 12-footer and got fouled. Three-point play. (I don't believe you.) Yes. That happened. (Stop talking to yourself.) You're not the boss of me.
Danny got Brand to switch over on him on the perimeter. Stared him down in an iso. Dribbled twice. Then settled for a pull-up fadeaway. It made me want to punch a baby. No, strike that. Babies. Luckily, Murphy got a hand on the offensive board and batted it out safely to the perimeter for the offense to set back up. All this led to a Rush trey in the corner. All net. All Indy. Pacers up 7.
That'll do it.
Pacers W.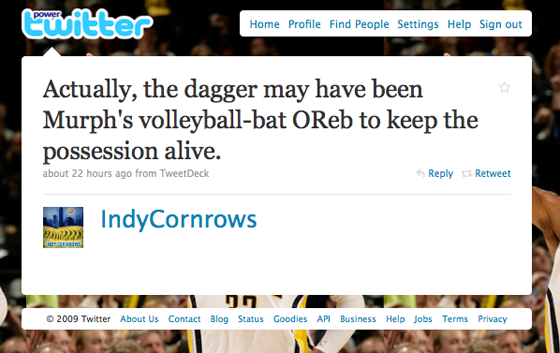 At first, Tom Lewis of Indy Cornrows thought the Brandon Rush three was the nail in the coffin. On second though, he gave the credit to Murphy for the board. You can read the rest of his thoughts on the game here.
Tags: Allen Iverson Elton Brand Game #45 Game Previews Game Recap Jersey Shore Mike Tyson Pauly D Philadelphia 76ers Samuel Dalembert Snoop Thaddeus Young Willie Green