I stood there in the stands. I was in the 15th row in Conseco Fieldhouse, but I am getting too ahead of myself here. It was November 3, 2006, I was ten years old. It was a Friday Night and I was driving down Indianapolis with my father to see the game between the Pacers and the New Orleans Hornets.
But this was no ordinary game. Now I am a Pacers fan, and yes, I do live in Indiana for all my life, but I haven't been to one single Pacers game. This was my first. I came there with my big-stuffed Pacers jacket with a gangster-looking Pacers hat.
It was the second game of the season, and just two days ago, the Pacers manhandled the Bobcats by a score of 106-99. I was a little disappointed coming to this game after last season. The Pacers went 41-41 and made the playoffs with star Reggie Miller.
The Pacers were playing well against the Nets. After an amazing, joyful 107-95 victory to take a 2-1 lead in the series, it all got swept away. The next game, New Jersey won 97-88. I watched the whole entire game, and as I remembered, the only lead Indy had was 2-0, and after that, the score turned to 8-2 with the Nets in the lead.
I was pissed at Coach Rick. He was still the coach and I just wanted him fired. He wasn't doing well at all. The Pacers then lost the series, becoming a first-round exit by losing the series 4-2. With a deficit in the series with 3-2, I thought Pacers will force Jason Kidd/Vince Carter and Co. to a Game Seven.
No, it didn't happen as Indy fell towards 96-90 defeat. I just wondered what next season would be like, with stars like Reggie Miller and Ron Artest gone coming into a new season.
So back to the game. Hornets-Pacers, you just got to love it! I never saw the Pacers succeed in that game. As I saw the game, there was this impressive kid named Chris Paul. Entering his second season, I liked what he could do, but I was mad because he is was making the whole squad of the Pacers look like The Kandi Man.
Jermaine O'Neal played well with his 25 points. All wasgood with the stats, the only problem was the scoreboard. The Pacers were killed in the rebounds, losing 53-34. It was the fourth quarter and things were not looking good. Not even the seats in front of me as a fat old lady started dancing with these disgusting plate of nachos, at least I think it was, in her hand.
Her butt blocked the game I was witnessing. Her husband was no better. My cousin Paul and I just looked at each other, clueless. With the game winding down, I just hoped the Pacers could come back.
"Oh man, the Pacers are going to lose, this sucks!" I said.
"Dude, don't worry. This is your first Pacers game. Your team never loses on the first game," my cousin said.
"Really?"
"Really."
"Okay, but you better be right."
"Oh," he chuckled. "Don't worry alright. They're going to come back."
Well, it seems that they never did. The game was winding down and there was 20 seconds left in the game with the Hornets leading, 97-91, after a three-point shot was made. Man, David West was tearing it up in that game as well for Nawlins.
"Hey Dad, can the Pacers come back in 20 seconds?" I asked my father after a timeout was called.
Then some lady behind me said, "Oh, they can come back."
"She's right Josh, they can," my Dad said.
"Yeah, like what Reggie Miller did back in like 1995 against the Knicks," Paul said. Now Paul was born in 1994, so he knows a lot about Pacers more than me. His Dad tells him about all this crap all the time.
"That was one hell of a game," Dad said.
"What?"
"Oh, Josh. Here is what happened. Reggie Miller made eight points like nine seconds to beat the Knicks," Paul said.
"How is that even possible?" I asked, in shock.
"I don't know. Just go YouTube it or something."
The Pacers were on the court but they never made a shot. The Hornets then fought back to make another three-pointer to end the game in timely-fashion, 100-91. It wasn't that bad.
It was a real fun game and I enjoyed it very much! One of my favorite games I have ever seen on television and in real-life. I couldn't wait for my next game. That season, I never went to another Pacers game and it wasn't a good season for Indy that year either as they finished 35-47. But next season, they better damage their opponents.
Though you may probably think that having fun when the Pacers lost is a mystery, it was one of the greatest moments…
in my Pacers history.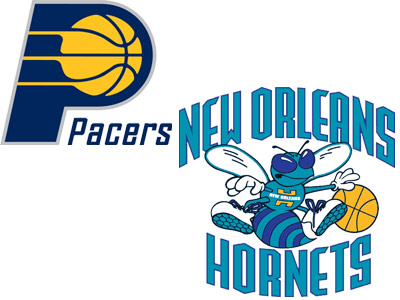 Tags: Chicago Bulls Chris Paul Conseco Fieldhouse Dallas Mavericks Danny Granger David West Houston Rockets Indiana Pacers Jason Kidd Jermaine O'Neal Los Angeles Lakers Miami Heat Moments In My Pacers History NBA NBA Finals NBA Playoffs New Jersey Nets New Orleans Hornets New York Knicks Orlando Magic Reggie Miller Rick Carlile Ron Artest Sacramento Kings Toronto Raptors Vince Carter