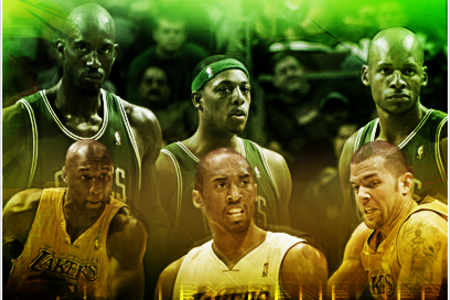 Everyone loves rivalries. Much goodness and excitement comes out of each rivalry game I see. There's blood, hatred, and just downright crazy. But there is so much more to rivalries that just make these games so special. But right now, I am not here to rabble about rivalry games, because everyone knows how great the rivalry is between the Celtics and Lakers.
And, as you can tell from the title, those two teams may have a shot at playing each other in this season's NBA Finals. Hey, don't blame me, this may be true. With Kevin Garnett healthy and the smart decisions Boston made in the offseason, bloggers everywhere are predicting the Celtics are the team to beat.
But also, the Lakers have had their share of the fun in the offseason as well. Although losing Trevor Ariza was a disappointment, L.A. made one of the biggest moves of the NBA offseason this year by signing former Houston Rockets forward Ron Artest. Artest will be used a replacement to Ariza at the small forward spot. In addition to that, the Lakers resigned Lamar Odom. So with all that said, the Lakers also seem like a team to beat.
It seems that no other team can compete the way these two will this season. The Orlando Magic may be close for this year after trading for New Jersey Nets' Vince Carter to fill in for Hedo Turkoglu. But they won't pass by Boston this year in the Eastern Conference. Why so? Well, last year's playoffs explains it all.
In the Semifinals, Boston was facing Orlando WITHOUT Kevin Garnett. And look, Boston almost got away with it, losing in the series 4-3. That explains that if KG were there, it would most probably be that Boston would win the series, don't you think? And with KG healthy this year, Big Baby resigned, and many other offseason moves, the C's are the team to beat in the Eastern Conference, no doubt.
The Cavaliers may not stand a chance. If they can't beat the Magic, and the Magic can't beat the Celtics, I think you know where I am going. Acquiring Shaq and Leon Powe doesn't really help out all that much. The Celtics are the team to beat in the Eastern Conference, so, just live with it. Although I am a Pacers fan, come on, you go to admit, they have no chance this year for a Finals shot, but a playoffs shot will do, right?
As for the Lakers, there really is no contender for them. The Hornets do have a good shot probably, with Emeka Okafor recently added in a trade. The Rockets do, too. But Houston may struggle trying to compete in the Western Conference after losing Ron Artest to L.A. and Yao Ming for this season after an injury. Trevor Ariza and Tracy McGrady are a good combo but I really don't see any team being as good as the Lakers.
So you get my points? I really do see these two teams fighting in the Finals. I am not going to predict who wins, I don't want to cause any conflict. But these two teams do look pretty evenly matched. It will look like a fun matchup to witness, so get ready.
I know I am.
Tags: Boston Celtics Charlotte Bobcats Chris Paul Cleveland Cavaliers Dwight Howard Emeka Okafor Glen Davis Hedo Turkoglu Houston Rockets Indiana Pacers Kareem Abdul-Jabbar Kevin Garnett Lamar Odom Larry Bird LeBron James Leon Powe Los Angeles Lakers Magic Johnson Miami Heat Minnesota Timberwolves NBA NBA Finals NBA Playoffs New Jersey Nets New Orleans Hornets Orlando Magic Phoenix Suns Ron Artest Sacramento Kings Shaquille O'Neal Toronto Raptors Tracy McGrady Trevor Ariza Tyson Chandler Vince Carter